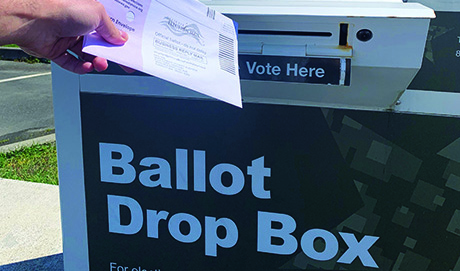 By Shaelyn Smead, Tulalip News
Registered Marysville and Tulalip residences should've already received their voting ballots concerning the reinstatement of the Marysville School District (MSD) Levy. The levy is not a new tax; it is a reinstatement of a levy that supports student learning, achievement, health and safety, sports, and school activities. Votes must be submitted on or before Election day on February 14th. If the levy does not pass, it will hurt MSD and the Tulalip youth attending.
MSD Executive Director of Finance David Cram said, "This levy is critical to the school district's operations in support of its students' learning, physical, and social-emotional health and development. Without this levy…reductions in staff and other programs district-wide will be necessary." The levy directly affects students from preschool through high school and eliminates resources that Tulalip youth use daily.
If the levy does not pass, what does it directly impact?
Sports like football, basketball, cheerleading, soccer, tennis, swimming, and others risk getting shut down
The Marysville Pilchuck High School pool, which has been open for over 50 years by levy dollars, risks closing its doors
Transportation like school buses and drivers will be cut. Therefore making students wait outside longer to be picked up or required to be driven to school
School nurses and counseling services risk losing their jobs, and students will be left without those resources
Teaching staff will be cut. Therefore class sizes will grow, and students will receive less one-on-one time making it harder to learn
Students will be forced to re-use older technology
Creative outlets and college application resources like clubs and other extra-curricular groups will be eliminated
Early learning for kids ages three to four will be cut. Studies show that students without early learning opportunities are more likely to skip class, be suspended from school, and be less academically prepared when they're older
Why is the district struggling for funds?
Because the levy failed in 2022, this upcoming levy reinstatement has become more crucial for MSD than ever.
Out of the revenue MSD receives, state revenue makes up 68%, federal 14%, property tax (from levies) 14%, misc. other 3%, and local non-tax 1%.
According to MSD, the state funding they receive only provides 1 out of 7 safety and security staff, 27 out of 54 counselor and emotional support staff, 5 out of 21 social services staff, and 54 out of 69 grounds and maintenance staff.
Because Tulalip tribal youth are a big part of MSD, the district does receive 2.2 million annually from Tulalip tribal government. This funding serves three schools: Quil Ceda Tulalip Elementary, Totem Middle School, and Heritage High School. However, that still only equates to part of the misc. other (3%) of the funding that MSD obtains.
What does the levy cost you?
This is not a new tax. This levy is a proposed reinstatement and is 68 cents less than the expiring EP & O Levy rate. Levies typically run on a 4-year cycle renewed through voter-approved ballot measures. The levy is approximately $1.67 per thousand of an assessed home value and is 68 cents less per thousand than the expiring measure. It saves each household roughly $340 less per year in taxes. For example, if your home is valued at $600,000 (the median home price in Marysville), the estimated levy cost per year is approximately $1,000.
For tribal members, land in trust won't be affected by the levy tax.
Additionally, senior citizens and disabled persons may qualify for tax exemption. To learn more, people can call the Snohomish County's Assessors office at 4253883433.
What if there is mistrust with MSD?
As the Executive Director of Tulalip Tribes Education Division, Jessica Bustad, posted on Facebook, "We know that the division between Tulalip and Marysville is real. We know that racism and inequalities are alive. We know that our Native children (and all students of color) deserve better! Our children deserve an education that will build them up and contribute to their quality of life. Our people have suffered at the hands of the 'education system,' starting with Boarding Schools. We know, in our hearts, that these systems must be decolonized and dismantled for our children to thrive. However, it takes time to create and build a foundation for our children. Once our Tulalip school is built, the reality is that we will still have to earn the trust of our parents and families…In the meantime, we must support our children in the public school system. Supporting this Levy is supporting OUR children. When a Levy fails, it is not the School Board or Executives that are hurting, it is our students & families, and the teachers who serve them."
How does this levy directly impact Tulalip youth?
According to MSD Native American Program Coordinator Matthew Remle, there are around 800 Tulalip students within the district. Transportation, Pay to Play, and paraeducators are some of the heavily used resources that Tulalip students and low-income families risk losing.
Why is tribal support so crucial?
As Jessica has already witnessed working with MSD, some of these budgetary cuts have already been made because of the failed levies last year. Class sizes have already started to grow, and middle school sports were cut and merged with the YMCA.
Historically speaking, the Tulalip population has consistently had a low voter turnout. According to a Snohomish County Elections breakdown, the overall turnout for the April 2022 Marysville School District Levies was 27%. Only 12,924 votes were cast out of 47,899 registered voters. And if we look more closely at the Tulalip Reservation population, the turnout was 24% or 1,799 votes cast out of 7363 registered voters.
Looking back at the failed levies from last year, Proposition No.1 lost by 9%, and Proposition No. 2 lost by 5%. Jessica said, "We must do what's right for our people and students in any election. These decisions are being made without us simply because we're not voting. Ultimately, its impacts our children and their future."
How does someone help?
Vote! As Superintendent Dr. Zachary Robbins said, "This is the most critical levy in the city's, Marysville, and Tulalip community's history." Ballots can be turned in until February 14th at 8:00 PM. The closest ballot drop box is located by the Don Hatch Youth Center. If you have not registered to vote, please register online by February 6th at:  https://voter.votewa.gov/WhereToVote.aspx?ref=voteusa_en, or in person at 3000 Rockefeller Ave, Admin West Building, Everett, WA 98201, by February 14th.
To gain voter turnout and support for the levy, the Tulalip Education Division is hosting a Valentine's Day ballot drop party on February 14th at the Greg Williams Court at 5:30 PM. For any additional questions, please reach out to Jessica at jbustad@tulaliptribes-nsn.gov.  
*Levy information and statistics provided by MSD