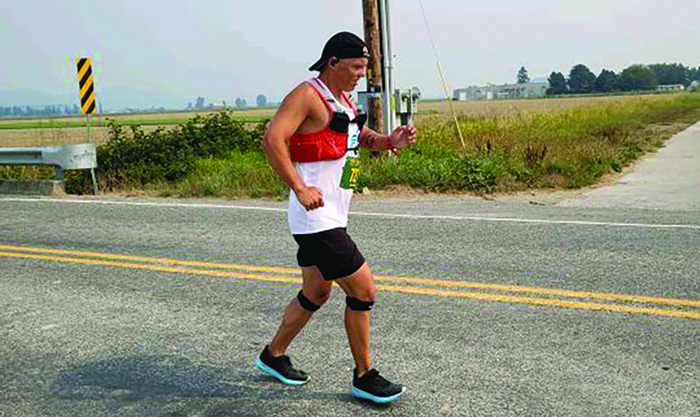 By Kalvin Valdillez, photos by Kalvin and Tyler Fryberg
We all know someone who loves to run. Some runners train for marathons where they competitively engage in the sport with their fellow members of the running community, and many others run with their health and conditioning in mind. No matter what people run to achieve, what brand their running sneakers are, or if they run on road, trail, treadmill, or track, they develop a deeply personal relationship with their self's byway of the sport.
After the initial stage of side stitches and that feeling of complete exhaustion, running becomes an activity that new athletes look forward to in their everyday schedule. And once runners have all the techniques down, such as breathing, stretching, practicing proper running form, and eating a healthy and nourishing diet, running eventually becomes second nature, which allows time for people to go inward to process their thoughts and focus on their mental and spiritual state.
There is something so freeing while you are out in the middle of a run and the endorphins are high. Perhaps it's the terrain and the beautiful scenery of the natural world that puts people in a meditative state and increases their cognitive clarity. Whatever it may be, runners usually gain a positive outlook on life and are very in tune with the universe as we know it.
That connection between soul and exercise is all the more special for the Indigenous Peoples of North America. What many gain from ceremony and engaging in various cultural activities, Native runners also share – that experience of connectedness to their territory, spirituality, and traditional way of life.
Long before colonialism arrived at our lands, Native people utilized running as a means of delivering messages to other tribes, and also as rites of passage as their youth transitioned into adulthood. For generations upon generations, Natives relied on running and traveling by foot, and to say they were good at it is an understatement. Not only could Natives run long distances, but they could do it in a short amount of time, and they frequently covered as many as one hundred miles over the course of 24-hours.
Several survivors from the boarding school era went on record to tell of how they escaped the institutions of genocide on foot and ran extremely long distances in harsh conditions to be reunited with their tribes and families.
It's safe to say that running is embedded in our traditions, heritage, and culture. In modern times, the act of running in Native America is typically accompanied with a cause to raise awareness. Last Fall, NCAI President and Vice-Chair of the Quinault Indian Nation, Fawn Sharp, organized a 1,787-mile relay that spanned across five states to bring attention to the 2022 Supreme Court ruling, Castro v. Oklahoma, and also to celebrate the recent reinstatement of Jim Thorpe's 1912 Olympic records as the sole champion of the that year's decathlon and pentathlon.
At Tulalip, several awareness runs are hosted throughout each year such as the Orange Shirt Day Run and the Color Run, which helps open up the discussion about some of the issues that tribal youth face due to generational trauma such as suicide, bullying and addiction.
The fact that running plays a huge role in our history and our practices is often overlooked in today's society of planes, bullet trains, and driverless automobiles, not to mention the ridesharing apps like Uber and Lyft.
This year, Tulalip News is highlighting a number of Native runners, historians, and organizations that are focused on the cultural aspect of running. And there is no better place to start than with the Tulalip Marathon Man himself, Tyler Fryberg, who has received countless accolades for his passion and dedication to the art of running, and who has also actively participated in the state's Special Olympics throughout the years. So, without further ado, we present a fun Q&A with Tyler Fryberg.
As a tribal member, can you describe your relationship with running?
My relationship with running – I got into running seventeen years ago. At first, I hated it and then something clicked to where I loved running, and I started running five days a week when I was in high school. I used to hate the fact that I would always get injured. At one point, I wanted to stop running, but one day I realized that was just something I would have to [endure] if I wanted to keep going on as a runner. So I did and now I love the sport, and I've learned so many ways of how to run injury-free and how to keep my body in shape so I can keep running for many years to come.
You can often be seen training throughout the reservation, do you feel a special connection to your homelands when you are running through Tulalip? If so, what are some of your favorite scenic views during your route?
Yes, I do feel a connection to my homelands. My favorite view is when I run to the end of Mission Beach. When I look out, I can see everything from the water and animals in the trees, to seeing different tribal members do what they love on the water. Another view that I enjoy is when I go to the water, down behind the longhouse. I love the water and I feel a connection to my homelands by the water, since we as Tulalip members are water people.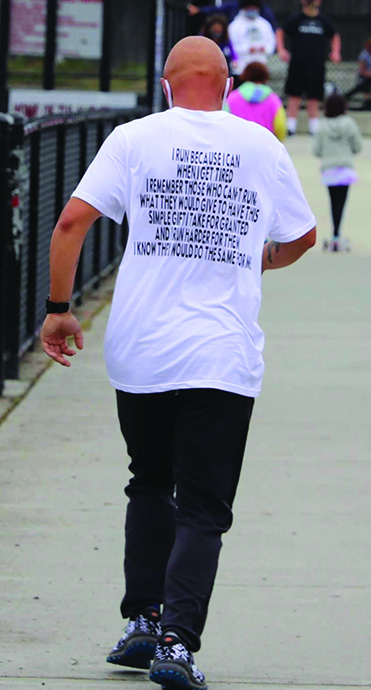 Traditionally, running is an extension of the Native American way of life and is a great exercise both physically and spiritually. While you are running, do you feel as though you are able to embrace that connection to our ancestors and traditions?
When I run, I feel the Native Americans before me. They did not have cars at one time, so they didn't just run for a sport like I do today, but also to get food for their families, to get wood, and other [necessities]. And for me, I feel that they're watching me run and are there without me even knowing it. Because sometimes I feel like I am talking to someone who is not there on my runs. And I believe it's the ancestors who lived before me. I feel like they would be proud of me for keeping running alive as a Native American today.
As mentioned before, running is practically in our DNA. In today's world, with all the different modes of transportation and everyday distractions, why do you think it's important for tribal members to reconnect with the sport of running?
I feel like running is our way of life, and we don't take enough time to connect with what our ancestors did before. We might also have football or basketball in our DNA today, but people forget running was a sport here way before any of those were even created.
And lastly, what are your current running goals, are you training for anything specific lately?
I am training for a full marathon on April 2, 2023, in Everett. And I am also training at the same time for the 5k road race for the Special Olympics. Because I run for sport as a competitive athlete, I never forget the Native Americans who came before me and I want to make them proud. Which I feel like I already do.