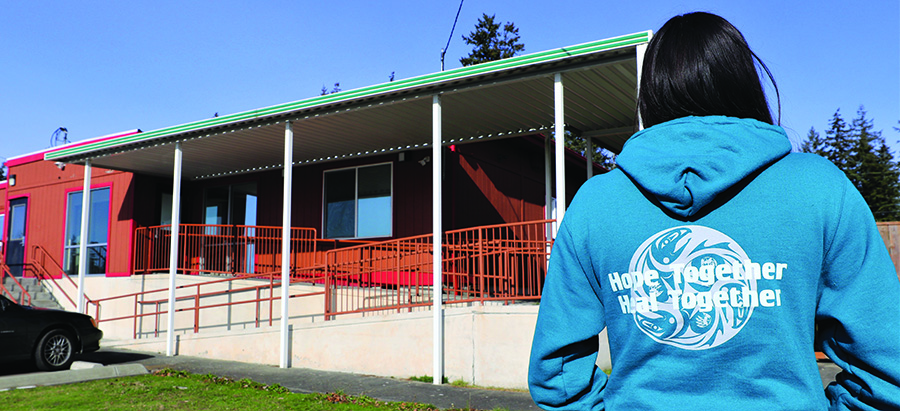 By Micheal Rios, Tulalip News
On the morning of Monday, January 30, community change makers convened for the grand opening of Tulalip's latest resource designed to combat substance use disorder and an opioid crisis that continues to terrorize our community. Appropriately named the Recovery Resource Center, the remodeled building is intended to serve as a safe space for those actively along their recovery journey in search of resources to get clean, maintain sobriety, or simply desiring to chat with nonjudgmental staff and peers about obstacles experienced.
"We've been working on the development of this building for close to a year now, and the time has finally come to unveil this latest project," said Rebecca Hunter, director of comprehensive recovery solutions. "We brought over the ODMAP team from the court house to work with our clients closely, which allows for a greater level of outreach. Within this Recovery Resource Center, we offer short-term sober living for those getting out of inpatient treatment, we monitor compliance of aftercare recovery, check-ins with recovery counselors, NARCAN distribution, and even offer financial services for those living in Oxford housing."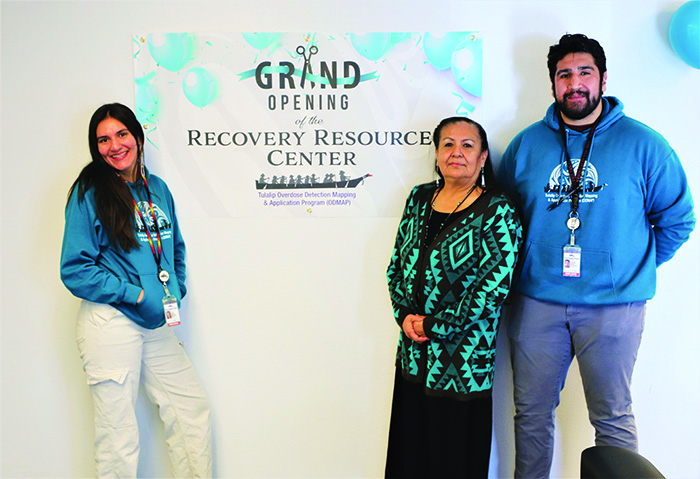 An Oxford House is a shared housing residence for people in recovery from substance use disorders. An Oxford House describes a democratically self-governed and self-supported drug-free house. There is no length of stay and the house may have from six to ten residents. There are houses for men, women, men with children, or women with children. Visit wa.oxfordhouse.us for more information and eligibility requirements of Oxford living.
The newly remodeled building that is the Recovery Resource Center has served Tulalip in multiple capacities over the years. Most notably as the old health clinic, before being the one-time home of Lushootseed and then a domestic violence shelter after that. It's burnt orange exterior with red trim resembling a rustic torch, lighting the way to new beginnings for those whose life may depend on its resources offered
"Our overarching mission is to work with people as they are. Those coming right off the street and looking for a warm space to stay dry and have a bite to eat, even if for a short while, are much more open minded and accepting to engaging in our services," Rebecca explained. "It's another pathway for us to get the education out there and NARCAN distributed so we can save lives."
According to the latest data available from the Centers of Disease Control (CDC), 250 Americans die every day, on average, from a drug overdose. The number of overdose deaths has increased over time, with a sharp rise during COVID. Making matters more concerning for Native American population centers is the well-known fact that per capita, we have the highest rate of rate of overdose deaths, and that rate has only increased in recent years. This unfortunate, gut-wrenching trend is clearly illustrated in the accompanying CDC chart.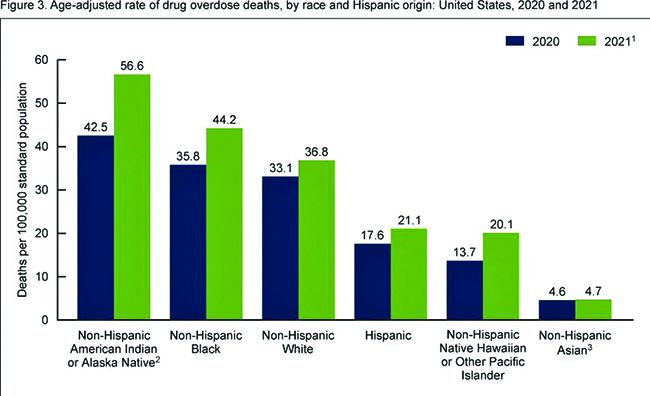 "Having a drop-in center for people to go to, staffed with friendly, well-informed individuals who won't judge, but will listen and suggest resources is so important for outreach," added Rebecca. "We have so many community members in need with recovery, and yet we continue to have more deaths, too, especially among our young people. So where are systems not speaking to each other? Where are our gaps between Behavioral Health, Family Services, and the Health Clinic?
"Our team is committed to finding solutions and identifying those gaps in service so we can better our services to the community and save lives."
When your tribe's leading cause of death is drug overdose, which is and has been the case for Tulalip in recent years, it's no understatement to say having more resources, more outreach, and more staff trained to recognize the signs of substance use disorder can save lives. Rebecca and her team at the Center are committed to being the change that the community has called for: a group of culturally responsive, judgement-free professionals committed to helping those caught in the trenches make their way out to live long and full lives.
"Although the grant for our overdose mapping program is coming to an end, we fully intend to continue on that mission to implement as many efforts as we can to combat the opioid crisis and high rates of overdose in Native communities," said Kali Joseph, manager for the Recovery Resource Center. "One of our goals is to offer a space for our people to come together and feel that connection of community. For those who feel lost, that connection to community may be the exact thing they need to start their recovery journey.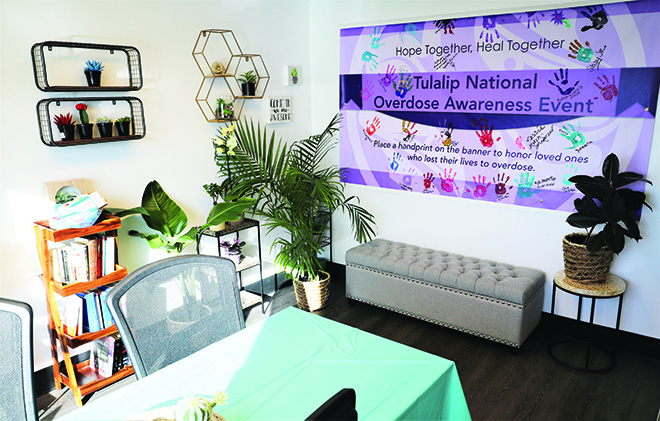 "In order to most effectively reach our people and keep them engaged, we must take a holistic approach to substance use order," she continued. "Meaning we need to approach it not just physically, but spiritually, mentally, and emotionally as well. We understand the need to raise awareness about how this crisis is related to intergenerational and historical trauma. A lot of times people use substances as a coping mechanism to heal from all that unresolved grief and trauma."
It's worth mentioning that the source of so much of that intergenerational and historical trauma that currently burdens our people stems from the now demolished Tulalip Boarding School that operated from 1857 to 1932. On the same grounds where multiple generations of Tulalip children were stripped of their culture and forced to assimilate, where untold horrors and countless wrongs occurred, that is where the newly minted Recovery Resource Center now stands.
Tulalip's Recovery Resource Center is here to support all Tulalip citizens in all phases of their journey: whether new to recovery, after a difficult transition, during mental health changes, or now wanting to give back in service to others. A bold initiative to arm our people with the resources they need to build resiliency, acquire strength, and feel empowered to heal themselves and our community in a good way.