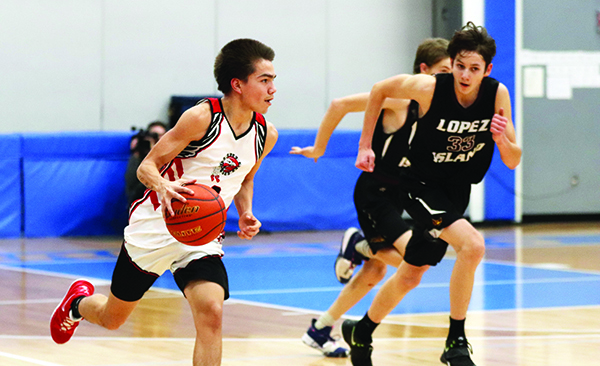 By Micheal Rios, Tulalip News
Led by a new coaching staff, with head coach Malcom Mack at the helm, the Tulalip Heritage boys basketball team soared to a (7-0) record to open the '22–'23 season.
It wasn't until early January that they finally played legit inner-league competition in rivals Grace Academy and Lummi Nation. Those two teams proved to be too much for the Hawks, who couldn't match the physicality and tempo of their rivals for a full four quarters. Heritage went (0-4) versus the cream of the Northwest 1B crop.
Fast forward to the end of January and the Hawks were riding a losing streak, with one no-contest vs. Fellowship Christian because of an on-court scuffle, to conclude the regular season. On the morning of February 1, both players and coaches woke up with an overall (12-6) record, which was good enough for the 3rd best team in the Northwest 1B division. However, they also knew they'd be without a couple starters for multiple games because of post-scuffle suspensions and consequences from accumulating too many technical fouls.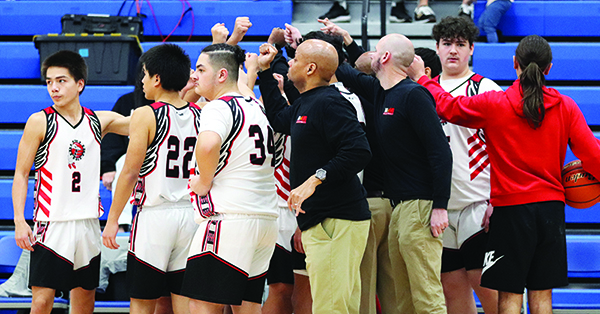 Shortly thereafter the 2023 District Tournament bracket was released and the #5 seeded Hawks drew a team in Providence Classical Christian that they had defeated twice by 30+ points during the regular season. This fact gave the coaching staff confidence their squad would still be victorious even being down a couple key contributors.
Tulalip hosted Providence at Francy J. Sheldon gymnasium on February 2. The Hawks came out playing well on both ends of the court. After taking an early 12-3 lead, they extended that to 15 points midway in the 3rd quarter when they led 40-25 in front of their emphatic fans. Then things got really interesting.
Providence didn't sulk, nor let their bench players stay in. Instead, the away team left their starters in the whole 4th quarter and they battled back to create a real sense of urgency in the Hawks who had led big for most of the game. Tulalip didn't help matters by going nearly 8 minutes of game play without scoring a point. With under 4-mintues to go, Tulalip's big lead had been whittled down to just four points, 40-36. Tarynn Fryberg finally ended his team's scoreless run with a must needed bucket and made free-throw, which ended up being the difference as the Hawks would hold on to muster a 46-40 win.
Two days later Heritage played rival Grace Academy, in their house, and caught a quick and decisive L. The boys couldn't hang their head for long following the 37-61 loss because they were scheduled for a loser-out game just 48-hours later.
On February 7, once again at Francy J. Sheldon gymnasium, the Hawks hosted Shoreline Christian. Tulalip had bested Shoreline during both regular season matchups, but that didn't deter Shoreline from bringing the heat the third time around. The home team struggled mightily offensively in the first quarter to the tune of trailing 2-13. Coach Mack and his assistants must've lit quite a fire under the boys because after battling back to make it 24-29 at the halftime, the Hawks shooters ignited an offensive explosion in the 2nd half. After only putting up 24 points the entire 1st half, they put up a whopping 44 points over the 3rd and 4th quarters to pull out an impressive 68-56 come from behind victory.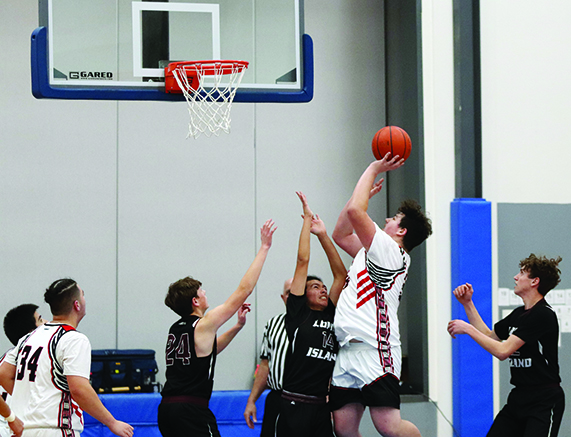 With the latest win came a chance to place at Districts and secure a spot in the Tri-District Tournament. All they'd have to do is get one more win against their opponent Lopez Island Lobos in their matchup played at Mount Vernon Christian High School on February 9. The Tulalip faithful travelled well for this away game and did their best to bring high energy fandom from the bleachers.
Those in attendance were treated to a back and forth, entertaining game between two teams desperate for a win. Tulalip jumped out to an early 12-5 lead, but was plagued by turnovers committed against a Lopez full court trap that resulted in easy transition buckets for the Lobos. With senior guard Louie Gallagher on the bench, the Hawks offense continued to sputter and eventually found themselves trailing 17-20 midway in the 2nd quarter. 
After Louie was reinserted back into the game, he's intensity on both ends of the courts became contagious as his fellow Hawks began jumping passing lanes and running the floor at a near frantic pace…Rez ball at it's finest.
After leading 31-25 at halftime, Louie and senior forward Nicholas Rhoads did their best to put away the Lobos with timely passing and interior scoring. Louie even had a chasedown block that sent the Hawks fans into a frenzy. The team fed off that energy and continued to run at every opportunity, eventually pushing their lead to 20 points at 61-41. Tulalip never lifted the throttle and wound up with a huge 80-43 win. Senior players Louis Gallagher scored 27 points and Nicholas Rhoads added 20 points to lead their team.
The crowd pleasing win secured a 5th place finish for the Hawks at Districts and punched their ticket to the Tri-District Tournament.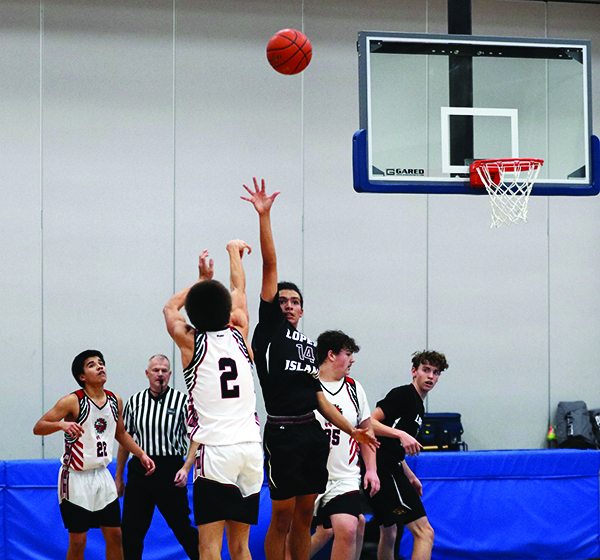 It was a tough draw for the home team as they were seeded #11 and had to travel to Orcas Island to play a team that had beaten both Grace and Lummi, both teams Tulalip had struggled against all season. It would indeed be an uphill battle versus an overall better team as the Hawks season ended abruptly with a 71-88 loss on February 11.
"Overall, it was a good season filled with a lot of team dubs," shared guard Louie Gallagher. "There were times we trailed in games and had to calm down and come back together as a team with the right energy. Those were the most fun games to me when we showed our ability to refocus against a good team and come back to win by a lot. I loved the support the Tulalip community showed me and my brother Blaine and the entire team all season long, whether it was at home games or traveling to watch our away games. Thank you, Tulalip."