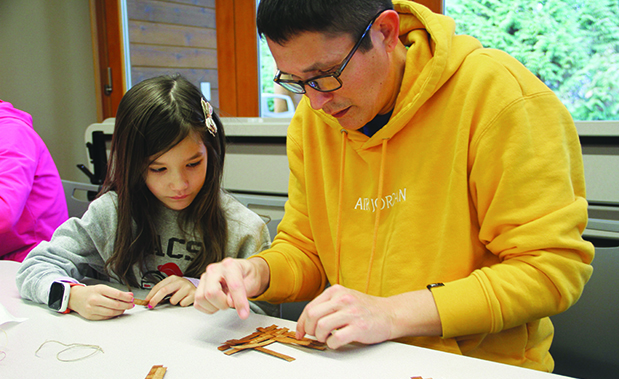 By Shaelyn Smead, Tulalip News
On February 11th, like many other weekends at the Hibulb Cultural Center (HCC), the classrooms were occupied with invested patrons looking to learn and understand aspects of Native culture. One of the classes consisted of a kids' craft, creating a heart necklace made of cedar.
The Hibulb enriches the lives of visitors through demonstrations, workshops, cultural presentations, and lectures. But the kids' crafts can reach new audiences: families.
Museum Assistant Braxton Wagner, who taught the class that day, said, "It is so much fun working with kids. I love to see their limitless creativity and their curiosity flourish. They can be so sweet. I feel like kids are so open and receptive to learning about different cultures and experiences of other people, and these classes are a great opportunity to teach them."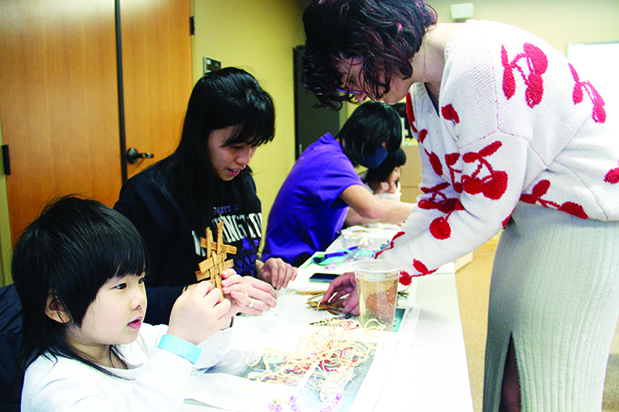 A diverse gathering of parents and their children joined the class, where they each received a bag of cedar strips and other materials to make the cedar-woven heart necklace. The kids' crafts typically are simple activities that they can finish together as a family within an hour or so. By extending out to families, projects like these can diversify kids' knowledge about the many communities surrounding them and expose them to new cultures.
When the families weren't concentrating on the cedar project, kids played, and parents exchanged stories and smiles with each other. One of the parents in attendance was a Ph.D. candidate University of Washington Law and Indigenous Taiwanese citizen Margaret Tu (Nikal Kabala'an). Along with her studies of Indigenous peoples, Margaret has begun her travels across Washington to immerse herself in the culture of local tribes.
Margaret spoke about the beauty of Indigenous communities connecting, "We all have faced similar struggles. Colonization, forced relocation, laws around our language and culture, etc. But we also know the fight that we have for our people and cultural preservation. I hope to learn from the Indigenous communities around here, see what has been successful for them, and take that back to my people."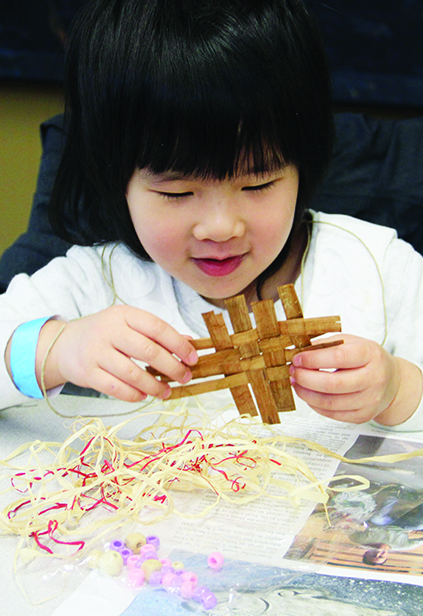 She found it necessary to bring her kids along in her journey and attend the class, saying, "We don't have this opportunity in Taiwan to connect with other Indigenous communities. There's a cultural revitalization movement around us, and I want my kids to be a part of it. So I think exposing them to these educational and learning opportunities while we're here is important. I know they enjoyed it."
Studies have found great value in establishing diverse environments for youth. In 2019, the Michigan Association for Infant Mental Health stated, "We tend to assume that inclusion alone creates respect for differences. However, it is active conversation and support for children's understanding of diversity that guards against the development of the stereotypes and prejudice that contribute to biased behavior".
Simple one-hour classes like these provide new exposure, conversations, and knowledge of our people and culture.
For more information about HCC classes and events, visit their website at: www.hibulbculturalcenter.org/Events.