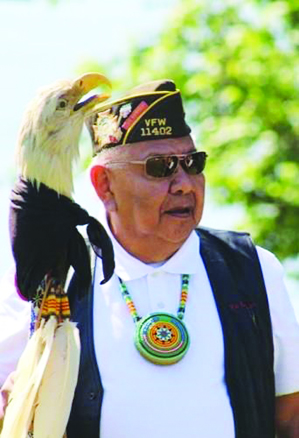 December 30 1941 – February 14, 2023
David Charles Fryberg Sr., 81, passed away on February 14, 2023 surrounded by his family.
He was born on December 30, 1941 at the Tulalip Hospital to Abraham "Shorty" and Elizabeth "Rose" Fryberg.
David attended Marysville school district until he enlisted in the Marines in 1959. He was a proud military man and served two tours in Vietnam during his enlistment. He continued his education later in life and graduated with his Bachelors degree from Antioch University of Seattle.
David was also a proud indigenous man who shared his cultural teachings with those close to him to include traveling the pow wow trail as a traditional dancer. He was a drum maker, carver and master weaver, sharing his artwork with many.
He was connected to the water in every aspect of his life. Beginning as a child, David was a fisherman and would relocate to the water during the various seasons to provide for his family alongside his father Shorty and other family members. He later served as a Welder, traveling from California to the Bering Sea repairing ships, remembered as a "masterful welder" with the ability to weld behind his back utilizing a mirror.
Throughout his adult life he had many titles and practiced in several areas of employment to include serving as a Drug and Alcohol Counselor for 30 years. Having 37 years of sobriety, David was held in high regard and provided a positive influence to many throughout his career as a Sobriety Counselor.
David ended his career as the Veterans Coordinator for Tulalip Tribes. He was known as an advocate and leader for veterans within Native communities all over the United States.
David leaves behind his loving wife of 37 years, Cherol Fryberg, Daughters – Sabrina "Sookie" and Dorothy "Topo" (Leland), Sons – David Jr. "Chip" (Tina), David "Tigger" (Debbie), Sister – Cookie Fryberg-Robinson, Grandchildren – Ross (Krisan), Richard (Trish), Ryan, Traci (Bryndon), Kisar (Hayley), Kalani (Wendy), Ali, Cheyenne, Wallace, Franky and Tashina.
He is preceded in death by his parents – Abraham "Shorty" and Elizabeth "Rose" Fryberg, sister – Delores "Punky" Williams and Brother – Leroy Fryberg Sr.
An evening service was held Monday, Feb. 20, 2023 at 6:00 PM at the Tulalip Gathering Hall. Funeral Services were held Tuesday, Feb. 21, 2023 at 10:00 AM at the Gathering Hall with burial following at Mission Beach Cemetery.