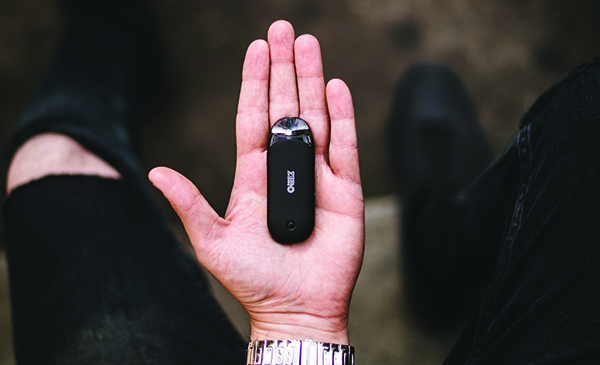 By Shaelyn Smead, Tulalip News
Since e-cigarettes and vapes entered the U.S. marketplace in 2007, the dangers of smoking have evolved. With many smoking advertisements and manufacturing still targeting younger people, nicotine use amongst adolescents concerns the community.
According to an article in the Missouri Medicine Journal, over the last 20 years, there has been a decrease in the number of teenagers smoking combustible cigarettes. The Youth Risk Behavior Survey demonstrated a decline in teens smoking cigarettes from 70% in 1991 to 28.9% in 2017. The decrease reflects the exhaustive work done by physicians, advocacy groups, and lawmakers. Physicians have worked diligently to improve education on the dangers of smoking and fought to pass new regulations to protect patients.
However, this decrease in combustible cigarettes seems primarily due to increased vaping and e-cigarettes. The FDA and Centers for Disease Control and Prevention released federal data from the 2022 National Youth Tobacco Survey states that more than 2.5 million middle and high school students use e-cigarettes.
Tulalip Community Health Prevention Education Specialist Kelly Prayerwarrior said, "It is in the community. Listening to people and parents talk about kids as young as fourth or fifth grade getting suspended from school for vaping. They get it from their older siblings or cousins and want to try it out of curiosity or peer pressure. But outside of that, we see parents and elders smoking and using e-cigarettes, so it's almost normalized, and our youth don't understand how damaging it is."
Kelly and her team recently visited all the middle and high schools in Marysville School District (MSD) to discuss vaping with Native youth. She informed them that are the equivalent of 20 cigarettes per vape, that they contain many harmful chemicals, and other concerning facts about e-cigarettes. Overall she was surprised at how little they understood these products. "They were shocked to hear some of the statistics."
The Missouri Medicine Journal also states that every e-cigarette advertisement, from billboards to packaging, to products, was heavily aimed at adolescents. From 2014 to 2016, advertising for vaping exploded on social media, and 78% of middle and high school students were exposed to at least one advertisement. Pods come in colorful and fun packaging and are flavored with mint, gummi bear, frosted sugar cookie, etc., to attract adolescents.
During the school visits, Kelly recalled that a few kids came forward, admitting that most kids they know are vaping. Even going as far as saying they believe the statistics are worse. Several Native advocates from MSD also spoke with Kelly voicing their worries about the widespread use within schools, which caused more concern for the Community Health Department.
So why aren't more parents aware of their children using these products? Kelly explained that there are many factors. The first is that vapes can be so easily hidden. Many e-cigarettes on the market are the size of a USB drive and can be concealed in small pockets in clothing, bags, or other discreet areas. Additionally, because e-cigarettes don't contain the fire to make them smoke the same way cigarettes do, they won't have a lingering smell on their body. Instead, as previously discussed, the vapor smells fruity or minty and quickly disperses into the air without anyone noticing.
  Are some e-cigarettes safer than cigarettes? Kelly said that couldn't be more false. People are inhaling the smoke and the liquid from the pods. Therefore, their lungs fill with fluid. Many other dangers come from vaping, including addiction, raised blood pressure, heart attacks, cancer, impairment in memory, hyperactivity, impulsive behavior changes, and much more.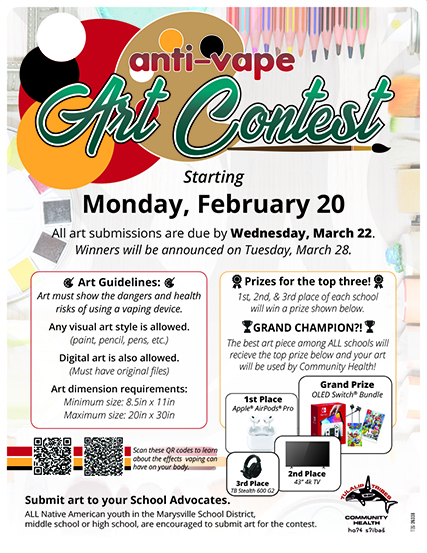 To combat this widespread e-cigarette use, the Community Health Department has created an anti-vaping art contest where MSD middle and high school Native youth, at each school, can win a pair of AirPods Pro, a 43" 4K TV, and TB Stealth 600 G2 headphones. Out of all the schools, a grand prize winner will be chosen and win an OLED Switch Bundle. Additionally, their art will be used for anti-vaping ads across Snohomish County. Submitted art must be a poster-style or digital art piece, show the dangers and health risks of vaping, and must be submitted to their school's Native American advocate. Submissions are due by March 22, and the winner will be announced on March 28.
For more information about the dangers of vaping and e-cigarettes or the anti-vape contest, please get in touch with the Community Health Department at (360) 716 – 4511.