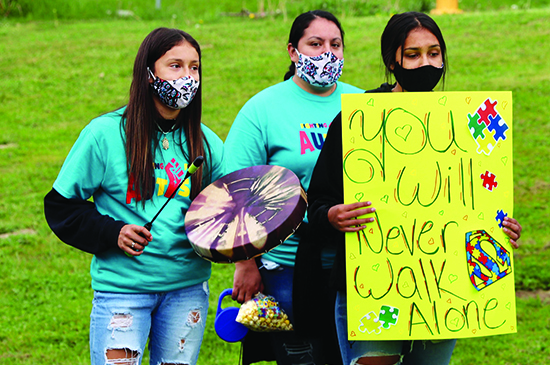 By Kalvin Valdillez, Tulalip News
"I heard a story recently from a family who received a diagnosis of autism for their grandson," recounted Nicole Couevas, Family Haven Case Manager. "The grandma told me she didn't know what to do or where to turn. So, she pulled off to the side of the road and walked up to Jared's [Parks] house, and knocked. And she said, 'I need help'."
Autism is a common, yet very complex, intellectual developmental disability (IDD) that has significantly been on the rise over the past two decades. According to the Centers for Disease Control and Prevention (CDC), one in forty-four children in the United States are diagnosed with an autism spectrum disorder (ASD) – a statistic that was revealed in a 2018 study. It's important to note that those reports show that the number of autism diagnoses has nearly tripled since the year 2000. Many are now speculating that since the COVID-19 pandemic, that number has increased even more, as parents were with their children 24/7, and therefore were able to recognize some of those IDD characteristics, and in turn receive an official diagnosis.
Nicole explained, "IDD covers neurological and developmental; anything that affects cognitive memory skills falls under intellectual. And then developmental can be anything physical. So, under that umbrella comes Down Syndrome, Autism, Fragile X, Fetal Alcohol Syndrome, traumatic brain injury, genetic disorders – so it's not specific to just autism, though we know that assistance is much-needed in that area right now."
Those living with an IDD diagnosis often begin showing signs in the early childhood development years and usually receive a diagnosis after the age of three, however, a child can receive a diagnosis as early as eighteen months. Early indicators of autism specifically, include language delay, repetitive behavior, obsessive interests, as well as social and communication challenges. The CDC states that children with IDD have different ways of learning, moving, paying attention, and interacting with the world around them.
Now considering these statistics, and the fact that you're reading a tribal news article, one might begin to wonder what IDD looks like within the Native community. Historically, statistics in Native America are often underreported due to a lack of resources for reservation-based families in regards to issues such as mental and physical health, substance abuse and addiction, homelessness, and violence against women, children and two-spirit tribal members. And the same could be said about Native children living with ASD and IDD. A study conducted by the American Academy of Pediatrics showed that Native youth are 13% less likely to be identified with autism, while non-Native kids are 1.5 times as likely to receive an ASD diagnosis at a young age. And those low statistics and the lack of available knowledge surrounding IDD tends to lead to negative misconceptions, denial, and a feeling of despair once an Indigenous child is diagnosed with any form of IDD.
Let's backtrack to the story of the local grandmother who didn't know where to go after receiving her grandson's diagnosis. She immediately went to the Parks family for assistance. This is important because it shows that a handful of tribal members are already putting in the effort to erase any stigmas surrounding IDD, and that they are out in the community raising awareness about autism by sharing their personal experiences. And thanks to the time and care that organizations like Jared's CORNer, Leah's Dream Foundation, and the Aktion Club of Marysville and Tulalip have dedicated to the Special Needs community, people know that they are not alone, and that they can get through it with a level head and a full heart.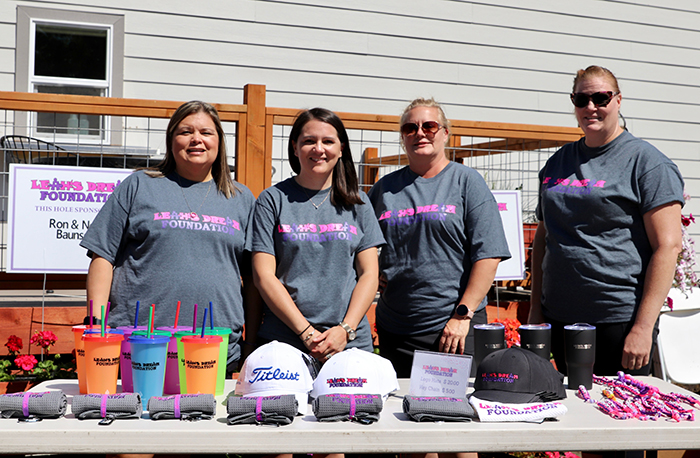 If we take a moment to place ourselves in the shoes of that grandmother during her family's hour of need, most of us wouldn't know where to turn either.
Said Family Haven Director, Alison Bowen, "There are people within the community who are doing this work, and we want to hold them up for all the good that they've done. But at the same time, they can't be the go-to for everybody, that becomes hard – being that one person who everybody goes to after a diagnosis. Amy [Sheldon] is amazing, Deanna [Sheldon] is amazing, Jared is amazing, but they need to be able to achieve the goal they are trying to reach too."
In that moment, the grandmother made the best call by reaching out to somebody who's gone through a similar experience. But let's ponder a what-if scenario. What if, after receiving that diagnosis, the family knew exactly where to go? What if there was a system already set in place that laid out all the resources and possible avenues that the family could take? What if there was someone who they could speak to who was familiar with the Tulalip community and culture, and the advantages that ceremony and ancestral teachings can offer people with IDD? And conversely, what if someone was there to help them navigate all the obstacles that Native families face after an IDD diagnosis, such as the lack of readily available resources due to their location?
Enter the new Family Haven program, the Intellectual Developmental Disability Support for Families. Still in its infancy, the program is being fine-tuned to meet the needs of Tulalip families who are supporting a loved one with IDD. So far, the program has hosted two meet-and-greet gatherings, and they will soon be releasing a survey to get as much feedback from the community as they can in order to tailor the program to best fit Tulalip.
"Part of our mission is that we want people to know that disabled or not, you are Tulalip. You have the rights that everyone else has the rights to; you have a right to your culture, you have a right to your lifeways," said Nicole. "We want to dispel these myths about autism. It doesn't mean that something's wrong with our families. It doesn't mean that something's wrong with the parents. It doesn't mean that somebody did something, or that someone took drugs or anything to cause this. It's just what happened. And we know this because there's no race that isn't affected by IDD. Autism isn't something that happens to one ethnic group or religious group, it goes beyond all borders. It doesn't distinguish between anybody. And what's most important for the community to realize is that they're still our kids. And they still deserve as much love, respect, and opportunity as any other kid."
The IDD Support for Families program was developed to help the community in numerous ways, but its main objective is for families to utilize it to help bridge the gap between the reservation and the resources. The program accepts referrals, and Family Haven is anticipating that most referrals will come from evaluations conducted at the Betty J. Taylor Early Learning Academy and the Karen I. Fryberg Health Clinic, although they will also accept referrals from a family's primary care physician as well as self-referrals. Any Tulalip family that is ready to receive that additional help, can contact the program at any time for their guidance. And to make the transition as smooth as possible, Family Haven has entered a collaborative partnership with TELA and the Clinic, so if a referral is placed, then the program can offer their assistance early in the family's journey. Medical diagnoses are not necessary, as the program can help the family navigate that process as well.
Nicole shared, "One of our biggest goals is to support people where they live. We acknowledge and understand that not knowing where to go for help can be overwhelming. We're willing to be there that first time you meet with anybody [doctors, foundations, organizations, etc..] because it can be so overwhelming. It can make a difference having somebody there who has that connection with the community and understands not just what a family is feeling, having their child's new diagnosis brought to their attention, but also understands the culture. That can help make an easy transition for that parent and that child to access those outside services."
Down the line, the program will expand its services to assist any tribal member with IDD between the ages of 0 to 24. But for now, while the program is building its name and making headway, its focus will solely be the children with IDD who are in the age range of birth to five and are currently in those critical early development years.
Alison elaborated, "Early intervention can dramatically shift how a child does when they go to school, and also their future development. If they have that one-on-one care, or that specialized service that isn't normally provided within the community, a lot of catching-up can occur, and a lot of gains can be made for that child. And that impacts their future in a good way.
"Receiving these early interventions for your child before the age of three is easy, and there does not need to be any formal diagnosis. If you are having those concerns, talk with your child's doctor or just give us a call. We can have somebody come in and share exercises that you can do with your child to help get them caught up. At times, it really may be as simple as that."
Aside from the important work of providing resources to Tulalip families, the new program has plenty of fun events and activities planned through the summer months as well. Such plans include monthly play groups, where the IDD Support for Families program arranges park outings for the children to help build their social and interactive skills through playtime with other youth from the community.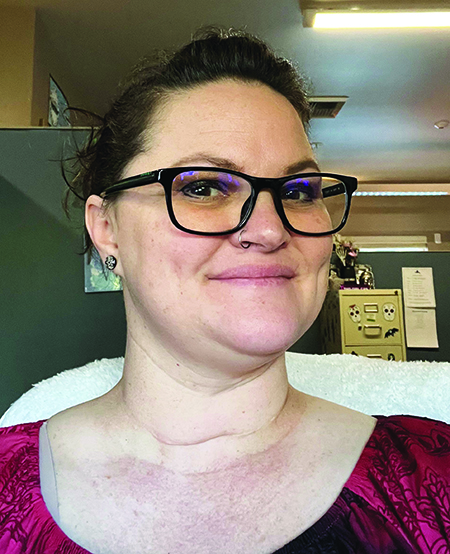 The program is partnering with the Arc of Snohomish County to bring new devices and inclusive equipment made specifically to assist children with IDD, such as ADA swing seats and wheelchair swings. And the program is also looking to purchase portable and sensory-friendly equipment of their own, so that families can try and enjoy some of those fun items and activities with their child.
Another future event that is currently in the works is what is soon-to-be-known as Café Days. At these gatherings, families will be able to join together to share resources, information, and stories with each other. Which is a great way to help each other out while also continuing to build that sense of community as IDD becomes more common and accepted within the society of Tulalip.
Expressed Nicole, "[Stigma surrounding IDD] is a real thing. Our message about this new program isn't that we perceive kids with disabilities as disabled, because they're not. I think a lot of us have this old image in our heads of that special-ed classroom from the 80s and 90s, where you had the kids who were basically hushed and pushed away, and it was us vs. them. But that's not the world we live in anymore; we're all one."
She continued, "We're not here to say they need to be fixed. That's not the point of this program. This is to show all the different ways we can help your family to better maneuver in the world with IDD. And also, to make sure we are giving families all the options that are available, and providing them with as many modifications, if needed, as possible, so they have as much as an opportunity as everyone else."
Be sure to look out for the IDD Support for Families survey, and seriously consider taking the time to complete the survey to ensure that those children and individuals living with an IDD diagnosis receive the best care possible through the new program.
"We want to hear from the community," Alison expressed. "What do you think would be helpful for this population we're talking about? What areas are really lacking? What could we do as a community to better help and assist these families and individuals? The goal is to have people achieve their highest potential, whatever that is for them, and not have as many struggles. Our hope is to assist families who have a diagnosis, and also those families who might not have a diagnosis but have concerns. This whole concept has increased in every community in the last three years. It's time for us to acknowledge that as a community and wrap around those families and youth who need our help and support."
For more information, please contact Nicole at (360) 716-4935.