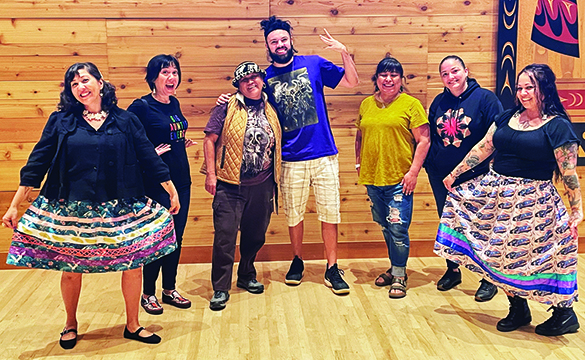 By Micheal Rios, Tulalip News
The Department of Native American studies at the University of Washington hosts an annual literary and storytelling series titled 'Sacred Breath.' Featuring Native writers and storytellers who share their craft at the beautiful wǝɫǝbʔaltxʷ Intellectual House on UW's Seattle campus, the most recent event gave the public audience an opportunity to immerse in the sacred breath of Coast Salish culture bearers Rena Preist and Natosha Gobin.
Rena is a published poet and an enrolled member of Lummi Nation. She was appointed to serve as the Washington State Poet Laureate for the term of April 2021-2023. Her debut poetry collection Patriarchy Blues was published by MoonPath Press and received an American Book Award.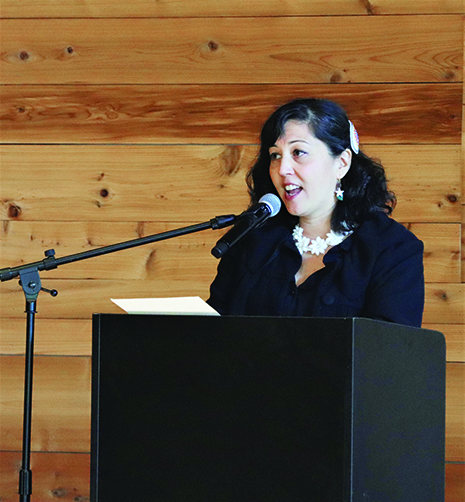 Natosha is a homegrown Tulalip tribal member. She has been learning, speaking and teaching Northern Lushootseed for over twenty-two years with her tribe's language department and as an established educator at Marysville Pilchuck High School. Her passion for sharing Tulalip culture with Washingtonians of all ages is personified best in her expressive storytelling.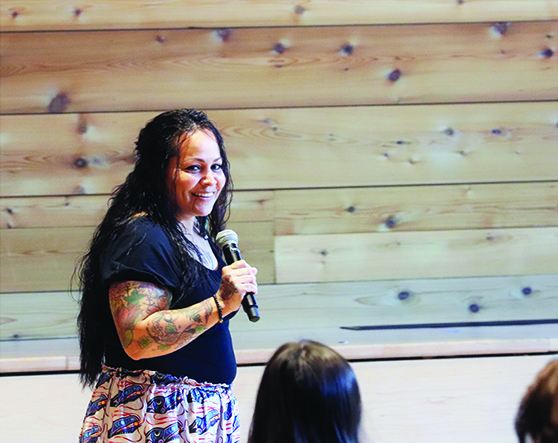 "Storytelling offers a spiritual connection, a sharing of sacred breath," stated UW associate professor Jean Dennison during her speaker introductions. "Literature, similarly, preserves human experience and ideals. Both forms are durable and transmit power that teaches us how to live. Both storytelling and reading aloud can impact audiences through the power of presence, allowing for the experience of the transfer of sacred breath as audiences are immersed in the experience of being inside stories and works of literature."
The connection between Native American storytelling and modern poetry may seem complex, yet at their core both forms of expression are rooted in the power of language and the human need to communicate ideas, emotions, and experiences. It's long been understood that the worldview of Native people is intricately woven into the fabric of language and ways of speaking.
Since time immemorial, our shared histories have been passed from the memories of one generation to the next through spoken word. In this sense the oral tradition connects past, present, and future while strengthening tribal and familial bonds. Those bonds were broadened to include the truly enchanted UW longhouse audience who sat quietly with anticipation of each and every word spoken word by Natosha in the form of traditional Tulalip stories and by Rena in the form of poetic literature.
Rena opened her presentation by sharing two of her favorite poems Welcome to Indian Country and To Sing and Dance before reading several offerings from her latest poetry book Northwest Know-How: Beaches. She was gracious enough to allow us to republish some of her poems for the consideration of our readers.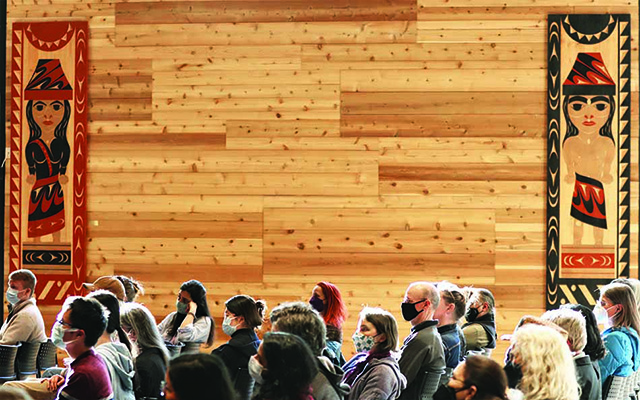 A common theme in all of Rena's poetry is the incorporation of her Native American culture and ancestral language. She shared one the greatest blessings of being named Washington State Poet Laureate was being given a platform to help educate on Native ways of life and thinking.
"There is still a lot of secrecy around our spiritual beliefs," she explained. "I feel like if people knew more about them or had the opportunity to see how things are held sacred…the interrelationships between living things, and to see that and find ways to celebrate that in their own lives, then it would be much easier to muster the collective will toward preservation of species and restoration of habitat and being more responsible stewards of the land."
After the Lummi version of a poetry slam, Natosha captivated the crowd with traditional tales told in Lushootseed. She shared The Changer, Rattlesnake, Raven Steals the Light, and legendary Basket Lady. With many in the crowd hearing the ancestral Tulalip language brought to life for the first time, they roared with heavy applause following each story. Natosha even received much crowd participation when asking for them to repeat her during thematic elements of her stories.
After sharing her illustrious words, Natosha was asked during the Q&A panel to describe the importance of sharing her traditional stories and language on the University of Washington campus, and how she views this in the greater context of decolonizing education. She responded, "My first thought is land back, classrooms back…taking our space back. Whatever means we can establish our presence and our ancestral knowledge in spaces like this is an act of decolonization."
The Tulalip language warrior also added, "I'm grateful for me and my coworkers to have the opportunity to do this work. Especially in a space like this one where the audience isn't just here to listen to poetry or the stories and then leave. Instead, everyone has stayed after to ask questions and ask for additional historical context. It means so much because it shows how much true desire there is to learn about our culture."
Together Rena and Natosha showed how Native American storytelling and poetry can be deeply connected to local environments and the natural world we all share. The teachings of both their presentations focus on the importance of respecting and living in harmony with Mother Earth, while also striving to share elements of Coast Salish culture that bring diverse communities together as co-stewards of this land.
Among the Sacred Breath audience was a UW PhD student and Tulalip tribal member, Tessa Campbell. After the event she shared, "Witnessing Natosha represent Tulalip in such a beautiful manner and speak our traditional language was such an empowering moment. I actually got a little teary-eyed during her storytelling presentation because it was a magical moment to have [one of our own] have a strong vocal presence on campus."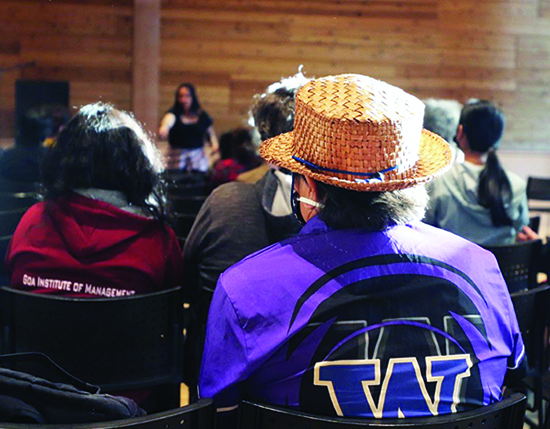 Collection of poems by Rena Preist
(A Poem Is a) Naming Ceremony
What has grown out of what has gone away? The clear-cut patch has grown larger on the mountain. The rivers have grown murky with timber trash,and there's enough run-off cow manure to grow corn out there on the tide flats. I don't want to think about what has gone away. I want to meander and play and forget myself until I can grow a new me in place of all this grief—learn the language to see the cotton wood as kwealich ich, the dancing tree; the killer whales as qwel' lhol mechen, our relatives under the sea; the whole glorious landscape filled with meaning to end my grieving.
When I was young, I was invited to learn Xwilngexw'qen, the people's language, but I said no. I didn't understand. I thought I wanted to learn how to be rich. I didn't know that the only way to possess all the wealth of the world is by naming it—here is bird song, here is the kiss of a lover, here is the feel of cold water at the peak of summer. I have spent my life with words, trying to name a hint of what I lost by not learning my language. Estitemsen. Tu totest sen. Estitemsen.
1 I'm doing my best. I'm still learning. I'm doing my best.
Remembering Silé at Sxwelisen 2
"We used to say, when the tide is out, the table is set. The earth provided. And if one day it didn't, the spirit fed us." The glittering turn of the tide, the arc of the sun in the sky, the call of birds, the sound of waves—to be nourished in this way makes glass doors opening and closing themselves between me and that food on grocery-store shelves seem false, empty.
That food, where does it come from? Whose hands grew it? Was there patience and care? Were there prayers? Think of how it got here— what it's made of. "When I was a girl, everything we ate came from the earth that loved us, through hands of people we loved."
2 Sile' is Grandmother. Sxwelisen is a place name for a land bridge that emerges at low tide. We go there to harvest shellfish.
The Forest for the Trees
I have seen a tree split in two from the weight of its opposing branches. It can survive, though its heart is exposed. I have seen a country do this too.
I have heard an elder say that we must be like the willow— bend not to break.I have made peace this way.
My neighbors clear-cut their trees, leaving mine defenseless. The arborist says they'll fall in the first strong wind. Together we stand. I see this now.
I have seen a tree grown around a bicycle, a street sign, and a chainsaw, absorbing them like ingredients in a great melting pot.
When we speak, whether or not we agree, the trees will turn the breath of our words from carbon dioxide into air—
give us new breath for new words, new chances to listen, new chances to be heard.