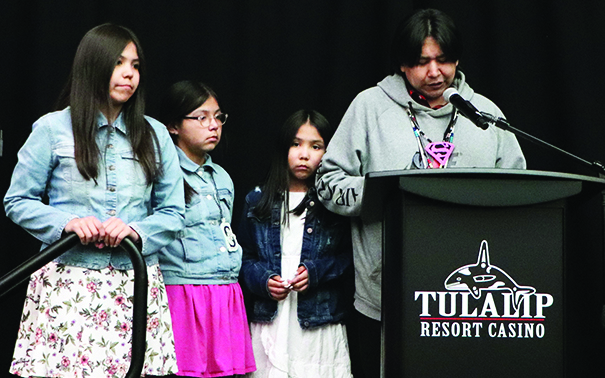 By Shaelyn Smead, Tulalip News
With the popular rise of sports betting and modern technology expanding the accessibility of gambling, experts are becoming concerned and are raising awareness about the progression of gambling addiction.
According to the Evergreen Council on Problem Gambling, problem gambling is a serious health issue affecting between 80,000 and 160,000 Washington State residents, or 2 to 4 percent of adults and 8 to 9 percent of adolescents and young adults. In 2020, Washington's net gambling receipts exceeded $3 billion.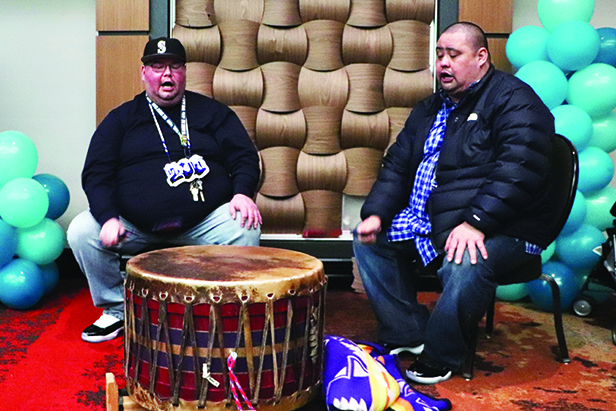 Tulalip's Problem Gambling program helps mitigate this problem within the tribe by providing numerous resources for tribal members. The program offers services such as counseling, referrals, treatment, consultation for interventions, and community-wide events and activities such as Positive Day of Action, training for Wellness Court, a youth summit, the Problem Gambling Dinner, and a Holiday Kick-Off event to bring the community together and raise awareness of gambling addiction.
On March 27th, the Tulalip Tribes Problem Gambling Program and dozens of community members joined together at the Tulalip Resort Casino to celebrate and support the continued progress and sobriety of gambling addicts and their families. Traditional prayers and drumming filled the room to bless and open the event. The evening featured a comedic act from Tonia Jo Hall, a performance by the 206 singers, and gambling recovery speakers.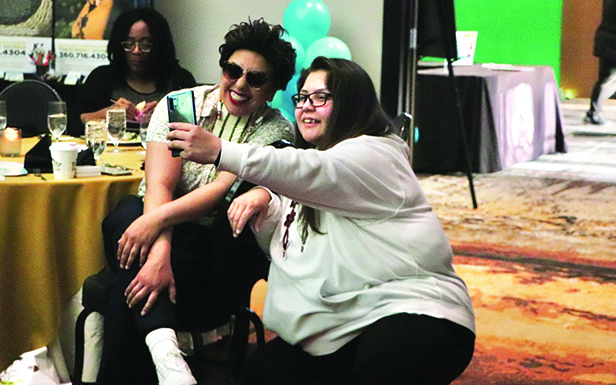 Tribal member Theodore (Theo) Sam, of Gambler's Anonymous, shared his story of the slow progression of his gambling addiction. He discussed how it can start with a few small bets and quickly spin out of control. His addiction grew to the point where he took out loans, borrowed money from people around him, sold things in his home, and missed many family events and holidays. Eventually, gambling consumed his life. He lost everything, including his four daughters, and became suicidal.
Theo is now over two years sober, with custody of his children, and in a stable home environment. He has goals to open his own espresso stand and make a name for himself. Throughout his story, his daughters remained at his side in support of him and his recovery. He looked at them and apologized for all the pain he had caused.
  "We have to make a choice every day. I used to think gambling would make my dreams come true. But now, I can't believe the progress I've made by admitting I have a problem. My life is finally back on track. Giving up gambling was one of the best things I could've done for myself and my family," Theo said.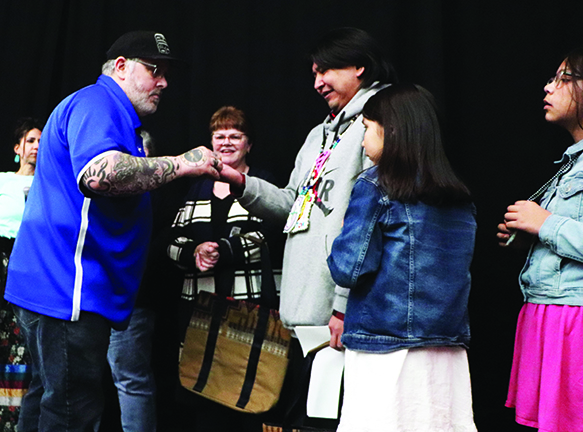 One of the community members who had previously heard Theo's story, was so moved by his perseverance that he gifted Theo with a bear tooth.
As the evening concluded, participants rejoiced in the strength of our people, the ability to overcome, and hopes for the future.
The Tulalip Problem Gambling Program continues to assist individuals and family members through recovery, allowing them to resume their life with a renewed sense of balance, health, responsibility, and purpose. For more information, please get in touch with Sarah at 360-716-4400.