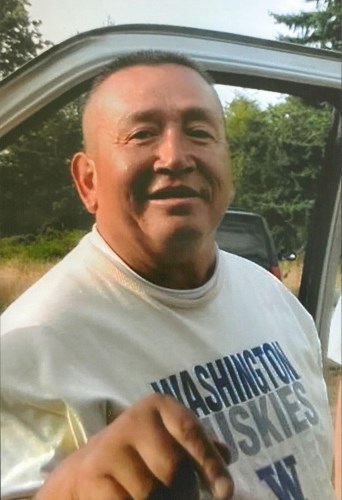 July 26, 1956 – March 26, 2023
Patrick Joseph Alexander became our ancestor on March 26, 2023. Born in Everett, WA on July 26, 1956 and was a proud member of The Tulalip Tribes. He spent his life surrounded by love from his numerous nieces and nephews. Uncle Pat loved to teach kids how to bead and play basketball. He enjoyed riding his bike. Pat was always willing to help others and sat with our dear loved ones the night before their burials on many occasions. 
He painted the thunderbird on the Marysville High School.
His surviving family members are His siblings are: brother Maurice Alexander Jr., sister Maureen (Richard Denver) Alexander, brother Francis (Regina) Alexander, brother David (Nanette) Alexander. Nieces and nephews are: Carlee Jones, Maureen Enick, Philip Alexander Jr., Ginger Enick, Joseph Alexander, Crystal Alexander, Shawnee Sheldon, Courtney Jefferson, and Philip Alexander III. 
Pat is preceded in death by mother Patricia L. Williams (Tulalip) & father Maurice Alexander Sr. (Lummi Nation). Brother Phillip Alexander Sr. (Tulalip) 
Services will be held on Friday, March 31, 2023 at the Tulalip Gathering Hall at 10am. His final resting place will be the Tulalip Mission Beach Cemetery.