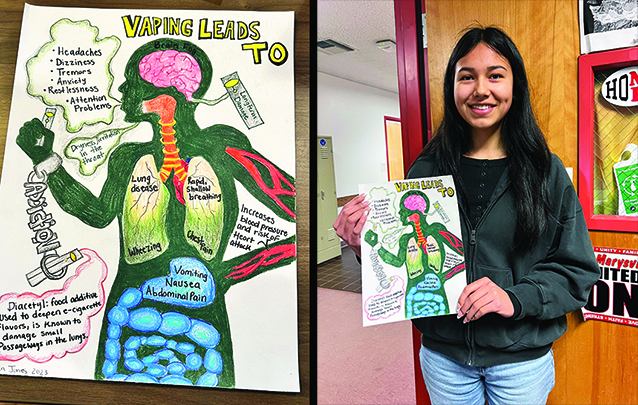 By Kalvin Valdillez, Tulalip News; photos courtesy of the Tulalip Community Health Department
This past February, the Tulalip Community Health (TCH) department announced a month-long art contest which was open exclusively to Native American students who attend either a middle or high school within the Marysville School District (MSD). Leading up to the contest, Community Health visited each of those Jr. and Sr. high schools and dropped some important knowledge on the tribal students about the dangers of vaping and smoking e-cigarettes.
After establishing trust with the students, to ensure their anonymity, the department learned some key details about the usage of the electronic nicotine sticks and 'vape juice' within the community – the how, where, and why.
TCH Community Resource Coordinator, Kelly Prayerwarrior, shared, "We created a safe space at the very beginning, and let them know that we are not going to tell people who said what, we just want to get an idea of what's going on. And they opened up and told us that kids are smoking at school in the bathrooms, on the bus, and that they basically are smoking everywhere."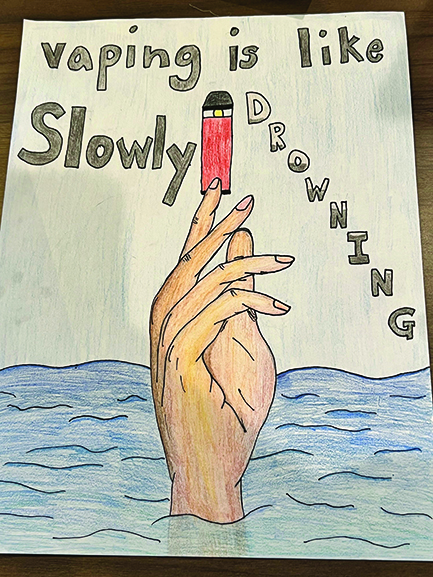 Over the past decade, numerous studies and reports were conducted by the likes of the CDC, FDA, the Surgeon General, and the American Lung Association about the relation to teens and vaping. An eye-opening statistic comes from the Truth Initiative about how widespread vaping has become in recent years. You may recognize the organization's name from anti-vaping ads and commercials that air on both cable and YouTube. Their 2022 National Youth Tobacco Survey revealed that among teens nationwide, 42% admitted to using an e-cigarette within the thirty-day time period of which the study took place, while 46% of high schoolers confessed to vaping frequently.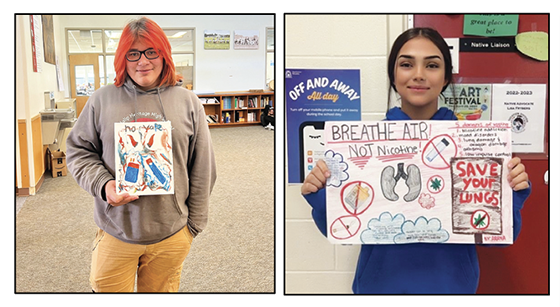 When asked about the appeal of vaping to the youth of our community, Kelly shared her insight and stated, "I think it's because they are able to get ahold of it, they have easy access to it, it doesn't smell. The kids who I talked to said that they are getting it from their family members who vape, and also their friends at school. I think it's also the flavors and because it's something new. And they're seeing their community members and family members doing it, so they think it's okay because everyone else is doing it."
She continued, "It is an addiction. I see people walk around the store smoking their vape and many of them don't know that they are inhaling lots of chemicals into their bodies, a lot of those same chemicals are used in cigarettes. There's a term called popcorn lung, that's caused from when the water of the vape gets into the lungs. It also fogs people's mind, it raises their blood pressure, and it can cause irritability in the people who are addicted to it. When they don't have it, they get irritable."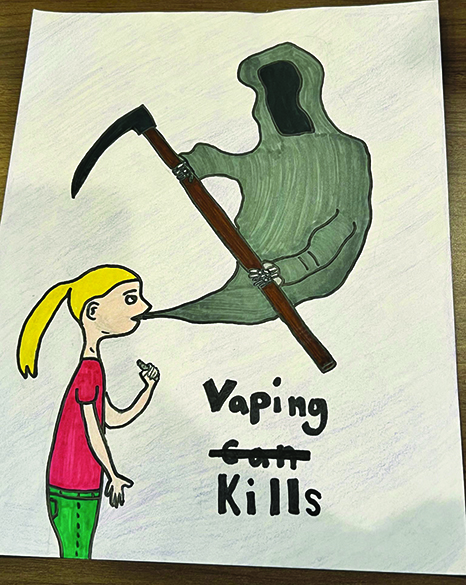 Upon chatting with the students about the harm vaping can cause an individual's health and wellbeing, TCH announced the Anti-Vape Art Contest. The teens were asked to create a poster to combat the growing trend of vaping on the reservation and within the MSD. The kids were informed that the winner's artwork would be the visual for a new campaign against vaping and that their work would be shared all throughout Tulalip and Marysville. Fifteen students took on the challenge and were motivated not only by creating a smoke-free environment locally, but also by a number of prizes including a Nintendo Switch bundle and Apple AirPods.
After much deliberation, due to the all the amazing artwork submitted, TCH announced the winner of the contest. Tribal member, Heaven Jones, brought home the grand prize thanks to her informative design which depicts all the negative effects that vaping has on the human body. Her impressive anatomy artwork pinpoints exactly where the damage of vaping takes place, and around her subject's wrist are handcuffs. Heaven cleverly uses the technique of steganography to display the word 'addiction' as the links in the handcuffs.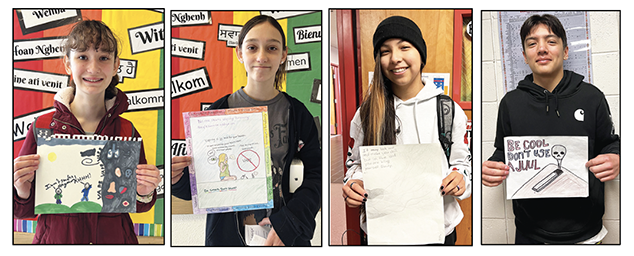 "I'm proud of how the artwork turned out and I'm glad to know that people will learn from my poster," expressed Heaven. "Hopefully it will help change how they think about vaping and realize what it could do and how it affects their body. I am very grateful. This contest was important to me because I have people in my family who vape, and I've seen them try to stop and seen how hard it is. What they have to go through when they aren't vaping, and how they act, it makes me want them to be able to stop."
Heaven shared that she also submitted four original pieces to the upcoming Native American Student Art Festival, that is organized by the Tulalip Education Division and the MSD Indian Education Department.

Lorina, Heaven's mother, proudly stated, "She is a very talented artist. She really wanted to take part in this contest because of her family members and others in the community who do vape. She worries about everyone who does it."
Heaven's artwork will soon be plastered on the walls and hallways of several tribal department buildings in the near future, as well as at the Tulalip Administration Building, the Tulalip Boys and Girls Club, and various places throughout the MSD.
Said Kelly, "Everyone made really great art and I want them to get credit for participating in the contest. And I really wanted to highlight our winner because she put a lot of effort into her artwork and that's the piece we are going to be using. It was heartwarming to see how many young leaders stepped up, because each one of them showed leadership by creating their art and making a statement with their work."