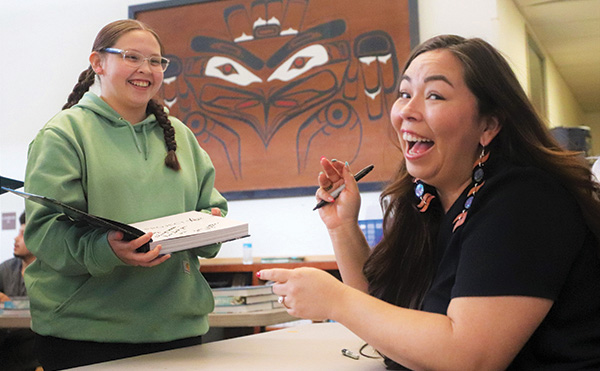 By Micheal Rios, Tulalip News
It's been over a decade since visual storyteller Matika Wilbur uprooted her life entirely and sold all her material possessions to fully invest in her vision: to photograph the vast beauty and diverse spectrum of Native American culture, unveil the true essence of contemporary Native American issues, and showcase the magnitude of tradition that unites Native America.
She named her vision Project 562. A moniker that reflected the number of federally recognized tribes at the start of her journey back in 2012. There are now 574 federally recognized tribes, yet her intention behind choosing the name Project 562 remains intact as she intended to both inspire and educate.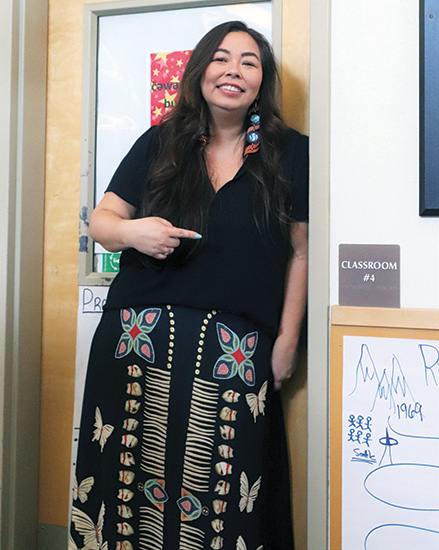 "While teaching at Tulalip Heritage High School and attempting to create a photography curriculum with a narrative that our children deserve, I found an outdated narrative," she recalled of her journey's inception. "It's an incomplete story that perpetuates an American historical amnesia. It's a story that's romantic, dire and insatiable…it's the story of extinction."
Matika points out the extinction theme often associated with Native America is easily perceived by doing a quick Google Images search. If you search for 'African American', 'Latino American' or 'Asian American', then you will find images of present-day citizens who represent each culture. You'll also see proud, smiling faces and depictions of happy families.
But if you search for 'Native American' the results are very different. You'll see many black and white photos of centuries old Native Americans who are "leathered and feathered".
"All of these images and misconceptions contribute to the collective consciousness of the American people, but more importantly it affects us in the ways that we imagine ourselves, in the ways we dream of possibility," explained the Tulalip citizen turned nationally renowned photographer.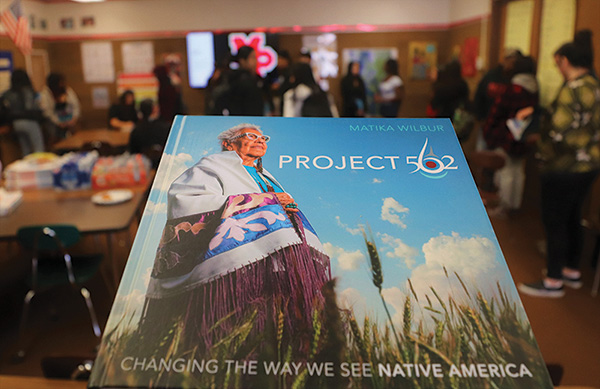 After dedicating the last 11 years, traveling more than 600,000 miles and visiting more than 400 sovereign tribal nations (spanning from the Aleutian Islands of Alaska to the Miccosukee in Florida's Everglades), Matika has returned home. And with her return came the exciting announcement that she received an exclusive book deal with Ten Speed Press.
While on the road to fulfilling her vision, Matika became one of the Pacific Northwest's leading photographers and has been exhibited extensively in regional, national, and international venues, such as the Hibulb Cultural Center, Seattle Art Museum, the Burke Museum of Natural History and Culture, The Tacoma Art Museum, the Royal British Columbia Museum of Fine Arts, and the Nantes Museum of Fine Arts in France.
Even more impressively, some of her stunning photos are now included in the Google Images front page when searching 'Native American'. She's literally helped change the powerful Google search algorithm to showcase a more modern, vibrantly fierce Native American spirit.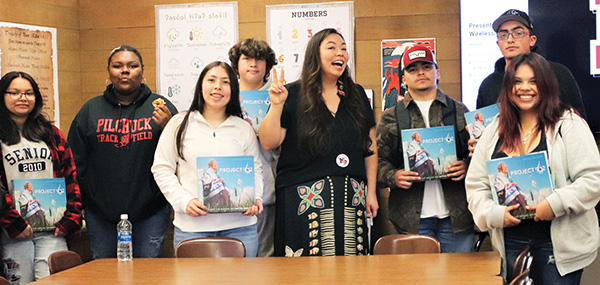 Another momentous experience for her and the local community took place on April 26, when the now 39-year-old Matika presented Native American students of Marysville Getchell, Marysville Pilchuck, and Tulalip Heritage high schools with her crowning achievement – Project 562: Changing The Way We See Native America – a whopping 416-page hardcover book showcasing Native American culture through breathtaking photos and stories from hundreds of tribal nations.
"I set off on this journey to change the way we see Native America. To put together a body of work that represents who we truly are. This journey has taken me across all 50 states, from the Arctic to New Zealand to Puerto Rico to over 1,000 tribal communities in between," shared the expressive homegrown icon to the Heritage high school students. "All of you are why I did this. Even if I don't know you personally or you may not know me, it's so important that you, the children of this community, know how truly loved you are. You are our hopes and our dreams and our future.
"I want you to know that despite what anybody tells you, despite the lies you've been told about yourselves, and despite the false narratives written about your ancestors, you deserve all the goodness. You deserve all the medicine. You deserve the opportunity to believe in yourselves. I want you to know that these pages were written for you. Even if you don't read it immediately or just a little at a time, never forget this book and all its messages within were made for you.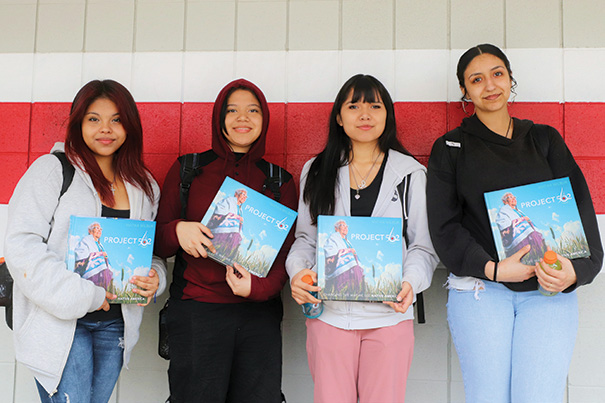 "For me, in this moment, I feel like my dream came true, but I also can't help but think of all the relatives who didn't get to see their dreams come true," she continued. "Hopefully, you too can live to a time where you can see your dreams actualized. If I can leave you all with one final message it's to dream bigger, imagine bigger…because you deserve it."
Within her book, which currently ranks #2 on the Amazon Best Sellers list for Art & Photography, are candid conversations about tribal sovereignty, self-determination, holistic wellness, historical trauma, decolonization, rematriation and many more on the importance of revitalizing culture. This creative, consciousness-shifting work is available for purchase locally at the Hibulb Cultural Center and the Elliot Bay Book Company, or through digital purchase via Amazon or Barnes & Noble.
"This book means so much to me because I didn't even know of her or her journey until the beginning of this year, but I've learned through her stories and presentation how much she's done for our community and many other tribal communities across the country," shared 9th grader Lilly Jefferson. "I'm so amazed looking at her photos and can't believe she fulfilled her dream even though no one believed in her in the beginning. I'm really excited for when I grow up and make new dreams because I won't forget her and what she said. I will dream big!"
"After all her travels and visiting all those other tribes, she still chose to come back home and give back to her community. That's pretty cool," added 16-year-old Image Enick. "Listening to her story gives me more inspiration for a dream of mine. I have an idea to create a YouTube channel and document travels to other tribes who play stick games. The game is played different the further you travel, and I'd like to learn how they play in Rocky Boy, Montana and across the border in Canada. Knowing we have a tribal member here who has visited all the tribes, it makes me feel good to think I can approach her with my idea and get tips on who to talk to and where to go when I decide to start my own journey."
In the most respectful way, Matika estimates she's been welcomed into a thousand different tribal communities because they not only supported her project whole-heartedly, but also because they too desired to see things change. From media coverage to Google Images search results to what's written in history books, Native Americans deserve an accurate portrayal of their thriving, dynamic traditions and remarkable oral histories that have sustained Native America since time immemorial.