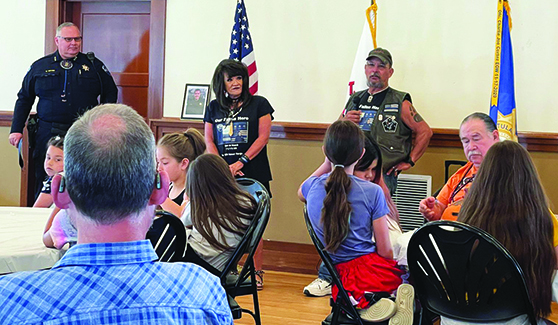 By Kalvin Valdillez, Tulalip News; photos submitted by Paula Cortez, Teri Nelson, and Anita Matta
On the morning of May 17, an intimate ceremony took place at the Tulalip Dining Hall as the community, Tribal police department, and the families of William Williams Sr. and Charlie Joe Cortez gathered to pay tribute to the two fallen heroes of Tulalip. Nationwide, police departments take the time to honor and recognize those officers who paid the ultimate sacrifice and died in the line of duty every May 15th, and its corresponding week, which is officially known as Peace Officer Memorial Day and Police Week.
Tulalip Police Department Chief of Police, Chris Sutter, shared, "Just a little history on the importance of this day – in 1962 President John F. Kennedy signed a proclamation which designates this week of May 15th as Peace Officer Memorial Day and Police Week. That was sixty years ago. Today and this week in Washington D.C., officers from all over the country and their loved ones are having ceremonies at the [United] States Capitol.
"This year, President Joseph Biden sent out a Presidential Proclamation and in part, this what that proclamation reads: 'Every day when law enforcement officers pin on their badges, they make an extraordinary commit to the American people. To rush towards danger, regardless of the risks, and to faithfully stand up for the rule of law. Across our neighborhoods, towns, and cities, they put themselves in harm's way, hoping to return safely to their families. On Peace Officers Memorial Day and during Police Week, we celebrate the remarkable courage of our law enforcement community and honor the fallen heroes who made the ultimate sacrifice to protect their fellow Americans'."
At the beginning of the month, the annual Washington State Law Enforcement Officers Memorial Project took place in Spokane. During the memorial project, a candlelight vigil is held for fallen officers from around the state. Each year, a select number of fallen officers are recognized during the memorial project and their names are etched into a granite wall outside of the Public Safety Building in Spokane. At this year's remembrance, Tulalip tribal member and TPD Fisheries Patrolman, William Williams Sr.'s name was unveiled on the wall next to Charlie Joe Cortez.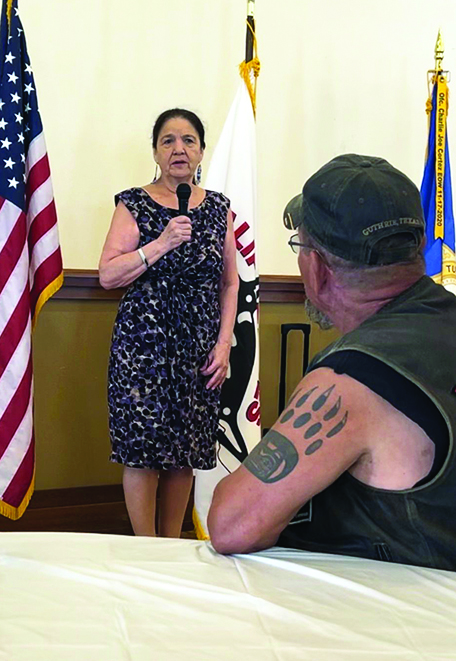 On the Officer Down Memorial Page, a website dedicated to the memory of all of the fallen officers across the nation, Williams' dedication states that he drowned while patrolling Quil Ceda Creek in July of 1965, and that he was reported missing after his boat was found unoccupied. His body was recovered along the creek in the days following, just west of the I-5 overpass in Marysville.
TPD Fish and Wildlife Officer, Charlie Cortez's End of Watch date was on November 17th of 2020. While on duty, and after assisting a distressed boater in rough and stormy conditions, Charlie's fisheries vessel capsized in the Salish Sea. After a two-day search and recovery mission, Officer Cortez was pronounced lost at sea and his body has yet to be recovered and returned home to his family.
These two brave men and Tulalip tribal members dedicated their lives to protecting their beloved tribal community. And with each passing day, their presence is missed more and more by their families and community, but their memory continues to live on through their loved ones and fellow TPD officers. Which is why gatherings such as Honoring Our Heroes event are of the utmost importance, to remember their sacrifice and their commitment to keeping the people of Tulalip safe.
Chief Sutter expressed, "I'm excited to see the community come together – this is good medicine for healing, supporting, and loving each other. We are gathered here today to show respect and remembrance for our fallen officers. This is a solemn event and we want to support each other and love each other and celebrate the lives of our two fallen heroes from Tulalip. And it's not lost on me that they were both from the fish and wildlife patrol enforcement, and how dangerous and how quickly the waters can change. I want to acknowledge our fish and wildlife officers today and thank them for their sacrifice and service to the community along with all of our police officers."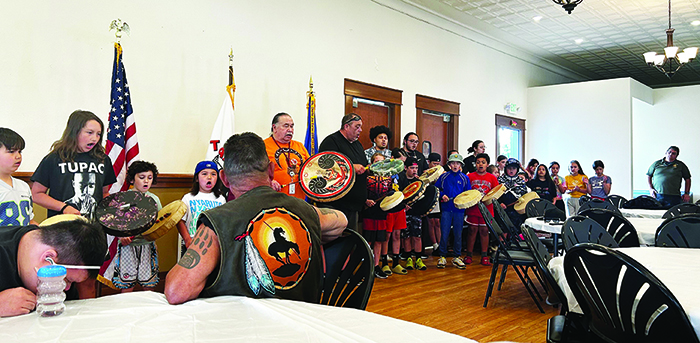 Following a blessing by Tribal youth drummers, the people were invited to share stories of their time spent with the fallen officers. Speakers included family members, their fellow brothers and sisters of the badge, and several Tribal leaders.
"When I got up and spoke, I remember thinking that this was such a healing moment for the families and officers," said Officer Cortez's mother, Paula Cortez. "It was special. I've seen ceremonies like this held at other departments, and I'm just so grateful that TPD decided to do it as well."
While recollecting on a time period during Charlie's childhood, Paula continued, "I shared a cute story about Charlie when he was a little boy. We were driving down the road, he'd see a cop pass by and he'd say, 'cheese man, cheese man!'. I looked at him like what are you talking about, and he'd be pointing at the policeman. I was wondering where in the world he got cheese man out of policeman. So, when we were driving down the road again one day, and I saw another cop, I said, 'oh it's the cheese'. That's what it meant; they were the cheese men."
The Tulalip Police Department plans on holding an Honoring Our Heroes event every year during Peace Officer Memorial Day and Police Week to bring healing to the community from here on out, by recognizing those two fallen officers who died in the line of duty while protecting their homelands.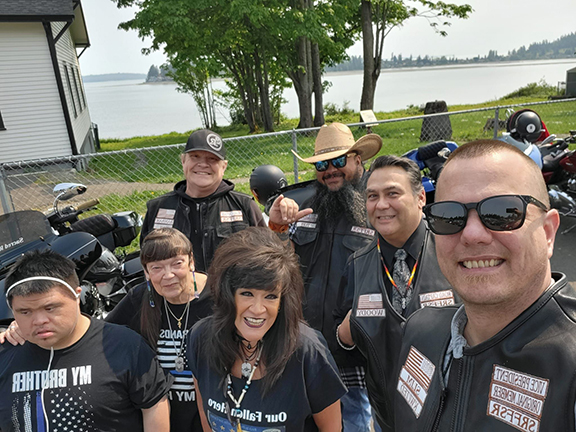 "The honoring was really special to me, and it turned out really nice. It gave everybody who didn't get to make it to the memorial services an opportunity to share some of their stories that they had together. As Charlie's mother, I will always do anything and everything that I can to keep his memory alive."