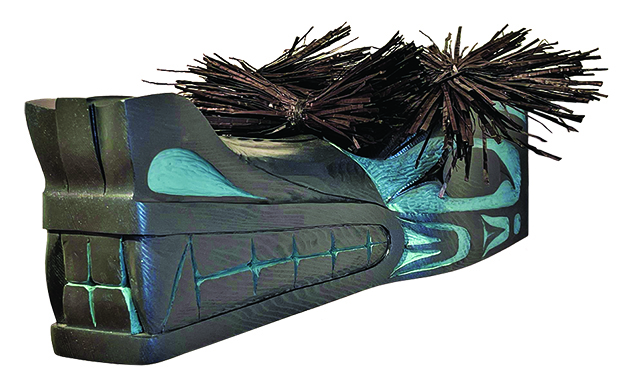 By Micheal Rios, Tulalip News
In an era of rapid technological advancement, the art world is undergoing a profound transformation. Artists, once limited by traditional mediums, are now free to embrace modern tools and digital platforms to push the boundaries of their creative mind.
Tulalip citizen James Madison is one such artist who isn't simply embracing this challenge of adapting to an ever-evolving art market, he's actually empowered by culture and tradition to forge forward and demonstrate to the next generation what's possible. A mindset he inherited from his grandfather Frank Madison.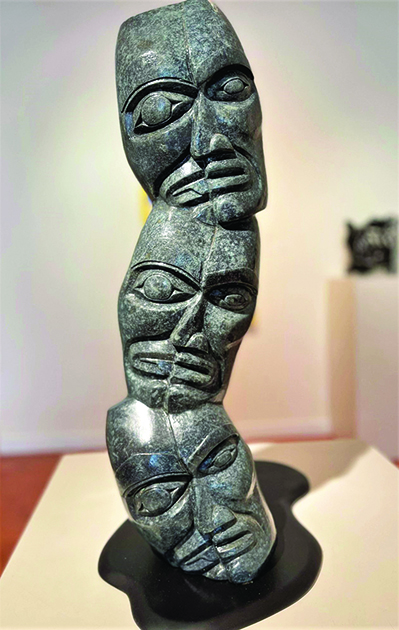 "I started learning how to carve at 5-years-old," shared the now 49-year-old James in a recent episode of Hibulb Conversations. "Some of my earliest carving memories are from when I'd be dropped off at my grandma Lois and grandpa Frank's house every day during elementary. I'd basically receive my culture teachings from them in the morning, before going to school at Whittier Elementary, then continue the culture teachings with them after school. Back then, my grandpa would carve around the kitchen table. He'd sit me down with my cousin Steven and we would watch and learn."
James comes from an artistic family that spans multiple generations and includes both Tulalip and Tlingit forebearers who were deeply rooted in cultural traditions and storytelling. They used a variety of tools and elements that were at their disposal at the time to preserve their culture through art.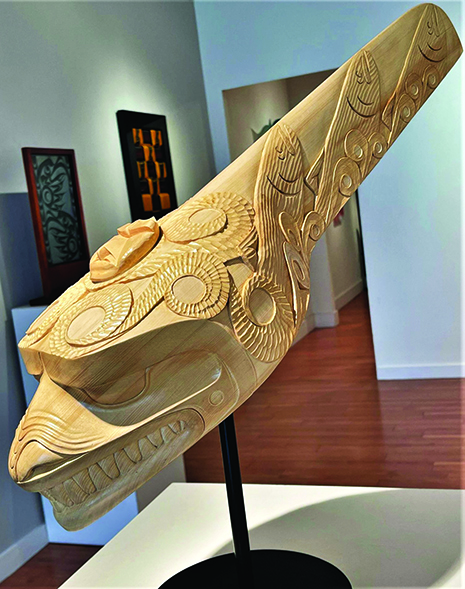 Today, as the world becomes increasingly interconnected and technology-driven, James and his contemporaries are finding ways to evolve their craft by blending traditional techniques with new mediums that require a functional knowledge of the latest techno wizardry. Welcome to the competitive art scene of 2023. Where true master's of the craft must push themselves to learn exciting and innovative methods to preserve their cultural heritage like those before them.
"I always dreamt of being an artist like my grandpa and father before me," admitted the Tulalip master carver. "There was a Haida artist named Bill Reid, who I never actually met in person, but he had a profound impact on me through his books filled with northwest coastal art and stunning sculptures that were 15 to 20-feet large. When I was young, his books were accessible to me and I'd look through them constantly; studying his technique and visualizing what I'd do if I had the ability to create things larger than life."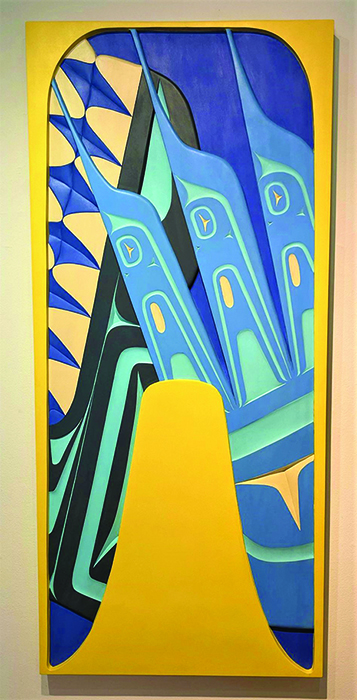 As his portfolio grew, so too did his public commissions; to the point that his previous childlike visions of one day creating larger than life carvings and sculptures came to fruition. James has created stunning 10, 20 and even 25-foot installations that are easily visible all across Coast Salish territory. From his home reservation (at Tulalip Resort Casino, Hibulb and the Admin Building), to Mukilteo's Lighthouse Park, Stanwood's Kayak Point, Arlington's Centennial Trail, and Everett's Evergreen Arboretum.
Now in his first solo exhibition with Stonington Gallery, located in Seattle's historic Pioneer Square neighborhood, James mastery of the latest artistic mediums is on full display. His unique cultural expression fills the gallery space and allows onlookers to explore complex themes, while immersing themselves in the awe-inspiring creations developed by a master at work.
"I know it'll sound kinda goofy, but I don't look at myself as a Native artist. I look at myself as an artist," reflected James while reviewing his latest gallery collection. "My grandpa always told me, 'we need to not just carve things out of the books, but look to create new things to show that we're still evolving. We're not petrified. We're still alive.' That was his mantra and I've incorporated into my life by always pushing myself creatively to create something new. To show that we're not petrified. We're still alive and still evolving."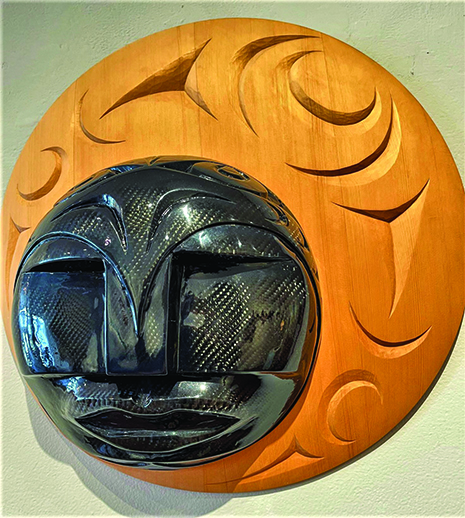 Fittingly titled Still Alive, Not Petrified, his Stonington Gallery exhibition embodies what an artistic mind can achieve when experimenting with different techniques, collaborating across disciplines, and creating groundbreaking works that challenge conventions, while intending to inspire new ideas from the next generation of artists.
"I've been so enthralled by not just the level of mastery James routinely exhibits, but the sheer diversity of his mediums as well. It was his carvings and public works that really caught my eye, and why I initially contacted him over Instagram," explained Jewelia Rosenbaum, director of Stonington. "In my 24-years with Stonington, we've made it a mission to spearhead the connection between this region and Coast Salish art. In 2005, we were the first to put out a wide-ranging, largescale exhibit of only Coast Salish artwork. This went hand-in-hand with our partnership with University of Washington Press to publish a book titled Contemporary Coast Salish Art.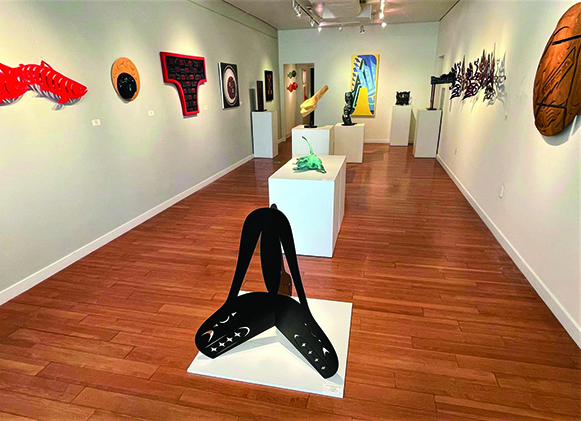 "We are so honored to feature a James Madison solo exhibition because he truly encapsulates contemporary Coast Salish art," she added. "From metal sculptures and glass woven panels to intricately carved cedar masks and paddles to even molded carbon fiber weaves that contrast beautifully with a carved cedar panel backdrop, he represents everything one might want when coming to the art form."
As he continues to evolve his use of traditional storytelling through new mediums and digital tools, James is actively revitalizing the Coast Salish art scene by injecting innovation, vibrancy, and relevance into the creative process. By leveraging technological advancements to preserve and showcase his culture, he's also bridging the gap between generations and diverse backgrounds to create a collective understanding of what it means to be alive, not petrified.