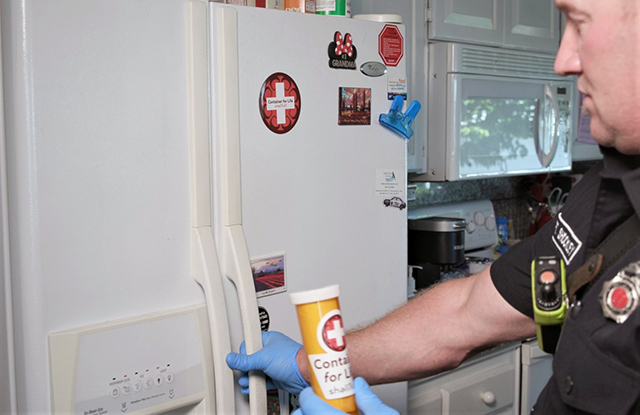 By Micheal Rios, Tulalip News
An exciting and potentially life-saving program is being welcomed into the Tulalip community. In a true collaborative effort by Community Health and Tulalip Bay Fire to not waste a single second while attending to our on-reservation residents during emergency situations, the family friendly Container for Life launch event is scheduled for June 16, from 3pm to 5pm, at the Tulalip fire station.
The Container for Life is designed to speak for you when you can't speak for yourself. The container holds important information that can assist emergency personnel in administering proper medical treatment. 
"When a medical emergency has occurred, it's very hard for the person involved or their family to answer all the questions that EMS and/or medical personnel will need to ask. With the Container for Life, most of that information is in the container. This helps ease stress and errors that can occur when people are under duress," explained lead nurse for Community Health, Ashley Schmidt.
What is the Container for Life program?
The Container for Life program is a community safety and harm reduction program. In the case of a medical emergency one of the most crucial factors is time. The Container for Life provides crucial information for EMS and medical professionals to quickly assess and respond on an individual basis during an emergency.
Why should our community make it a priority to implement the Container for Life in their homes?
Tulalip consists of 22,000 acres or 35 square miles. Much of the area has limited access, often only one road in and out. 4 out of 5 Tulalip emergencies happen in the home. The Container for Life will greatly assist in addressing medical needs immediately and possibly prevent a need to go the hospital, not to mention this could be lifesaving. In addition, there is a section on the Medical Information Form for tribal members to include preferences and goals of care. For example, this would be a great place to include cultural considerations such as not cutting one's hair or spiritual preferences.
Which services and programs are collaborating to bring this potentially lifesaving program to Tulalip?
The Community Health nurse team and the Tulalip Bay Fire paramedic team have partnered together to bring this life saving product to tribal homes. The Community Health Department was awarded a Public Health Improvement & Training subaward through the Center for Disease Control and Prevention (CDC) and Northwest Portland Area Indian Health Board (NPAIHB).
This subaward will fund the Container for Life project as well as ACT community classes. ACT stands for Antidote, CPR and Tourniquet. The Community Health nurses and community paramedics will offer important classes on reversing overdoses using Narcan, compression-only bystander CPR and in-the-field tourniquet use to stop critical bleeds (i.e. fishing or hunting accidents, car or ATV accidents, etc.). These classes will begin later this summer.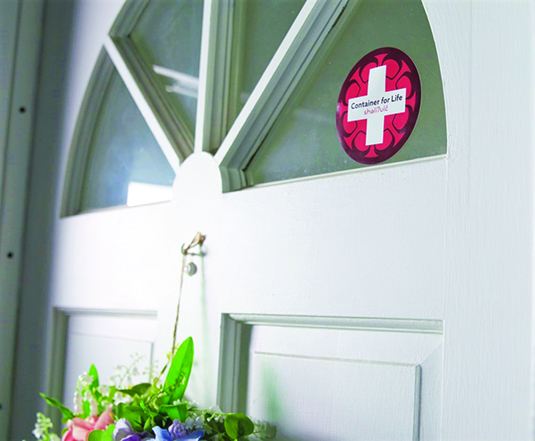 Who is championing the Container for Life cause already and what messages are they hoping to share?
Ray Sheldon Jr. and Rhonda Gobin are our two Container for Life champions. Ray said, "We have to think about the larger picture. If I have to go to a new medical provider or for some reason have to go to a different hospital than Providence, say Overlake or Evergreen, then I can grab the container. It has all my important medical information in it and is readily accessible to go where I go. It's a win-win."
Rhonda shared, "Not everyone has access to get a Life Alert. Knowing that I live alone and my information is there if it is needed. It gives me lots of assurance and confidence in the EMTs. I'd advise my fellow elders to not be afraid and try something new. Trust in this program because it is good. This makes me feel safe. I have had many good experiences with Tulalip Bay Fire. This Container for Life would have saved my grandmas life and many other people's lives. We have attended so many funerals that we should never had to if they had this."
How can interested individuals and/or families participate?
KICK-OFF distribution event: Friday June 16th at 3pm, come by the Tulalip Bay Fire Department to learn about the project, receive a Container for Life kit and meet the teams! This is a family-friendly event. We will serve BBQ foods. We will also have TPD Community Outreach there with the canine unit and the Emergency Preparedness Coordinator to engage with the community.
After the distribution event, we will have Containers for Life kits available for pick-up both at the TBFD and Community Health buildings. In addition, EMS teams will have kits for distribution while they work in the field.
Community Health can be contacted for additional information at 360.716.5662 option 5.
Each Container for Life kits will include:
The Container for Life vial
A branded magnet for the refrigerator
A branded window cling for a front facing door or window
2 medical information forms
An instruction card explaining how to use all of the above items