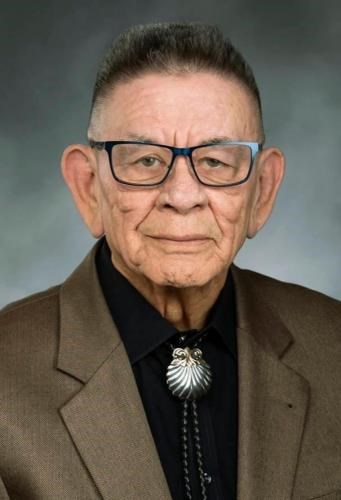 October 29, 1943 – June 6, 2023
It is with great sadness that the family of John Richard McCoy share his passing at the age of 79 on June 6, 2023. John had multiple health issues which he battled through every day for several years; and he died in his home surrounded by family at their residence located on the Tulalip Indian Reservation near Marysville Washington. 
John had many roles in his life and it was noted by his daughter Angela McCoy that each of those roles were a lifetime in themselves, most notable as the Chair of the Democratic Caucus with the Washington State Senate.
John was born in 1943 on the Tulalip Indian Reservation, he married his childhood friend and companion Jeannie McKay in 1965 and raised three daughters.
John was a 1961 graduate of El Capitan High School in Lakeside, CA. 
John's career began with commercial fishing in Puget Sound until he enlisted in the Air Force where he served for 20 years. Upon retiring as a Technical Sergeant (E-6) from his last duty station at Andrews Air Force Base, Maryland, he was immediately recruited by UNISYS to continue his government work as a Computer Programmer, and he was assigned to staff the Reagan White House situation room.
Stan Jones, then-Chairman of Tulalip Tribes, actively recruited John to return home to the reservation to pursue economic development. Indian gaming had commenced and the Tribes were struggling to adapt and build the infrastructure necessary for this powerful new form of economic development. John's contributions to the development of Quil Ceda Village and infrastructure gained national recognition for his innovation, stewardship and stellar success within the Tulalip Indian Reservation.
John was bestowed with an Honorary Master of Public Administration degree, and recognized as the 2020 Public Official of the Year by the Master of Public Administration program of The Evergreen State College.
John served as Washington State Legislator from 2003 to 2020, first as a Representative and then as a Senator, representing the 38th Legislative District (Everett / Marysville / Tulalip). He was elected by his colleagues to serve as the chair of the Senate Democratic Caucus in 2016. 
Survived by his spouse Jeannie (McKay) McCoy, his wife of 58 years, children Angela McCoy, Sheila (Jim) Hillaire, and Cara (Darrell) Tohannie; sisters Carolyn (Kevin) Gerhart and Marianne (Keith) Blatt, 16 grandchildren and 5 great grandchildren; several nieces and nephews, and cousins, especially Lavinia Carpenter and Coralyne Rose.
Preceded in death by his father MCBM John Richard "Dick" McCoy, US Navy retired, his mother, Jennie (Freda) McCoy, brother Michael McCoy, and sister Antoinette McCoy Koeth, and his infant daughter, Catherine McCoy
A public memorial service will be held on Sunday, June 11, 2023, at the Tulalip Gathering Hall at 6:00 p.m. and Monday, June 12, 2023, at the Tulalip Resort Casino Orca Ballroom at 9:00 a.m.
In lieu of flowers, donations may be made in support of the Senator McCoy Scholarship, The Evergreen State College scholarship fund. Arrangements entrusted to Schaefer-Shipman Funeral Home, Marysville.