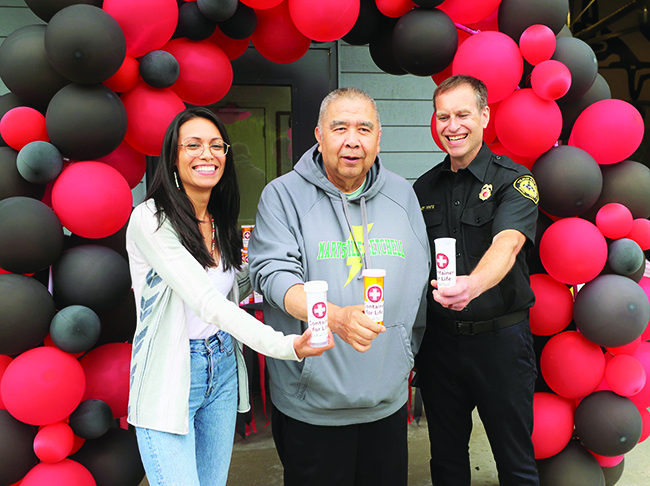 By Micheal Rios, Tulalip News
Container for Life is an exciting and potentially life-saving program being welcomed into our Tulalip community. In a collaborative effort led by Community Health and Tulalip Bay Fire to not waste a single second while attending to on-reservation residents during emergency situations, the family-friendly Container for Life launch event was held on June 16.
Hosted at the Tulalip Bay fire station, the always on alert firefighting team teamed up with the endlessly patrolling police officers to offer a memorable BBQ spread that got hungry passers-by to stop for a bite. After filling their bellies with grub, they were offered dessert in the form of sweet information about the many benefits of becoming a Container for Life participant.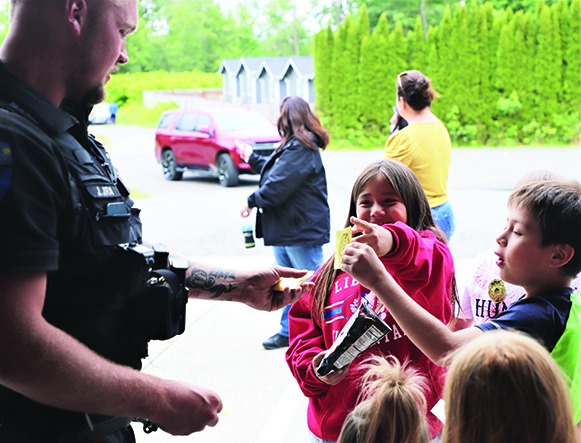 "When a medical emergency occurs, it's very hard for the person involved or their family to answer all the questions that Emergency Medical Services (EMS) and/or medical personnel will need to ask," explained the lead nurse for Community Health, Ashley Schmidt. "With the Container for Life, most of that information is in the container. This helps ease stress and errors that can occur when people are under duress.
"Tulalip consists of 22,000 acres or 35 square miles. Much of the area has limited access, often only one road in and out," she added. "Four out of five Tulalip emergencies happen in the home. The Container for Life will greatly assist in addressing medical needs immediately and possibly prevent a need to go to the hospital, not to mention this could be lifesaving. In addition, there is a section on the medical information form for tribal members to include preferences and goals of care. For example, this would be a great place to include cultural considerations such as not cutting one's hair or spiritual preferences."
  The Container for Life program is nationally recognized for saving countless lives each year by providing emergency responders with life-saving medical information during an emergency. The Container for Life is a form that is stored in your refrigerator. When emergency responders are called to your home they will see the Container for Life sticker on your front door and know to go to your refrigerator to get your important medical information.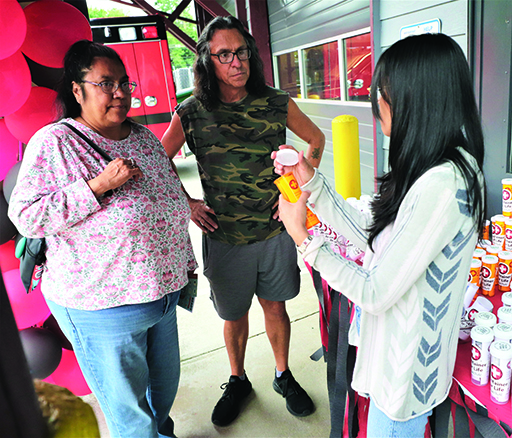 The simple to fill-out form, held in an easily recognizable container is designed to speak for you when you can't speak for yourself. The container holds all the information you deem important enough to share in the event that emergency services are called to administer proper medical treatment, or you are in a situation that requires treatment at a new medical facility.
"My dad has had several health scares over the past year. We've noticed that when he's gone by ambulance to the hospital, and we've followed by car, they keep the family out while administering medical care," shared Amy Sheldon, daughter of Container for Life participant Ray Sheldon. "This can sometimes be as long as an hour or even two, where we can't be with him. It's always a concern whether or not they know all his relevant information. With this container, we know that they can find all his important information, like what medications he's currently taking and what his allergies are."
It's the mission of Community Health and Tulalip Bay Fire to ensure every elder on the reservation is given the opportunity to become a participant. But this program isn't limited to just elders, all adults and kids can benefit from participating, as well.
"We came for the learning experience and to let the kids see the fire trucks up close, and to enjoy the BBQ," said Annette Cheer with four young ones in tow. "They were so excited to interact with the firefighters and Buster the police dog. We learned a lot. I can attest to the importance of children needing to participate in the Container for Life, especially if they have really bad allergies or are taking any medications. You never know what could happen, so it's better to be prepared."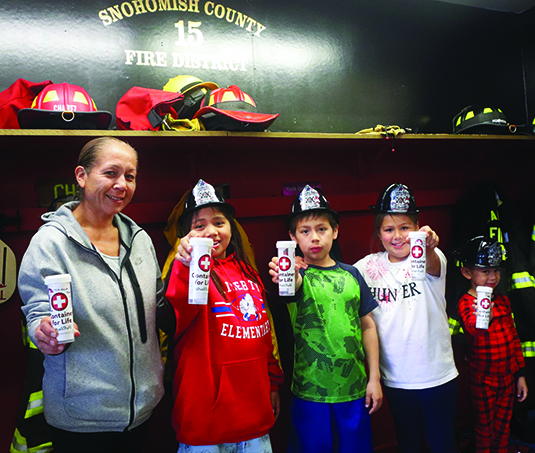 Each Container for Life kit includes:
The Container for Life vial
A branded magnet for the refrigerator
A branded window cling for a front-facing door or window
2 medical information forms
An instruction card explaining how to use all of the above items
Having your critical information available in an emergency could be the difference between life and death. If you or a loved one wish to participate, Containers for Life kits are available for pick-up both at the Tulalip Bay Fire Department and Community Health buildings.
Community Health can be contacted for additional information at 360.716.5662 option 5.