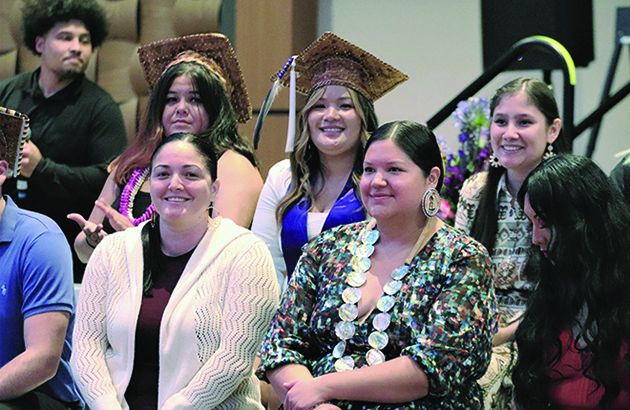 By Micheal Rios, Tulalip News
Every time a Native American graduates from a university, community college, or vocational school, they instantly become the living embodiment of what it means to reclaim a narrative. For so long, our people were shut out of academic environments where they could share their truths while embodying the vibrant traditions and teachings of their still thriving Native culture.
Compound those generational barriers to equitable education access with the unfortunate truth that when it comes to Native America and education, the dominant narrative says we can't succeed in the westernized education system. United States census data supports this misbegotten notion by showing that while more than 65% of American high school students attend college, just 19% of Native students continue their education after high school. In an age where education is a critical cornerstone for self-sufficiency and quality of life, only a bleak 13% of tribal citizens age 25 and older hold a college degree.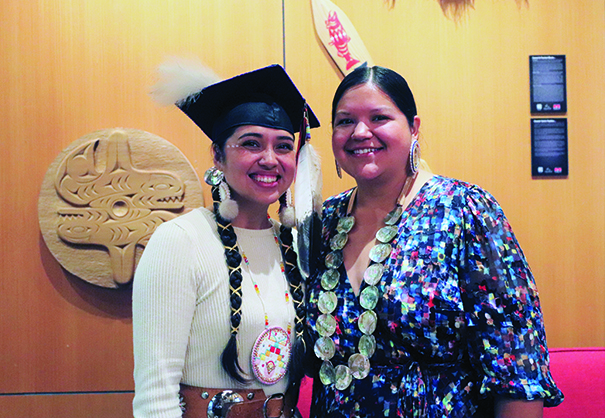 Yet, there is much reason for the next generation to be optimistic about achieving any dreams they may have of one day walking across a collegiate graduation stage and proudly accepting their Associate's, Bachelor's, Master's, or Doctoral degree. Because the educated Native narrative is being reclaimed and rewritten by present-day Indigenous scholars who are actively working to decolonize education pathways, not just for themselves but for future generations as well.
That reclamation process was on full display on the evening of June 22, as forty-two proud Tulalip scholars were celebrated for their commitment to higher education and, in the process, breaking the erroneous, often-cited stereotype that Natives can't succeed on the collegiate level.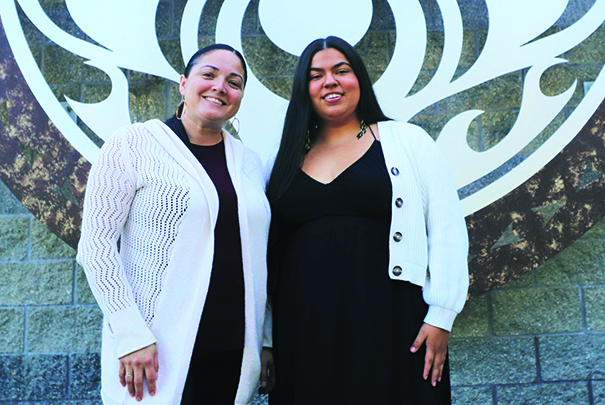 "You've all put in so much hard work and countless hours of studying to earn your degrees. We are so proud of you for choosing to better yourself, your community, and your future through education," said Chairwoman Teri Gobin during her opening remarks. "As a tribe, we know we need to be better at utilizing your brilliant minds and supporting our college graduates. As we continue to grow our business operations and evolve as a tribal government, we want you to feel welcome to build a career with us."
It was a powerful moment as the words washed over the graduates as they sat with their support system of family and friends in the Tulalip Resort's Orca Ballroom. Hopefully, many of the graduates will consider finding their place within Tulalip's vast enterprise that grows larger every year.
For some of the graduates, they are already working diligently to carve out a meaningful role in their traditional homelands. Two such examples are homegrown products, Malory Simpson and Tisha McLean. Both proud mothers managed to balance a busy home life with multiple kids and full-time jobs with their Tribe (Malory is the Events Manager and Tisha works in the Board office), with a steady diet of college coursework. For their immense efforts, Malory received a Bachelor of Arts degree from Northwest Indian College, while Tisha earned her Master's degree from the University of Arizona.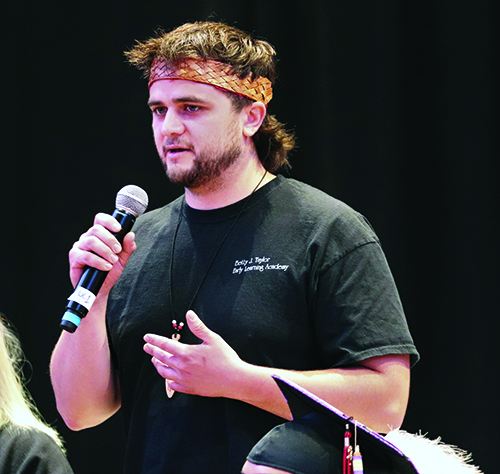 "My grandmother Dawn Simpson proved to me it's never too late to go back to school when at the age of 61, she graduated with her Master's degree. She inspired me as a single mother to go back to school in my 30s and to keep pushing no matter the struggle in order to be here today and graduate with my 19-year-old daughter, Shylah," shared Malory. Her daughter participated in running-start as a high schooler, which gave Shylah the opportunity to finish her A.A. only one year after graduating high school. "As the mother of four kids, it was always a goal of mine to graduate college so I could set a positive example for them. As proud as I am to be here today, I'm even more proud of my two oldest girls, who will both be attending the University of Washington next year. Together."
"I started my educational journey because I wanted to set the bar for my kids and my little sister," added Tisha. "With six kids at home, it's definitely been challenging. I can't thank my husband enough for taking care of our children while I'm in the books for 20 hours a week." Shortly after receiving her Master's degree, Tisha accepted a position as a legislative assistant to the Tulalip tribal council.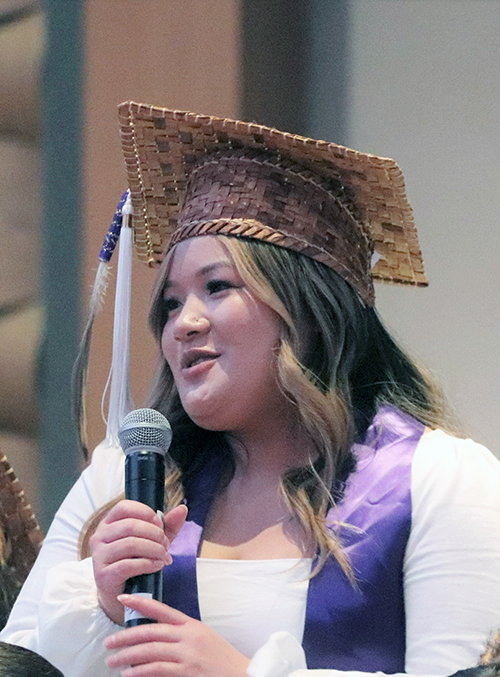 Another shining example of Tulalips striving to reclaim the education narrative is 27-year-old Kali Joseph. She has overcome many barriers while remaining steadfast in her commitment to bettering herself and her community. Now, she's a graduate of the University of Washington and intends to expand her role in empowering those most in need as the Manager for Tulalip's Recovery Resource Center, which opened earlier this year.
"I really want to say thank you to the generations who came before us. They really paved the way for us to be here. Our great-great-grandmothers are so proud of us," reflected Kali. "Us being in these academic institutions that weren't designed for us and succeeding is really beyond their wildest dreams. One of my lasting impressions from college, whether it was in Oregon or here in Washington, was routinely being the only Native person in the class. This happens when you move off the Rez and go to college. Sometimes you may feel really alone because of this, but knowing my ancestors were with me no matter where I went or where I was on my journey gave me strength. They are proud of us and we honor them with not just our achievements but also by speaking for them when we share our truths as Native people in rooms where nobody looks like us."
The higher education class of 2023 included nine Associate's degrees, ten Bachelor's degrees, and five Master's degrees. Nine vocational diplomas and nine high school diplomas rounded out the 42 Tulalip honorees.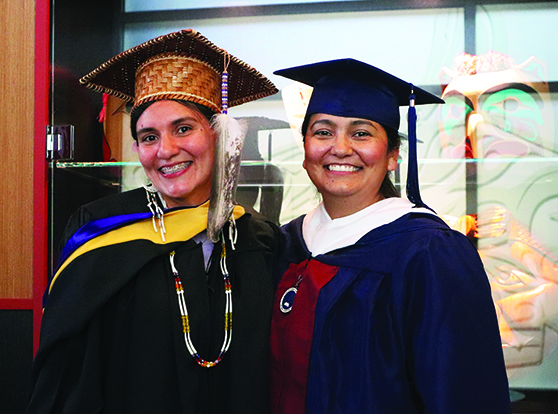 "There is such a sense of pride and accomplishment at these graduation banquets because, for many of our graduates, they are the first in their family to graduate college," shared now-retired higher education specialist Jeanne Steffener. "We love to see so many choosing to continue their education to pursue a master's degree or Ph.D. Their continued success motivates us as a department to do more outreach because we're seeing more and more excel at the next level. Our graduates' accomplishments are so superb and worth celebrating."
The importance of recapturing the story about Native Americans and education requires telling it anew with bold new characters and captivating subplots. Unquestionably, it will take a new generation of Native storytellers with ancestral knowledge and progressive savviness to unapologetically express our shared cultural values in new ways built for the ever-connected, digital world. From this latest cohort of higher ed graduates, we can rest comfortably knowing they are intent on motivating and inspiring even more trailblazers among the next generation.
Tulalip Higher Education staff are eager to help new and returning students find their path to academic success. They can assist with FAFSA applications and finding scholarship opportunities, as well as simply reviewing the Tribe's current policies regarding paying for college and other educational programs. For those Tulalip citizens feeling empowered to help reclaim our educated Native narrative, don't hesitate to get in touch with Higher Education at (360) 716-4888 or email highered@tulaliptribes-nsn.gov.