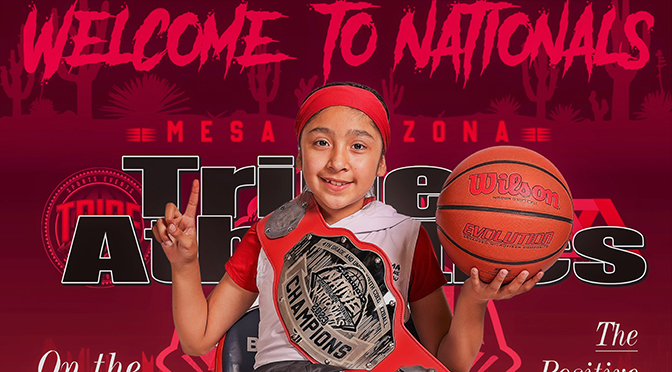 By Micheal Rios, Tulalip News, photos courtesy A.J. Parish
Were you aware that July 24 is International Self-Care Day? It's true. Look it up if you don't believe us.
A quick history lesson: in 2019, the World Health Organization (WHO) announced a "Self-Care Month" starting on June 24 and ending on July 24 to coincide with International Self-Care Day. This month-long stretch was deemed ample opportunity to allow for regional and national level initiatives by the WHO and its health-conscious partners to be highlighted.
Self-Care Day stresses the importance of self-care as the cornerstone of wellness. On this day, individuals worldwide are encouraged to make self-care a part of their everyday routines and turn it into a priority. It is a milestone and an opportunity to raise further awareness of the benefits of effective self-management of health. The concept of self-care has been around for a while, but it has recently received much attention because of its emphasis on wellness. This can include anything from following a healthy diet and exercising proper cleanliness to developing disease-prevention strategies in one's daily routine.
Self-care is what people do for themselves to establish and maintain health to prevent and deal with illness. It is a broad concept encompassing hygiene (general and personal), nutrition (type and quality of food eaten), lifestyle (sporting activities, exercise), and environmental factors (living conditions, social habits).
In celebration of the upcoming day dedicated to self-care, we caught up with Tulalip's own Charlie Contraro to discuss her recent accomplishments and the role self-care plays in her life.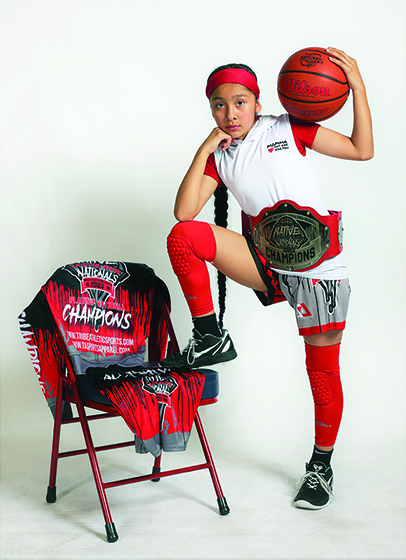 As a proud Native American and Tulalip citizen, Charlie was born into a world full of studies, statistics, and reports that attempt to decree that because of her heritage and close residency to her home reservation, she is at high risk for a litany of life debilitating diseases. The most pervasive being diabetes, cardiovascular disease (heart failure), substance abuse disorder, various forms of cancer, and liver disease.
To her fortune, Charlie's parents Mike Contraro and Annie Jo Parish firmly believe in the notion that prevention is the best medicine. In their decade of parenting their youngest daughter to not just know of but actually embody self-care as medicine, young Charlie has become a delightful oddity compared to her peers. She devours blueberries by the handfuls, enjoys chicken breast as a primary protein source, routinely declines processed foods, and her beverages of choice are not sugar-filled sports drinks and pop. Instead, she prefers the standard taste of life-giving water and reaps the rehydration benefits of Pedialyte after her games.
This seemingly simple yet difficult to live by mantra to forego processed foods and refined sugars for more nutrient-dense, vitamin-filled food comes with a whole host of performance benefits for the recent 4th-grade graduate. Measuring five-foot two-inches tall and weighing 97 pounds, Charlie's physical stature is one of a lean and agile athlete capable of extended peak performance. Typifying that point, her recent performance on the basketball courts of Arizona while competing in the 2023 Native American Jr. Nationals brought her much adoration from teammates, opponents, and top-tier youth basketball scouts.
During a GC3 Hoops live special about the state of tribal athletics, one scout said after watching Charlie's team Seven Feathers play, "Their star point guard, Charlie, is already my #1 prospect for the class of 2031. You can put her in your database right now."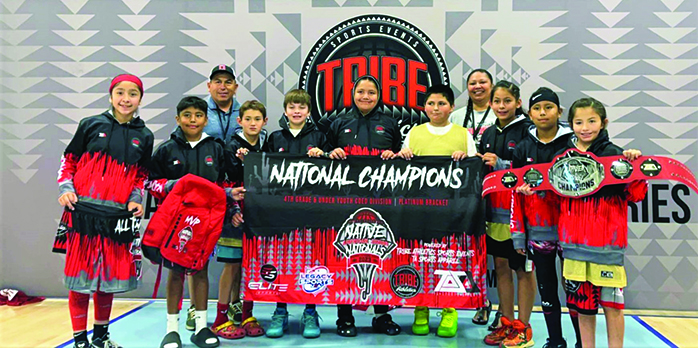 George Courtney, Senior Editor for GC3, added, "She played up in the middle school division with the Young Warriors, as well. I'm watching her and taking notes. Then when I talked to her after the game and learned she's only a 4th grader, I was like, 'WOW! She's special and going to be really, really good.' She has a great I.Q., she handles the ball well, has great feel and anticipation for the game, and has everything you'd want in the foundation for a young athlete. I was very impressed with her. In fact, I had one of the college coaches who was in attendance come over and ask for her information because they want to keep a tab on her."
In Arizona, Charlie continued her recent play with a self-described All-Star team with her co-ed team Seven Feathers. Featuring four of her Yakama and Colville cousins, this team has a much more instinctive and free-flowing feel to it than her more structured Tree of Hope team operating under Nike's AAU umbrella. Charlie and her Seven Feathers all-Native team dominated in Lummi back in April, winning every game by close to 40 points per game. Then they traveled to Mesa, Arizona's Legacy Sports Complex, for Jr. Nationals last month. Her team again dominated, going undefeated in pool play, bracket play, and ran away with the W in the championship game.
"It's a lot of fun playing with a team that every player can dribble, pass, and shoot. And defend!" declared 10-year-old Charlie after returning from Arizona with bragging rights for being selected to the All-Tournament team and winning a legit championship belt. "I feel like Rocky Balboa after he became champion."
After winning it all at Jr. Nationals, Charlie's parents permitted her to get her first taste of a genuine media day. She was subsequently interviewed by regional coaches and scouts, like those of GC3, and got photographed for Tribal Athletics promotional materials. Of course, the bucket getter had to pose with her Wilson Evolution basketball and championship belt.
As her on-court potential continues to soar with each passing Native tournament and AAU season, Charlie's consistent discipline with how she fuels her body with water, fruits, veggies, and lean meats remains steadfast. She's seen the results and knows what works for her self-care routine. However, she also knows there's always room for improvement.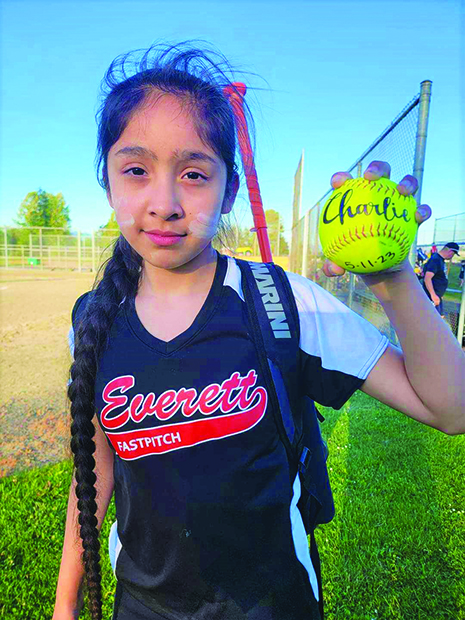 To avoid burnout with high-level, year-round basketball, Charlie and her family agreed to make the most of short-term pauses between seasons so that she could develop other passions. Knowing that her mom and dad first met when they were frequent competitors on the Native softball circuit, Charlie opted to try her skills on the softball field. Her point guard mentality transitioned seamlessly to the pitching mound, where she most recently competed in Everett Little League for the Orcas. 
In softball, she worked towards finding a new routine. One that consisted of warming up pre-game by pitching to her dad after he braided her hair, enjoying her always scrumptious blueberries, and then implementing a series of visualizations. She would visualize her pitches and their ideal locations to each hitter to maximize her opportunities for getting strikeouts.
Charlie didn't experience the same level of team success on the softball field that she routinely secures on the basketball court, but she admitted it was still a lot of fun to be challenged in new ways. "When I'm pitching and things aren't going my way, I take time to reflect and replay my pitches in my head between innings. If I can see what I did wrong, then I can make adjustments and get it right the next inning. Plus, there are always more games and more chances to get better," she said.
At just 10-years-old, Charlie is a true breath of fresh air as it relates to Tulalip's next generation and their acceptance of prioritizing self-care for a strong mind and body that are capable of not just persevering through physical challenges, but making sound mental adjustments when faced with an obstacle to increase their chances for success. So on this International Self-Care Day, we encourage our readers to be like young Charlie for just one day by drinking only water, eating a handful or two of blueberries, and making time to sit in the peace and quiet in order to visualize what your goals are and what adjustments you can make to accomplish them.