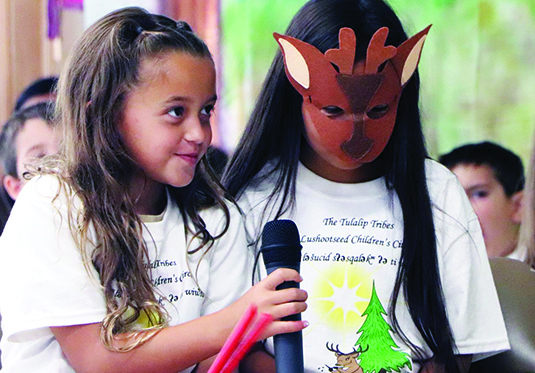 By Wade Sheldon, Tulalip News
With summer in high gear, Tulalip's Lushootseed Language Camp concluded its first week on July 14. Each week is capped off with a play the children practice throughout the week and then perform for their families. This year's play is Deer and Changer, which tells the story of how the deer got extra bones in their feet. Through this play, various lessons and teachings are implemented in daily activities during camp.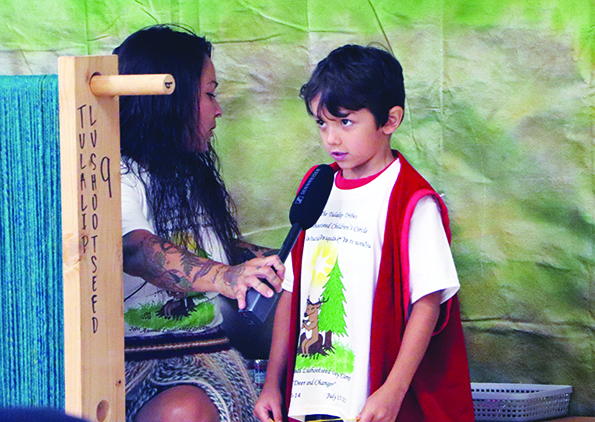 From bone games, cedar weaving, listening to elder stories on their tablets, and learning the language of the Tulalip people, the children benefit greatly from learning the ways of the past.
 "Teaching the language connects them with the ancestors. These words and the language had existed on this land way before we were even thought of," said Lois Landgrebe, Lushootseed teacher. "To hear all the kids be able to sing the songs, and for the language to take a front seat instead of always a backseat is a beautiful thing to witness."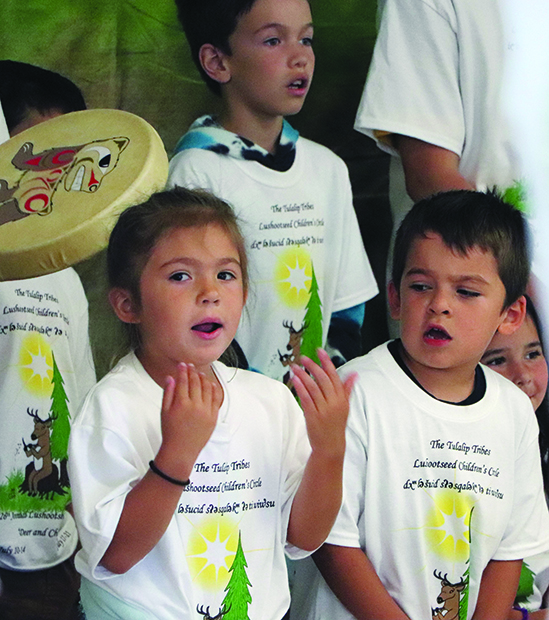 "Hearing the traditional stories, how the language is spoken, and listening to their elders' recordings is a big part of what is being taught at the language camp," said Lushootseed teacher Ni-Ko-Ti St. Onge. "Watching their play and seeing how far they come in such a short time is one of my favorite parts."
Michele Balagot, Lushootseed Manager, said, "Teaching Lushootseed is beneficial to the youth learning more than one language helps with brain development and opens their minds to more possibilities. Some kids don't get a chance to learn Lushootseed in school; this is the only chance they get to participate in learning the language. My favorite part of Lushootseed camp is on Fridays. All the parents, grandparents, uncles, and aunties get to come together to watch their child in the program sing, dance, and act in a play."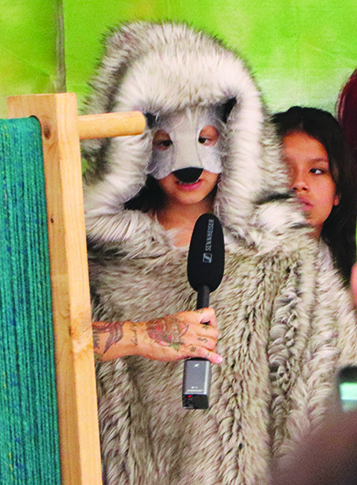 You do not need to be a Tulalip tribal member or Native American to sign up. Everyone is welcome to come and learn about the Native culture. "Bring your kids and volunteer, and we can always use community members, even elders. It is lovely to have an elder come, even for an afternoon," Lois said as the kids sang in the background. "It is a great time for the kids, keeping them busy and having fun."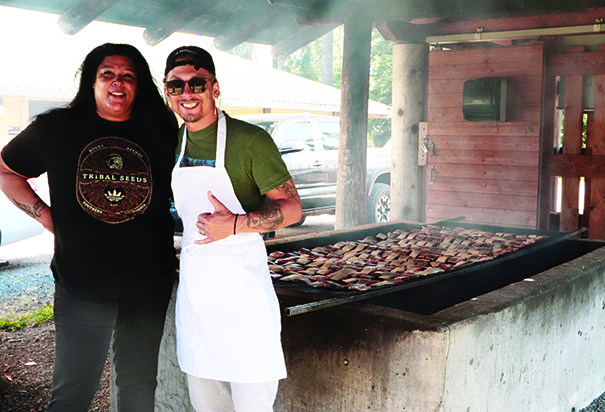 At the end of each ceremony, the children hand out all the gifts they made, and everyone gathers around the tables for a traditional fish meal. Thomas Williams, who also teaches Lushootseed, said, "It is essential after a long week of learning the ancestral ways to participate in eating a traditional meal prepared in a sacred way. Tying the lessons they learned and implementing what they were taught, by letting the elders and guests eat first while they hand out the gifts they made, are special and provide a solid foundation for learning and respect."
Lushootseed Camp lasts for one week and has two sessions. The second session is July 24 to 28. For more information, please get in touch with Natosha Gobin at ngobin@tulaliptribes-nsn.gov or Michele Balagot at mbalagot@tulaliptribes-nsn.gov.