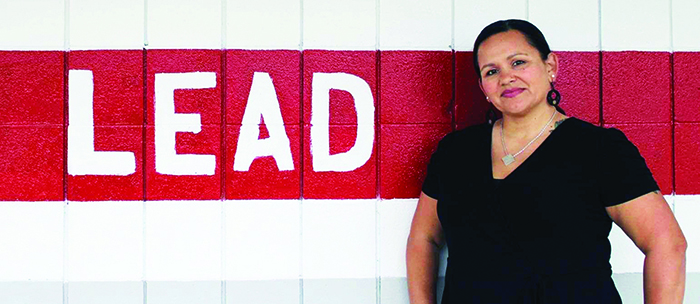 By Kalvin Valdillez, Tulalip News
"Our students, staff, and families deserve to thrive in schools that set them up for success in a rapidly changing world."
By now, Washington State voters should have received their official ballots in the mail. And with the primary elections approaching quickly on August 1, it's time to fill in those bubbles with your favorite blue or black ballpoints to fulfill your civic duty and exercise that right to vote. When taking a look at all the candidates and their respective positions they are running for, you may notice a familiar name on your ballot. 
Tulalip tribal member Eliza Davis is in the race for a seat on the Marysville School District (MSD) Board of Directors, in which she would represent District Two if elected. Not only does she have full backing from the tribe, but she also received an endorsement from MSD's current board president, Paul Galovin, and the 38th Legislative District Democratic Party as well.
Along with strong endorsements, Eliza brings years of experience working with children and their families within the field of education. After spending close to six years teaching tribal youth their ancestral language as a Lushootseed instructor, she joined the MSD team. She dedicated over a decade of her time working as a Native American liaison at Quil Ceda Tulalip Elementary.
In 2017, Eliza made the decision to take a position at the Tribe. She has since gained valuable knowledge and tools, and also built a strong connection with her community, as the Tribe's General Services Director. With a four-year term on the line, she is contending against two other candidates for the District Two position. With her passion and drive, Eliza is determined to get elected to help make a positive impact and an overall better educationalal journey for the local leaders of tomorrow.
"I am very passionate about education, really passionate about our kids and also our communities. Ensuring the welfare of our communities in the future is huge for me," said Eliza. "A core value that I was raised to live by is that we serve our community. We don't sit back, wait, and wonder what they're going to do for me. We do everything we can for the community, to make it a better place."
Because of her background in education and the work she put into both Marysville and Tulalip, people of the community began to approach her to ask if she would consider running for the school board this year. Confident in knowing what she brings to the table, Eliza obliged the requests by enterering her hat into the ring for the upcoming elections.
She divulged, "My experience working inside the school system helped me understand not only the needs of our students, but also our families. Helping them navigate certain systems when they don't have all the knowledge at their fingertips, helping them advocate for their students, letting them know what legal rights their children have as students, and ensuring that our students' experiences at school are culturally relevant."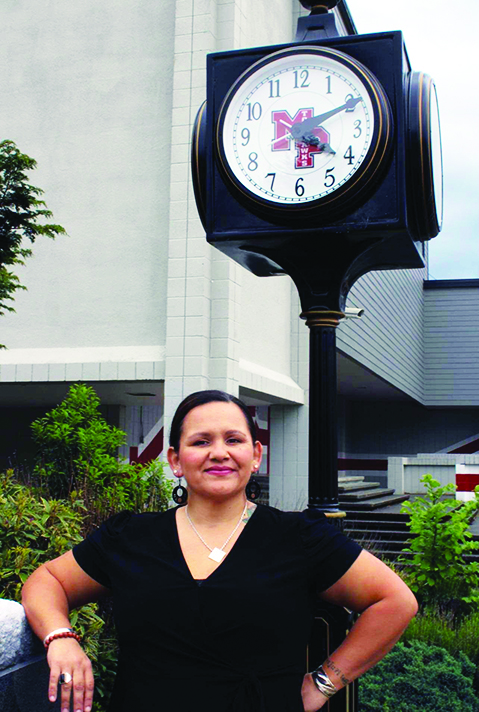 As the only tribal member candidate, Eliza stressed that it's important that Native students see someone from the tribe in a position to advocate for their needs and address their concerns, while also being able to relate to their experience at MSD.
"I've always strived to be a role model for our youth and our kids," she expressed. "I also went through the same systems they are going through, grew up in the same communities, the same reservation and town, and showing them that we can ultimately do anything that we choose to do, if we put the work in, is important. It's also important for kids to see people and community members like them, who are working within the systems that are educating them. And I'm proud that I can be someone they look up to and see themselves in."
She continued, "It's been a long time since we've had representation on that school board. I think that it's important to have representation because we matter. We're here and we deserve it after so many years of being silenced. And having a boarding school right here on our reservation, being stripped of our culture, our voices, our language, it makes a difference that we are advocating for what is best for our students. But I also want to be clear that I am somebody who is an advocate for all kids, and I would represent all."
When asked about the areas she would address should she be elected, Eliza spoke about funding and the importance of ensuring that each school has adequate drinking water, safe and comfortable learning spaces and classrooms, and funding for extracurricular activities. She also touched on the need for mental health counselors for students within the district, especially in today's era where social media reigns supreme.
She said, "When you think about our youth nowadays, and you think about all the pressure that kids have, I feel like our kids have a lot of anxiety and a lot of social emotional issues, like when you look at social media and the pressures of that. And then we have a whole group of kids that missed out on the school experience for two and a half years, kids who were in elementary school and when they came back, they're now in middle school, because of the pandemic. So, having more mental health counselors within our schools is essential, and it can help give our kids the tools they need to weather whatever huge emotions that they might have. I feel like right now, our schools don't fund mental health counselors, they fund career counselors or just school counselors. The guidance counselors are not mental health counselors."
Eliza noted that the students and faculty of Liberty Elementary reported brown water coming from both the drinking fountains and the tap. Parents and teachers alike have voiced concern about their students' learning environments as many schools within the district have overcrowded classrooms, and thus, some schools have resorted to holding class in outdated portables. Of course, this is just one of many other issues that MSD is presently facing, including schools that lack classroom climate control – little to no A/C in the spring and summer months and poor heating throughout the fall and winter seasons.
With the school district's recent history of failed bonds and levies, Eliza believes it's time to switch up the funding formula within MSD and distribute funds based on the needs of each school, as opposed to their current straight across the board distribution practices. And with prior experience in lobbying the state for funding, she is ready to go toe-to-toe with the state once more in the name of education for young Marysville and Tulalip learners.   

Eliza's shared a statement in regard to these issues in her official announcement for candidacy, "Our students, staff, and families deserve to thrive in schools that set them up for success in a rapidly changing world. Accomplishing this requires that existing funds be carefully and equitably distributed to each school, and that new or expanded funding sources be acquired from the state to meet every school's needs. I will utilize my experiences as a language teacher, educational liaison, and General Services Director to achieve this. These roles have allowed me to serve our community in a variety of ways, including public/school budgeting, organizational management, and the arduous process of lobbying for more funding from Olympia."
Eliza is depending on your vote in this primary election. As a reminder, your ballots need to be turned in by 8:00 p.m. on August 1. The nearest drop box is located in the parking lot of the teen center. For more information on Eliza's campaign, please visit www.ElizaDavis.nationbuilder.com, and be sure to follow her Facebook page, Eliza Davis for MSD 25 Board Pos. 2.
Eliza shared, "We have almost 200 of our kids who are going to Catholic private schools. Catholic nuns and priests literally stripped us of our language and beat our kids. Families are sending their kids to these private schools now after all of that, because that's how bad they believe Marysville is. I'm not saying those schools are beating our kids in this day and age, but it says something that they would rather go to a private Catholic school than be in this public school system. So, that's why it's important to have Tulalip voices, to give our input, protect our kids, and advocate for what's best for our kids."