July 30, 1948 – July 26, 2023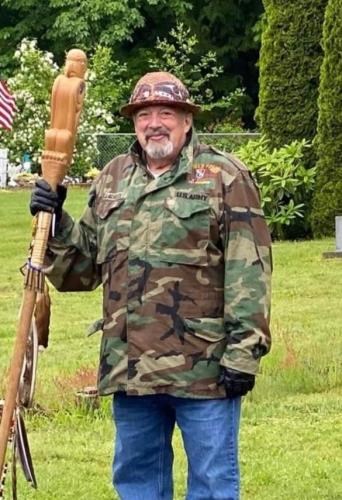 Daniel Gene Zackuse, Sr., born on July 30, 1948 to Pauline Zackuse and Edward Felix in Tacoma, Washington and passed on July 26, 2023. 
Gene was a lifetime resident of Tulalip, he served two years in the Army and was a proud Vietnam Veteran.
Gene started working for Tulalip Tribes as the Water Superintendent, Recreation Manager, served on the Housing Commission, many years as a logger and retired as a Veteran's Coordinator. He had so many good memories working and being a part of the logging crew.
Gene is survived by his wife, Marie, children, Joe, Regina, Daniel Jr., Nathaniel and Jerard Sr., his precious grandchildren Shalana, Sheniece, Darien, Janae, Jerard Jr, Jalyssa, Jayliah, Jaedynn, Janiesha, JaKiah, Maecynn, Daniel III, Anthony, Jasmin, Brandon, Joe Jr, Great Grandchildren, River, Solana, Oakley, Elijah and Ivy and also his Brother, Charles Comenote Sr., nieces Tonya and Kaelynn and nephew Charles Jr, and Michael.
Gene was proceeded in death by his Mom, Pauline Comenote, Dad, Edward Felix, Grandfather Mitch Zackuse Sr, Grandmother, Ella Libby Zackuse, Uncles Jim Zackuse and Bill Zackuse Sr., Aunties Rosalie, Betsy, Yvonne (Cooley), Vera Mae, Sister Norma Comenote, brothers George Jr and Frances Comenote and our precious grandson Scheiyenne Lane.
An evening service will be held Tues., Aug. 1 2023 at 5:00 PM at the Tulalip Gathering Hall. A celebration of his life will be held Wed., Aug. 2, 2023 at 10;00 AM at the Tulalip Gathering Hall with burial to follow at Mission Beach Cemetery.