Over 70 community members celebrate their sobriety at the 2nd Annual Recovery Campout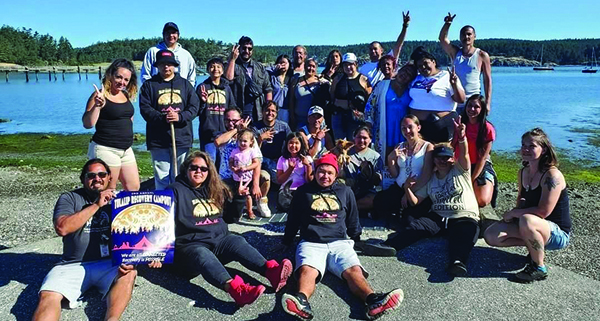 By Kalvin Valdillez, Tulalip News
The journey across the Salish Sea is breathtaking, especially in the summertime, with shimmering waterways, coastlines of evergreen, and the occasional orca sighting. Many can attest to the thrill of standing out on the deck of a Washington State Ferry as the wind blows through your hair and you are left captivated by the scenic views. And whether traveling by canoe or ferry, this is a special experience for the Indigenous Peoples of the Northwest who share a connectedness to the natural world and the sacred waters that dates back to the beginning of time. Tribal members throughout the region are known to describe the waters as medicine and that being on the water is healing.
The Coast Salish Natives have ancestral ties to the San Juan Islands. Long before colonization, the sduhubš people frequented Lopez Island during the summer months to harvest from both the land and sea, as well as cultivate camas. Today, the island falls under the Tribe's usual and accustomed areas and many Tulalip families visit to exercise their treaty rights and campout, like their ancestors before them.
Over 70 members of the local recovery community did this exact thing, traveled through the healing Salish Sea to their ancestral territory of Lopez Island for a six-day camping trip to celebrate their sobriety. During their island excursion, the participants set up camp on the Tulalip owned property surrounding Watmough Bay and got a healthy dose of sunshine, culture, and outdoor recreation while creating friendships and memories to last a lifetime.
"It's really healing because we're constantly by the water and we're immersed in ecotherapy," said Kali Joseph, Recovery Resource Center (ODMAP) Project Coordinator. "We have traditional roots here, ancestral roots here. The idea of the campout came to us by a community member who suggested that we take people who are in recovery to camp at Lopez Island. So, when that was brought to us last year, we made it happen. We probably had only 25, maybe 30 participants. This year we had 71. One night it was so loud, it was awesome to hear all the laughs, we all just felt that medicine."
A lot of times, when speaking about addiction and recovery, the focus tends to lean toward the statistics as opioid deaths and overdoses continue to rise across the nation. However, it is equally important, if not more so, to highlight those who have attained a clean and sober lifestyle, those who are putting in work and are determined to not become another one of those statistics, those who are proving that it's possible to overcome their battle with addiction.
Locally, more and more individuals are finding their sobriety through an effective tribal wellness court program, which has a large cultural aspect to it. Additionally, the Recovery Resource Center continues to be a safe space for those struggling with addiction by hosting events such as Narcan distributions, as well as weekly NA meetings. It is heartwarming to see the recovery community grow and to witness them engage in community gatherings, traditional activities, and cultural events together while on the road to recovery.
The campout is another example of how Tulalips in recovery can join together and tap into their ancestral teachings to help aid along their recovery journey.
Said Kali, "It was really awesome and a great way to bring a different form of prevention forward. Recovery camp helped support, establish, and nurture their peer support network. Sharing space together and laughter in such a beautiful place, during such a beautiful time of year, the folks who attended will share these memories forever with one another."
The campers were kept busy throughout their stay on the island. In addition to reconnecting with their ancestral way of life, the recovery community had plenty of activities to take part in such as hiking, kayaking, biking, swimming, paddleboarding, as well as competing in volleyball and badminton matches. The nightly NA meetings and campfire talking circles brought the community even closer by allowing the attendees the opportunity to share their story and relate with others who went through and overcame similar struggles.
Upon returning to Tulalip, three tribal members reflected on their getaway to Lopez Island and shared their experience with the syəcəb.
"The 2nd Annual Recovery Campout was a blast," exclaimed William Thomas. "I'm happy with how many people showed up this year, and also how many of us from 2022 are still clean and participated once again. And all the new ones who were there to bond, have fun, and make memories that we will all remember. All the photos and videos we made during the hikes, games, canoeing, paddle boards, biking, swimming, the meetings we did every night; I'm so glad I got to be a part of it again this year. I can't wait for next year. Happy and loving life today with 468 days clean and sober. Love and respect to the squad, and all the new friends we made along the way. And thanks to ODMAP staff and all who made this happen."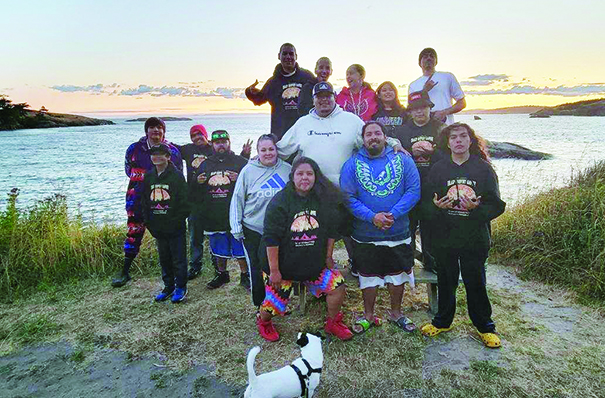 Ezra Hatch shared, "It was really awesome to hang out with others who are in recovery! From swimming to volleyball to kayaking to the campfire meetings – and just all the laughter, it really was such an amazing experience. I'm grateful I was a part of it. Thank you for putting it on for us."
And Kerri Deen expressed, "When I first got to the camp, I got the best vibe from everyone. They had the best energy coming from them, the workers included, you can tell they actually wanted to be there – and not like they had to be there. I was only there for two days, but in those two days we went bike riding, kayaking, hiking, we got to listen to people drum and sing, and watched a beautiful sunset with an amazing view. It was spiritual healing I didn't know I needed. I felt so whole by the time I left the island. I will 100% do it next year!"
After doubling the number of participants from the first campout, the Recovery Resource Center is already excited to see what next summer will bring as the word about the campout continues to spread through the recovery community. More fun, healing, laughter, bonding, and culture are sure to be on the agenda for the 3rd Annual Tulalip Recovery Campout. In the meantime, be sure to follow the Tulalip Recovery Community page on Facebook to stay current on any news or events planned by the Recovery Resource Center. You can also reach out to (360) 716-4773 for more information.
"I just hope they all left with good memories," said Kali. "And I hope they can see how healing and impactful coming together to celebrate recovery can be. Because when you're in addiction, I feel that it's a lot of unresolved grief, or disenfranchised grief, associated with substance use disorder – for the person and for their loved ones. And I think that having the campout can help the folks who are using heal. It can bring happiness from something that was so heavy and traumatic for both the person who was using and their families."