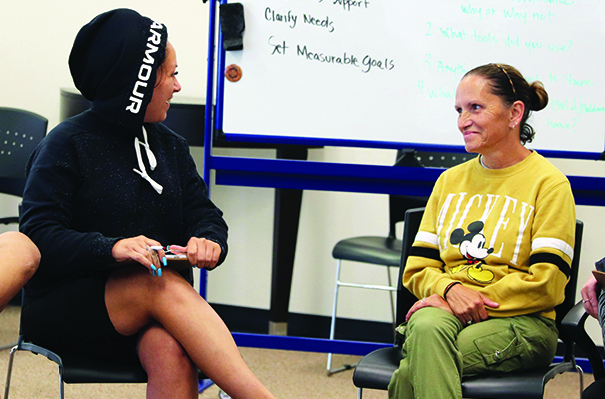 By Kalvin Valdillez, Tulalip News
On a scorching summer afternoon, four Tribal mothers found comfort inside the courtroom of the Tulalip Justice Center. In a relaxing environment, much different than the typical court setting, the ladies decompressed in the comfort of air conditioning as they joined together at the center of the courtroom and circled up along with the Tulalip Family Wellness Court team.
Established in 2020, the Family Wellness Court has proven to be an effective method in assisting their clients attain and maintain their sobriety. The program accelerates the reunification process between parents and Tulalip children by way of a detailed plan that incorporates their traditional way of life and culture. 
This alternative path to the road of recovery has been a major success within the Tulalip community and has reunited numerous families over the past three years. The Family Wellness Court design was based on the success of Tulalip's Healing to Wellness Court. However, the courthouse made many modifications when developing the Family Wellness Court model.
Although the Family Wellness Court's game plan mirrors the Healing to Wellness Court model in many aspects, the court wants to stress that the two programs are completely separate from one another. Family Wellness is volunteer-based and works with individuals on their own accord, through either a referral or self-referrals, and is not mandated by the courts. Whereas the Healing to Wellness Court works on criminal cases, where their clients could potentially face jail time if they fall out of compliance. And since the Family Wellness Court is voluntary and does not work on criminal cases, there is no punitive element to the program and the clients do not face jail time if they fall off track.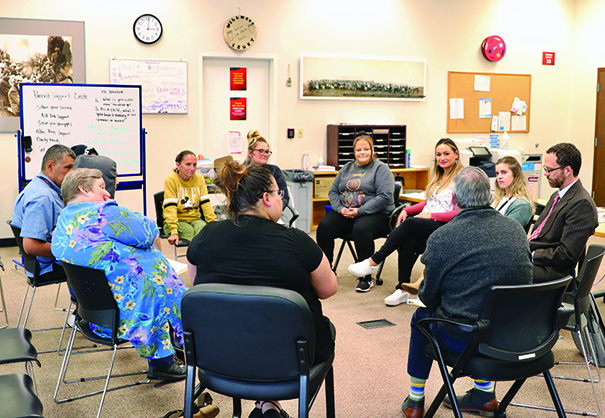 Overall, the program is built to support, encourage, and assist tribal parents and/or parents of tribal members as they work toward achieving a clean and healthy lifestyle. By following a personalized plan, put together by the individual and the Family Wellness Court team, the parents are actively fighting to regain visitation and custody rights of their kids and bring a close to their open beda?chelh cases. 
The Family Wellness Court utilizes the wrap-around approach and brings together several different tribal departments to ensure each of their clients has access to the necessary resources throughout their duration in the program. The team approach plays a large role in the Family Wellness Court and in each participant's recovery journey.
The team consists of multiple professionals including tribal courthouse judges, officials, attorneys, beda?chelh representatives, counselors and recovery specialists. The idea is that with everybody on the same page and meeting on a regular basis, the client is apt to stay in-compliance and make positive progress in maintaining their sobriety when they know exactly what their team expects from them.
The Tulalip Tribal Court believes that this collaboration between multiple departments, all with the same intent of helping people attain sobriety, is the key to success with Family Wellness Court clients. This helps them establish relationships with the judges and task force members and includes them in the entire process from the moment they accept help from the Family Wellness Court to the moment they are reunified with their children.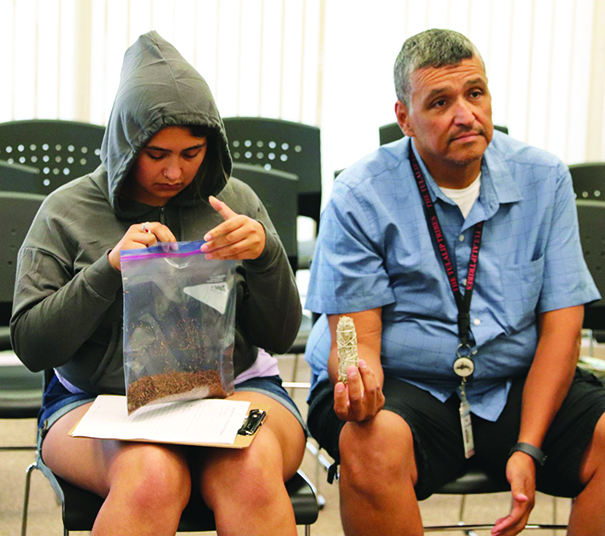 Many people are seeing great results with the Family Wellness Court model thanks to required 'give back hours'. Not only does this afford tribal parents the opportunity to get reacclimated into the community, but also provides them with the chance to return to their ancestral teachings and traditional way of life through cultural engagement at local tribal events and ceremonies. Over the summer, the Family Wellness Court took this notion a step further by implementing the Parent Talking Circle into the program.
"We really wanted to incorporate the culture, especially in the Talking Circle," explained Family Wellness Court Coordinator, Erika Moore. "We have a lot of parents who are non-tribal, and this is a good way to get our tribal members teaching the non-tribal members, so they in turn can teach their children more about their culture. It gives [tribal members] more confidence in getting back into their culture. And when we see them get back into their culture, they grow exponentially."
Said Chemical Dependency Professional Arla Ditz, "The Talking Circle is more second nature to tribal members because it's along the lines of the cultural teachings they were raised with. And it's not just the culture, it's that spirituality in general. One of the key things in successful recovery is the spiritual piece, no matter what you believe in or where you come from, it's a really important part of recovery. And so, when we come into our circle, that really helps support that, and it brings the netting together to be more supportive for the people participating in the program. I think the Talking Circle helps people figure out their goals and achieve them much quicker, and maybe even better."
Held at the beginning of each month, the Parent Talking Circle allows the clients to connect with each other and share their story, struggles, successes, and goals with the group. In this traditional and no pressure setting, the parents are more open to share and relate to one another's journey, as well as express any hardships they might be encountering.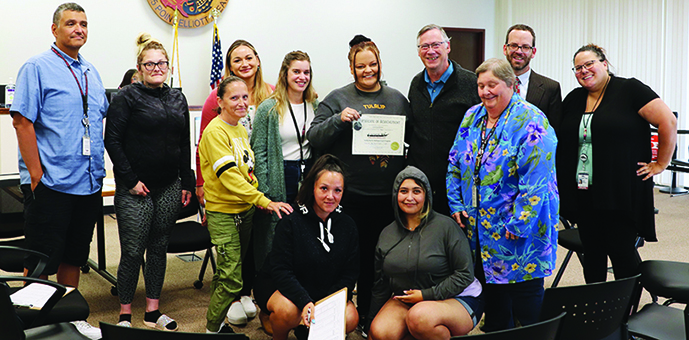 During the most recent Parent Talking Circle, the tears were rolling as the participants recounted their lifestyle prior to enrolling in the Family Wellness Court. To see how far each of them has come since the height of their addiction is heartwarming and inspiring. And hearing the moms talk about their daily interactions with their children was quite moving, considering all the adversities they had to overcome to share time and space with their kids once again.
"The Talking Circle has helped me stay accountable and encouraged me to keep going," shared Tribal member Corrina Gobin. "It's much more than just a circle. Today, I learned about the four sacred medicines, and it gave me the opportunity to learn something new with the whole group. Each person in the circle, you end up having a close and personal relationship with. We're all available to help each other, whether it be rides to your kids, or back and forth to treatment, UAs, whatever it may be, they play a significant role in getting us through all the things we need to get through in order to get our kids back. They give me recognition when I'm doing things that are good, and they also call me out for not doing things that are good. I actually look forward to coming to court now because they give me that motivation."
Tribal member Kerri Deen added, "I feel like it's been helping me spiritually. Like the discussion today, it was about how to properly use sage and sweetgrass. The Talking Circle helps when we're at a standstill and we're struggling to meet our goals. No matter the situation, the team helps us get through those obstacles to get our lives back. It's amazing and I love it because you don't feel attacked. It's more focused on helping each other get everything done so we can get our kids back."
Though still in its infancy, the Parent's Talking Circle shows nothing but promise in helping build up the local recovery community and reunify tribal children with their parents in a timely and responsible manner.
If you or a loved one are ready for a new approach to sobriety and reunification with your child, please contact the Family Wellness Court at (360) 716-4771.