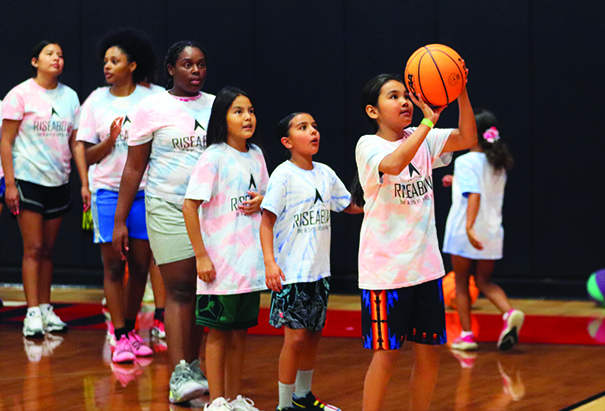 By Micheal Rios, Tulalip News
A Native American hoops legend, Rise Above founder Jaci McCormack (Nez Perce) has lived a fascinating life. So much so that a feature-length film is currently underway that will bring her story of triumph over adversity to the big screen. Executive producers include NBA Hall of Famers Gary Payton and Lenny Wilkens, Hollywood icon Danny Glover, and civil rights activist Gus Newport.
While some may recognize her from her previous work as a victims services coordinator in Tulalip's Prosecutor's Office, most know her from her bucket-getting prowess on the hardwood. Whether it was taking down championships in the always competitive Native tournament circuit, or being named an Idaho State player of the year, or her 2005 game-winning jump shot that propelled Illinois State University to a Missouri Valley Conference championship and resulting NCAA tournament appearance.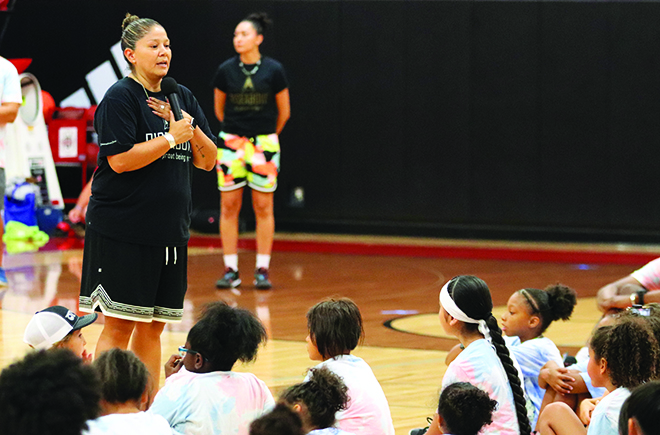 "My story demonstrates that while it isn't easy to break barriers, it is possible. Representation matters when it comes to Native youth because my story is their story," Jaci said in an interview with Deadline. "I feel extremely grateful to have found filmmakers and producers that I can trust to tell this story. [They] understand the importance of Indigenous representation in film, and wholeheartedly believe in the social movement this project will support."
Best known for her role as an executive story editor on the award-winning tv series Reservation Dogs, writer Erica Tremblay (Seneca Nation) has teamed up with Jaci to tell her real-life story of overcoming and rising above the odds in movie form.
"Jaci's story is an incredible example of Native empowerment, and I was drawn to her personal journey," said Erica in the same Deadline interview. "There is a real lack of Indigenous representation in film and television and Jaci's story is exactly what is needed. We need to see members of our communities achieve greatness."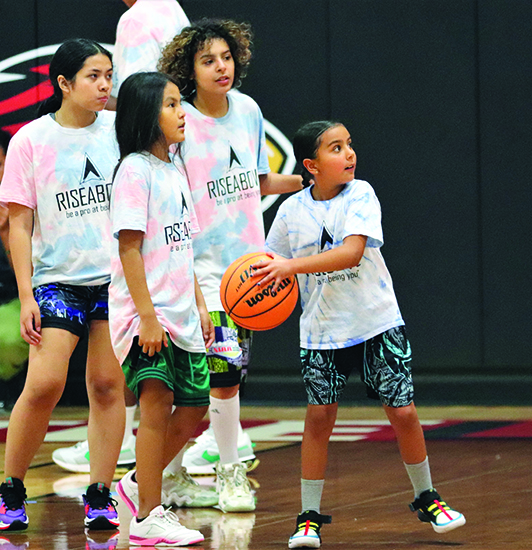 While the film is currently in development, Jaci continues to instill in the next generation of Native youth the many benefits of both striving for and embracing greatness through her nonprofit, aptly named Rise Above. Through this authentically Native-led organization, young Native boys and girls are empowered to lead healthy lives despite the challenges.
Rise Above is capable of delivering education, prevention skills, and mentorship through culturally sensitive programs tailored to their needs. It's also capable of delivering memory-making moments through basketball clinics that have become legendary for having clinic coaches and fitness experts who themselves are Native Americans that the kids can point to as shining examples of their dreams manifest.
Such was the case on Saturday, August 19, when an estimated 200 youth from across the Pacific Northwest journeyed to Rise Above's sports fest 2023 hosted at Seattle University's Redhawk Center. The list of clinic coaches included Freddy Brown III (Makah), who played collegiate basketball for the University of Montana, and Analyss Benally (Navajo), who played collegiately at San Jose State University and professionally in Europe.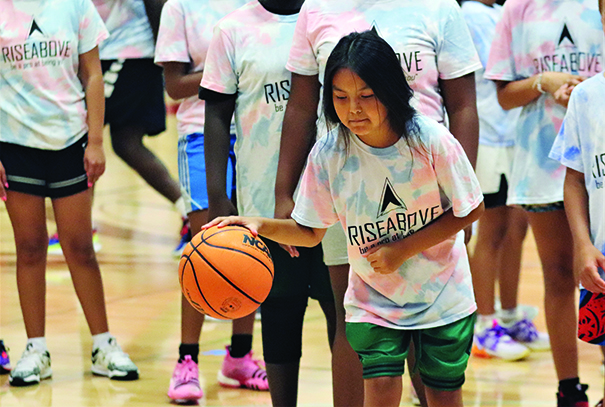 Among the basketball camp participants were several young Tulalip ladies with hoop dreams, such as Charlie Contraro, Shawna Cortez, and twin sisters Cali and Chloe Iukes. Together they represented a Tulalip wave amongst a sea of aspiring ballers intent on sharpening their handles, perfecting their jump shot, and improving their defensive skills to become two-way players effective on both ends of the court.
"Basketball means everything to me," said Shawna. "I love it so much. Making new friends is one of my favorite parts, and so is having fun during training drills. For me, I'm really small, so I can steal the ball easier when players are dribbling around me; that makes me a good defender. Some players like making passes, others like scoring, I like being a defender because I'm really good at it."
"My siblings love sports so much. We go to the Marysville YMCA every day, whether to practice to get better or just for the fun of shooting hoops," added Chloe and Cali's big sister, Faith. "I hope in time they'll understand how meaningful this Rise Above camp was, especially with how much work went on behind the scenes from Jaci and her team to make this all possible. But as far as basketball goes, I think my sisters can accomplish anything they set their minds to, as long they continue to put the work in and stay focused on their goals."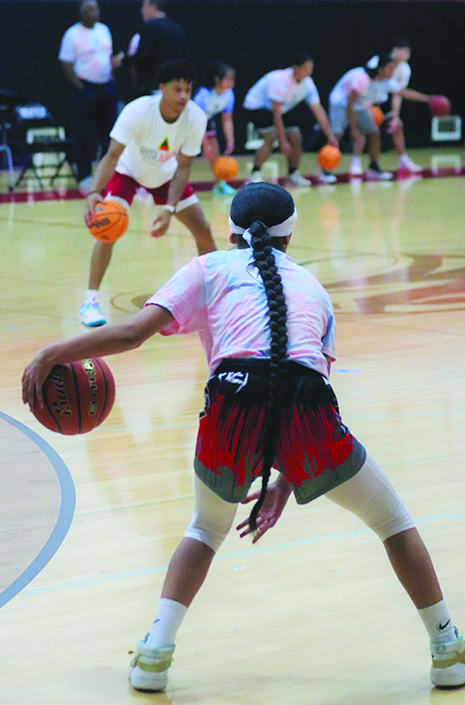 Traditionally seen as a male-dominated sport, basketball is undergoing a transformation as more and more woman-led sports camps rise to prominence. With current and former women collegiate athletes or actual pros at the helm, camps like Rise Above sports fest are rewriting the narrative and proving that the court knows no gender bounds. Native American girls who once felt sidelined are reclaiming their voices and their game, thanks to the guidance of empowered women like Jaci McCormack who walked the same path.
The impact of these camps extends far beyond the bold lines containing 94 ft. by 50 ft. basketball courts. They are nurturing the growth of a new generation of confident young women who carry the lessons they learn into every aspect of life. The skills taught, from teamwork and communication to resilience and time management, equip these girls to thrive both in sports and in their future endeavors.
"This is my second time participating in a Rise Above basketball clinic, and I absolutely love how they operate, especially being so intentional about including us Native youth," shared JoAnne Sayers (Nez Perce, Tlingit). "It's so much more than just basketball. They teach us about the power of community, teamwork, and making connections that we can take from here to hopefully add to our support systems when times get tough.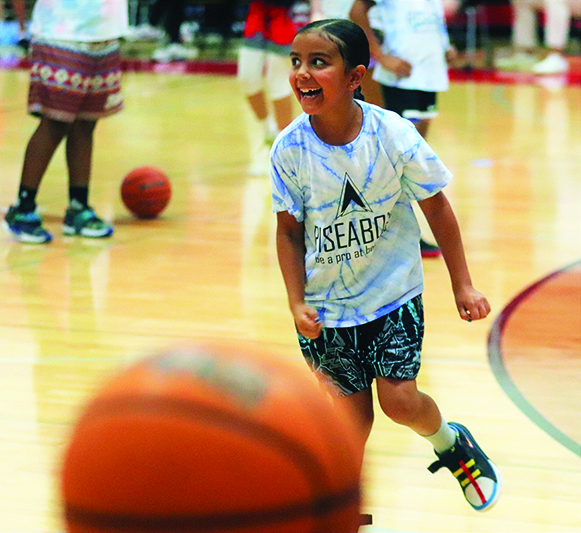 "Living in Seattle, I'm far away from my home reservation, and so organizations like [Rise Above] do a lot for us urban Native kids to bring us together and establish, like, our own tribe through basketball and other sports," she continued. "Basketball gives us an outlet to maintain good mental health. If you had a bad day, you can find a basketball hoop almost anywhere to go shoot some hoops at and help yourself feel better. And if you had a good day, there's nothing better than making some buckets and working on your handles. We don't need alcohol and drugs to relieve stress or anxiety when we're capable of cleansing our bodies of those things through workouts on the court or in the gym."
Organizations like Rise Above, and social leaders for change like Jaci, are intent on shattering stereotypes and paving the way for future generations. When young girls witness women excelling as players or leaders, it challenges the long-standing notion that basketball is a man's world. For example, the weekend's sports fest was not only simply about teaching basketball skills, but about presenting powerful role models who inspire girls to dream bigger and aim higher.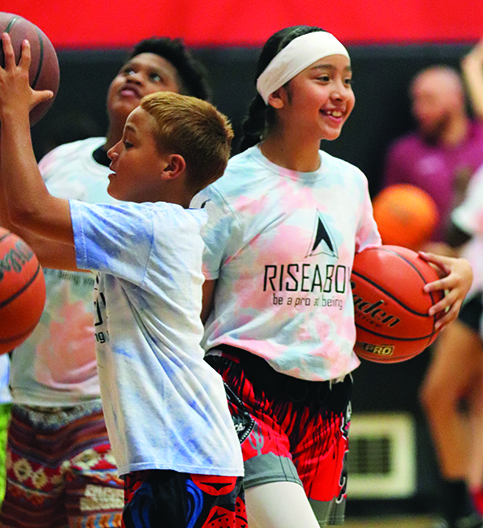 "For us, its all about the kids. When we can expose our kids to more opportunities, and get them in the same room with folks like a Lenny Wilkens, a George Karl, or a Vin Baker who can share their stories and let the kids know it's possible to rise above childhood challenges and accomplish their dreams, that's when amazing things truly happen," said the Rise Above icon Jaci. "You never know what part of a speech, or a moment of candid care during a sports camp, or witnessing a peer get so excited after learning something new might plant a seed and grow into a lifelong lesson that helps someone down the road to rise above. At the end of the day, I just think the more stories of struggles overcome and challenges conquered heard by our kids by those they look up to strengthen our kids to become more successful in their own lives.
"I feel so blessed to be in the position to show our kids, especially the young girls, that I used to be just like them. I'm just an ordinary rez kid with extraordinary dreams who didn't give up when times got tough," added Jaci. "Now, to have lived by hoop dreams and to be able to give back to our communities and see these young girls come to our camps and thrive, it's incredibly touching. My dream is for them to see what I'm doing for them through support for our people and passion for the game, and that they not only rise above to accomplish their dreams, but they also give back to the generation that follows them. That's how we break the cycles and rewrite the negative narratives of our people, by supporting each other with a shared vision."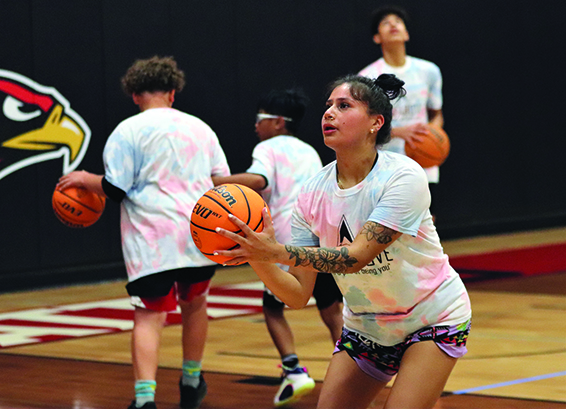 Rise Above will continue illuminating a new horizon for youth on reservations or within urban communities, like Seattle, who dare to dream of sports greatness. Tulalip lady hoopers like Charlie and Shawna, or sisters Chloe and Cali, are not just learning how to shoot hoops; they are learning how to shoot for the stars. With each dribble, pass, and made basket, these girls are discovering their strength, their voice, and their power to shape the game and their world, on their own terms.