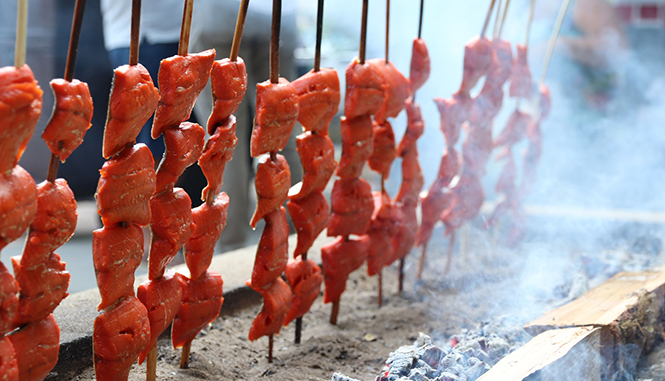 By Kalvin Valdillez, Tulalip News 
Kaya, an elder Salish woman with a basket full of clams, has welcomed thousands of people to the Hibulb Cultural Center since the museum first opened its doors in 2011. As a twelve-foot cedar carving known as a welcome pole, Kaya serves as each visitor's first introduction to a beautiful experience of Tulalip's culture, history, traditions, and artwork.
Since its establishment, the cultural center has imparted a vast amount knowledge about the Tribe's ancestral traditions and teachings to the wider community. While providing their guests with interactive exhibits, the museum shares the Tulalip way of life, from present day all the way back to pre-colonial times, through an astounding display of visuals including artwork, photos, documents, and artifacts.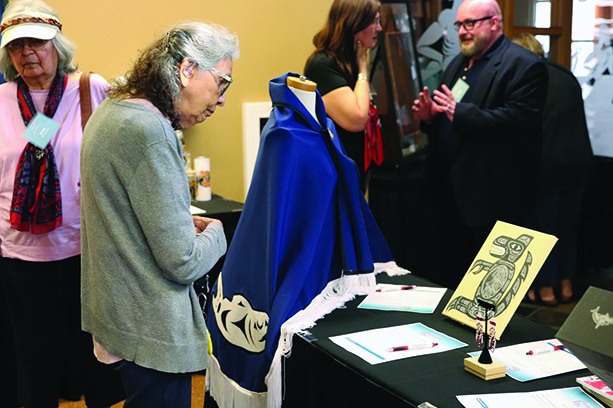 In addition to their exhibits, there is a gathering space that resembles a cedar longhouse, as well as a wall dedicated to all of the Tribe's military veterans. The cultural center also has three dedicated classrooms where cultural workshops take place throughout each month. And they have an impressive gift shop that often features the works of Tribal artists.
"Over the past 13 years, we have welcomed more than 120,000 guests; 150,000 if you were to include special events," said Hibulb Cultural Center Manager, Mytyl Hernandez. "That's 120,000 opportunities to educate people on our culture, our true history, and how much Tulalip does for our outside community. We have had more than 1,500 events here, that includes workshops, lectures, films, private events. 1,500 opportunities for us to invite in our own community and outside communities to learn a little bit more about our culture, our history and about us."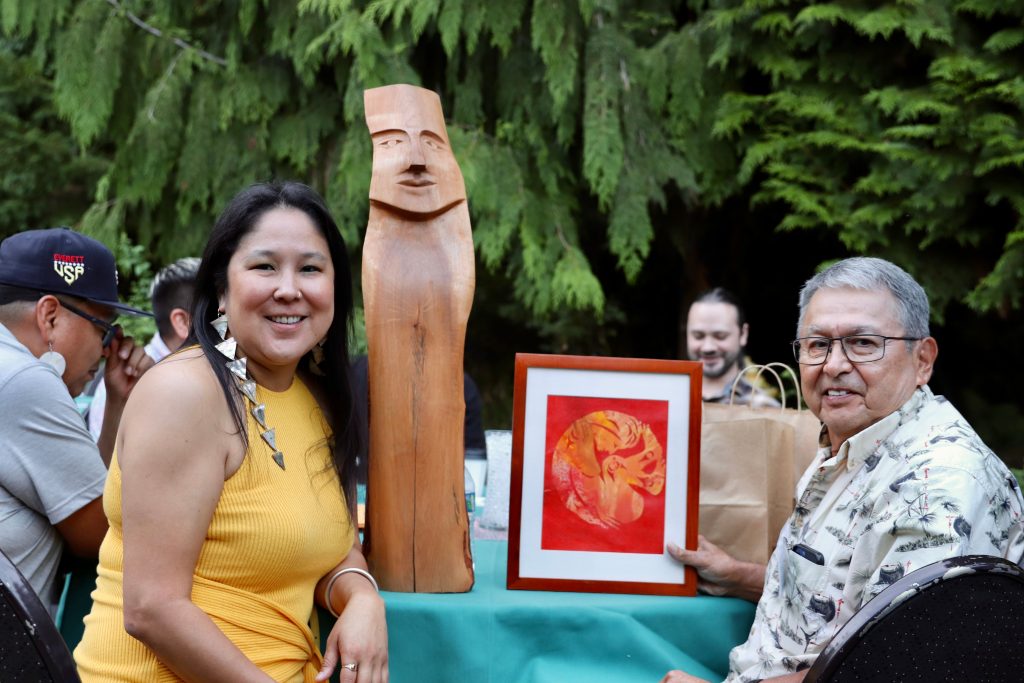 Now an award winning museum, and a top field trip destination for nearby schools, the Hibulb Cultural Center has provided insight and a tribal perspective on issues such as colonialism and assimilation while taking time to celebrate the teachings, values, beliefs, stories, and lifeways of the Tulalip people.
Because the cultural center has grown in popularity and offers new exhibits and workshops on a regular basis, the Tulalip Foundation organized a silent auction and salmon bake to raise funds for the museum's exhibits, events, and workshops back in 2017.
The Tulalip Foundation is a non-profit organization that supports tribal programs and projects based on five support areas – culture and natural resources, education and workforce, law and justice, community and development, and health and social. The Foundation has made a positive impact on the tribal community and has become well-known throughout the region. Many local companies and nationwide corporations have donated thousands of dollars for the betterment of both Tulalip's governmental programs as well as community-led and focused projects.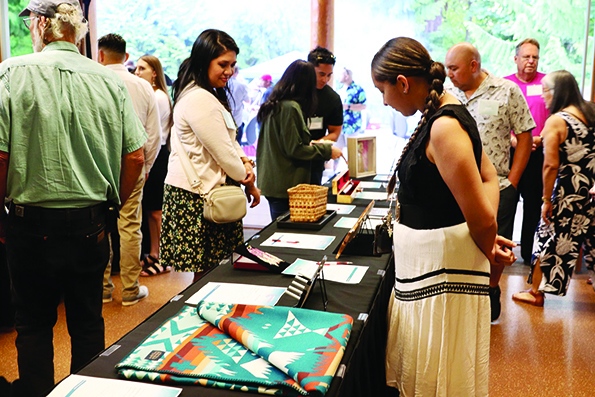 The inaugural salmon bake brought in approximately $25,000 from the silent auction and a number of sponsors. Since then, the Salmon Bake has continued to grow and has become an event that many look forward to each summer. Funds from previous Salmon Bake benefits went toward fan favorite exhibits such as Interwoven History: Coast Salish Wool, Vibrant Beauty: Colors of our Collection, and The Power of Words: A History of Tulalip Literacy, as well as a number of events and workshops including the museum's annual film festival. Although it's been seven years since the first event, the Foundation hosted its 5th Annual Salmon Bake this year, after two events were canceled due to the pandemic.
"For all your loving energy and support for the Tulalip community, we raise our hands to you," said Tulalip Foundation board member Rochelle Lubbers at this year's salmon bake. "We're able to celebrate and share our living culture throughout all of our business days. We are not a people of the past. We are here, we are present, and we are thriving."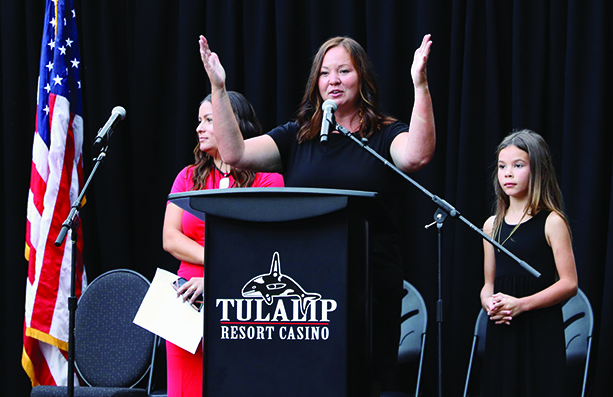 The 2023 Salmon Bake Fundraiser happened on the evening of August 19, and over a hundred of people were in attendance and dressed to the nines. The event was held outdoors, behind the cultural center's classrooms, where tables with formal settings and a stage were set. About halfway between the stage and the last line of dinner tables, three tribal members were busy behind a smoke screen of traditional deliciousness as the smell of cooking salmon emanated from a rectangle fire pit. As always, the salmon was prepared in real time for all to see by Lance and Tammy Taylor and their grandson Jared, who demonstrated not only the art of a traditional salmon bake, but also the act of passing down ancestral teachings to the next generation.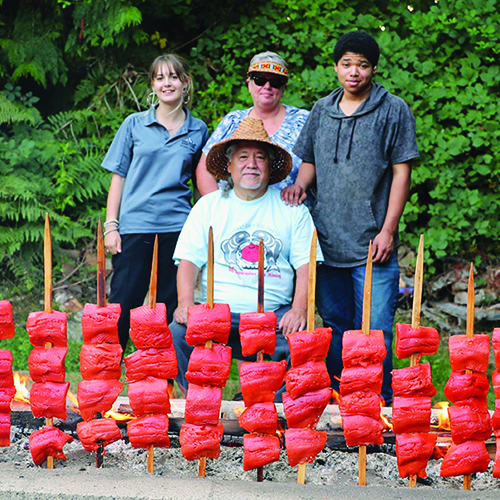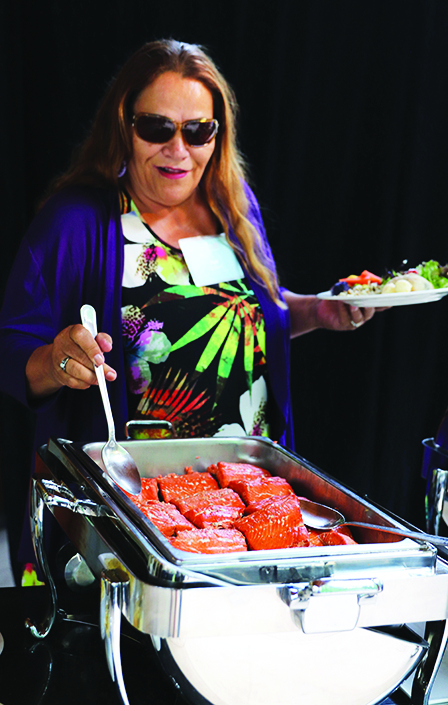 Showcased in the middle classroom of the museum, were rows of artwork donated by over 20 Tulalip artists. Next to each donation was a sheet of paper which detailed information about the art pieces and their creators. At the bottom of each paper were several blank lines where the attendees could place their bids. Included in the vast array of traditional artwork were weavings, paintings, carvings, beadwork, paddles, ribbon skirts, a hand drum, and a flute.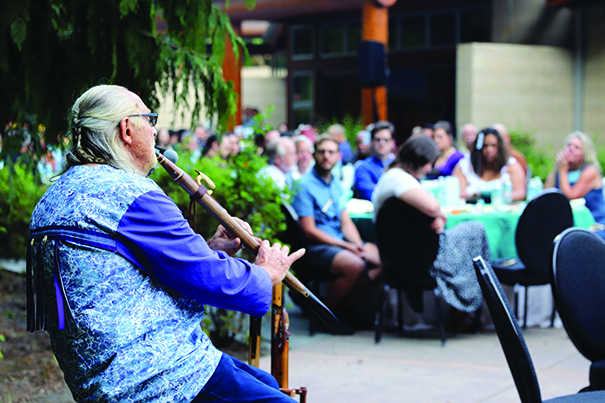 Once the silent auction placed a last call for bids, the guests took their seats at their respective tables. The event began with an opening prayer and the presentation of colors by the Tulalip Honor Guard. Attendees were entranced when Flutist Paul Nyenhuis played a welcome song to kick off the entertainment for the evening. While the sponsors and silent auction bidders enjoyed their fresh king salmon dinners, the youth of the Red Eagle Soaring collective performed a read-through of a play written by one of their young and talented members. It was an emotional and relatable story of aging told from both the youth and elder standpoints of the same few characters.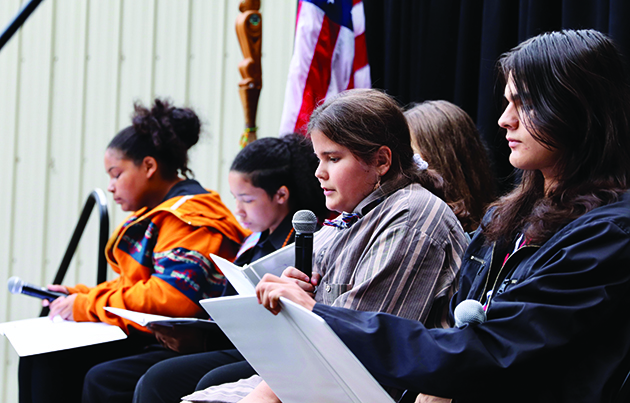 To close out the salmon bake, Mytyl thanked all of the sponsors. And with the help of her teenage daughters, who were babies when the museum first opened, she blanketed each sponsor in attendance. The blankets featured orcas pulling cedar canoes through the Salish Sea and were designed by Tulalip artist James Madison for the summertime tribal canoe journey.
"Thank you for supporting the Hibulb Cultural Center," Mytyl expressed. "We always have an ask to keep funding our programs, curriculum, efforts, workshops, events, and our new exhibit that will open at the end of October. Our goal for the exhibit, just like it is throughout our museum and in everything that we do, is to make culture accessible to our community."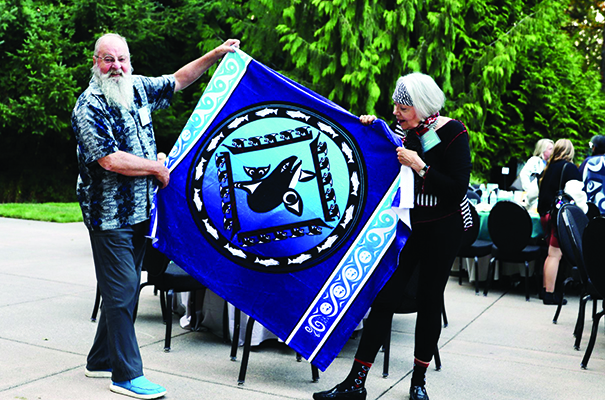 Executive Director of the Tulalip Foundation, Nicole Sieminski, officially announced that a grand total of $51,000 was raised at this year's silent auction and salmon bake. That is double the amount raised at the inaugural event, which speaks volumes to how the cultural center has grown over the years and its significance to the community. 
The following statement was included in this year's program, "The Tulalip Foundation is proud to host this event for the benefit of the Hibulb Cultural Center as it continues to revive, restore, protect, interpret, collect, and enhance the history, traditional cultural values, and spiritual beliefs of the Tulalip Tribes."
The Hibulb Cultural Center is currently gearing up to launch a new exhibit that focuses on the traditional languages of the Coast Salish people. The exhibit is slated to open on October 28, so be sure to follow their Facebook page for any updates, as well as details for upcoming events.