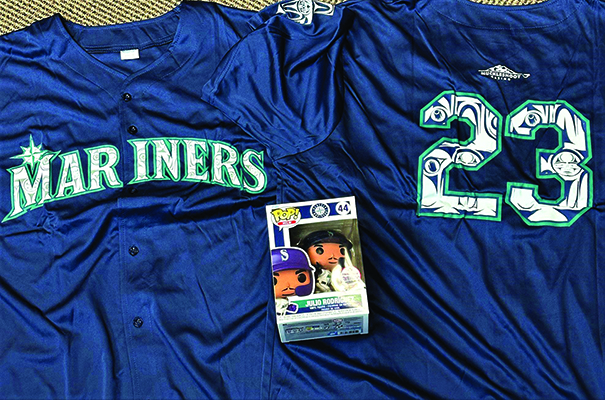 By Micheal Rios, Tulalip News
It's impossible to know how many Native Americans attended the Seattle Mariners vs. Oakland Athletics baseball game on August 28. But what we do know is the official attendance for the Monday night game, dubbed 'Salute to Native American Heritage' night, was announced as a whopping 37,434 people.
And a nice chunk of that thirty-seven grand were citizens of Pacific Northwest tribes who journeyed to the Emerald City hours before first-pitch to get their hands on a highly coveted, limited-edition jersey created by Muckleshoot tribal artists. It was impossible to miss the intricately detailed beaded medallions, always striking cedar woven hats, and various forms of turquoise jewelry that visually proclaimed, "Our culture is alive and thriving!"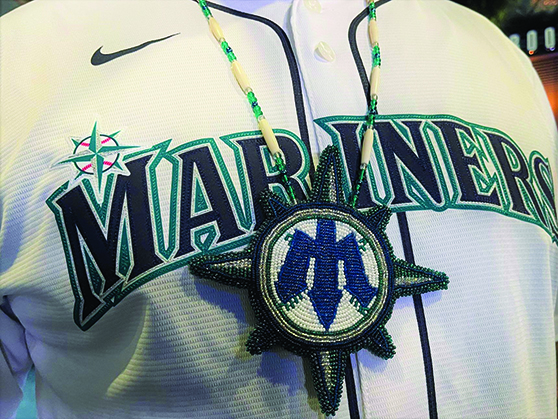 Lines wrapped around the multiple stadium entrances with anxious fans who wanted to be wrapped in a navy blue and Northwest green colored Mariners jersey that featured Coast Salish form line. Only the first 10,000 fans received the first-of-its-kind jersey.
Prior to first pitch, the Muckleshoot Canoe Family took to the always stunningly manicured green grass of T-Mobile Park and shared their culture through dance and song accompanied by traditional hand drum beats.
Throughout the evening, the Mariner's 11,000-square-foot scoreboard routinely displayed facts about Indigenous tribes of Washington. One example read: "There are more than 30 tribes throughout the state of Washington and over 140,000 Native American citizens in the state alone." Another read: "Chief Sealth or Chief Seattle was a Suquamish and Duwamish chief respected for his peaceful ways and is the namesake of the city."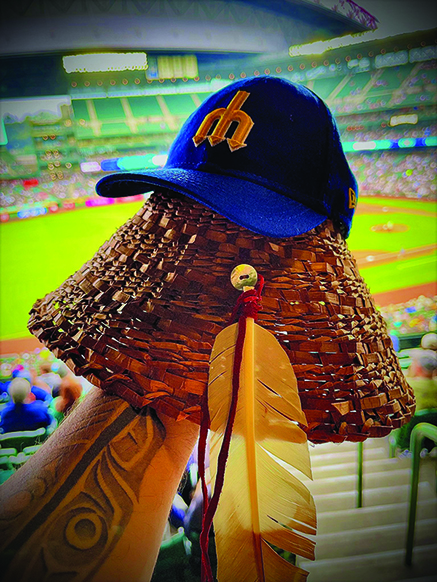 During actual gameplay, the Mariners, who recently took 1st place in their division for the first time in 20 years, gave their adoring fans much to cheer over 9 full innings. Center fielder J.P Crawford hit a 394-foot homerun in the Mariners' first at-bat of the opening inning. The home team jumped out to a 1-0 lead and never looked back.
Franchise phenom Julio Rodriguez added to the excitement by crushing a two-run, 420-foot bomb in the 4th inning. He finished the game 4-5 with 3 runs scored and 3 RBI. During a postgame interview, Julio said, "It's really good. I feel like everybody is playing like we all know we could," Rodríguez said. "It's been really good seeing everybody having fun, seeing everybody getting good at-bats and getting on base and passing the baton, and getting the big hits when we need them."
Ultimately, the M's won a memory-filled, 7-0 shutout in front of the largest Monday crowd they've had all season. Adding to the legendary game that was, 'Salute to Native American Heritage' night.