By Micheal Rios, Tulalip News
The Seattle Seahawks logo is that rarest of birds: a culturally accurate sports icon directly inspired by a Coast Salish masterpiece — and one seemingly universally embraced by the Coast Salish people who inspired the original formline design.
A design that is making a long overdue and welcomed return during the 2023 NFL season after the Seahawks announced details of the team's official throwback uniform set to debut this fall. Over the summer, the Seahawks released photos of the Kingdome-era threads on all their social media pages and official team website to much excitement amid the fanbase.
"I've always been a big fan of these jerseys just seeing pictures around the building, so to put this on is pretty cool," quarterback Geno Smith said via the team's website. "I think fans are going to love it. It's cool that they're bringing it back, and it's cool that we get to be the team that brings them back. Hopefully, the fans will love it, and we'll go out there and kick a lot of butt in these things."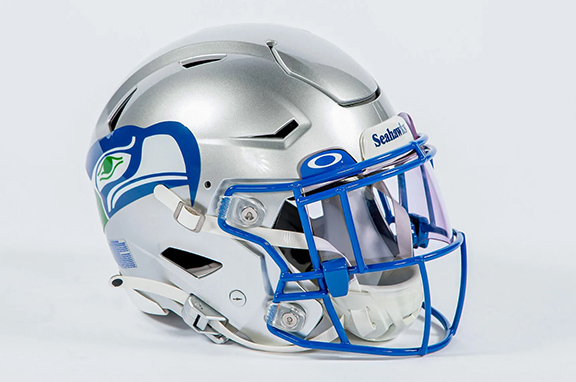 For some fans, this was a reintroduction to the team's traditional uniforms worn from 1976-2001 that Hall of Famers Steve Largent, Cortez Kennedy, and Walter Jones wore on game days. For other fans, it was a history lesson as they viewed the royal blue, Northwest green, and metallic silver color combo for the very first time.
But beyond the traditional colors of the '70s is the return of the original Seahawks logo, which is generally considered a highly stylized spin on classic, Pacific Northwest formline.
Origin story unmasked
Not so breaking news! There is no such thing as an actual Seahawk. Ornithology experts theorize the term Seahawk refers to a combination of an osprey, which is a bird of prey native to coastal North America, and a skua, which, in the Pacific Northwest, we usually call a seagull. If there isn't an actual "Seahawk" found in nature, then what inspired the professional football team's original logo?
The consensus is that in 1976, the NFL commissioned a logo for the newly formed Seattle football team. Then-General Manager Ted Thompson wanted the Seahawks' logo to reflect "Northwest Indian culture." He and his team of concept designers must have been Native culture enthusiasts who stumbled across a truly remarkable piece of Indigenous Northwest Coastal art. That artwork in question was a Kwakwaka'wakw (pronounced: KWA-kwuh-kyuh-wakw), a transformation mask from northeastern Vancouver Island.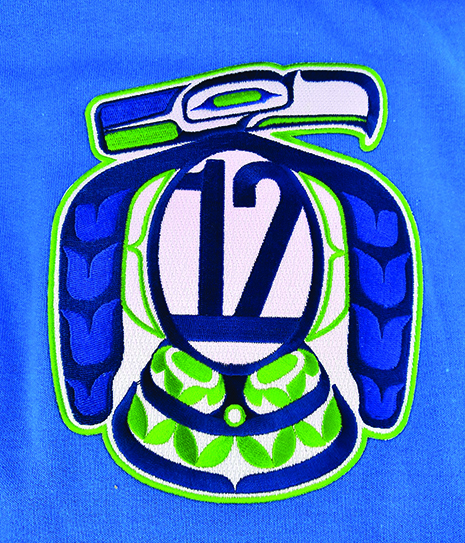 In September 2014, the Burke Museum on the University of Washington campus learned of the mask's whereabouts and launched an online fundraising campaign to bring it back to Coast Salish territory. Raising the money needed to conserve, insure, and ship the mask across the country didn't take long. Within weeks of arrival, the hidden history of the mask was unveiled, and the origin story of the Seahawks logo went public.
Even though the exact inspiration behind the Seahawks' logo remained a mystery for decades, what has always been certain is its positive celebration by Coast Salish tribes. All along the Salish Sea, citizens of sovereign Native nations have used the logo to empower contemporary artists who have re-appropriated the Seahawk's iconic imagery into our culture.
"Great things inspire imitations. In the same way that so many Native people and white people and Asians are inspired by hip-hop, an art form created by Black people, many people are inspired by our beautiful art," said Native advocate, criminal defense lawyer, and Seattle resident Gyasi Ross. "Native people have some beautiful artwork; of course, it inspires people to want a piece of it. The Seahawks logo is a perfect example of that. And we love it.
"But also, the Seahawks are actually active and respectful of the huge Native community here in the Pacific Northwest," he added. "From speaking at graduations to speaking out against the [old Washington] Redskins mascot, the Seahawks have a great relationship with the Native community here, both urban and reservation-based."
The Tulalip-Seahawk connection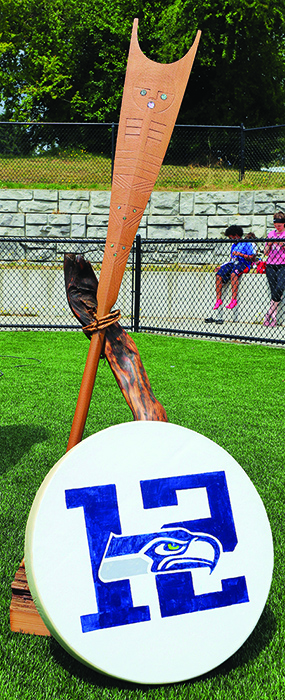 Their commitment to Native communities distinguishes the Seahawks from so many other organizations that claim to honor Native culture with their logos and mascots, yet contribute little or nothing to their local tribes. In fact, the Seahawks have a history of significantly impacting the Tulalip Tribes.
Back in 2008, Seahawk Bobby Engram collaborated with Home Depot, the Kaboom! Program, and Boys & Girls Clubs of Snohomish County to build a 50-by-50-foot playground at the reservation's 'Club.' In 2014, following the tragic Marysville-Pilchuck High School shooting, the Seahawks hosted tribal member Nate Hatch and his family at CenturyLink Field (now Lumen Field), where they received VIP treatment from both players and coaching staff.
Additionally, Seattle Seahawks legend Michael Bennett hosted a once-in-a-lifetime football camp for Tulalip community youth in June 2019. Nearly 250 participants, ages 7 to 18, had an opportunity to catch a pass from and do drills with the Super Bowl champion. Afterward, Bennett stuck around to sign autographs and take photos with every single one of his adoring fans.
Most recently, former Seahawk players Cooper Helfet and Jermaine Kearse landed a seaplane in Tulalip Bay in exciting fashion before spending an afternoon with 30 Tulalip youth at the local youth complex.
Empowerment through representation
A history of positive impact. Countless moments to uplift Tulalip youth and inspire them to always dream big. Promoting healthy lifestyle choices and physical fitness as a means of self-discipline to achieve long-term goals. The reciprocal nature of the Seattle Seahawks organizational respect for local tribes and the empowering, prideful Native fandom they've garnered in return continues to manifest itself in truly imaginative ways.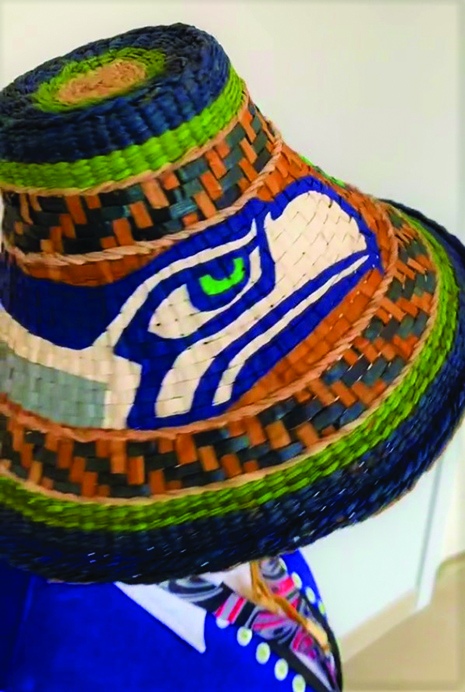 For starters, it's common to see the Seahawks logo reimagined via eye-catching Coast Salish craftsmanship via all possible mediums. Native American artisans have reimagined the formline-based Seahawk as blankets, clothing, beaded earrings, attention-grabbing medallions, wooden panels, furniture, flags, face masks, and even six-foot chainsaw carvings that come together to celebrate the evolution of art, ingenuity, and true fandom.
"The Seahawks have given back to our community in so many ways and really made a difference in the lives of our youth," shared Youth Services manager and lifelong fan Josh Fryberg, whose large family buys new Seahawks jerseys representing their favorite players every year. "As for the connection between the Seahawks and Coast Salish art, the roots definitely run deep. For my family, we have a lot of Seahawks-themed artwork created by very talented Native artists, both from Tulalip and other tribes. More than the art, though, the Seahawks mean family togetherness. Every Blue Friday, we rock our jerseys, and every game day we gather as a family to cheer on our Seahawks."
The unique partnership between the Seahawks organization and Coast Salish tribes, who comprise part of the devout 12th Man fan base, took on a whole new meaning after the surprise announcement of a 10-year partnership deal with the Muckleshoot Tribe. This partnership is embodied by a Muckleshoot-created installation at Lumen Field's north entrances. Dubbed "Muckleshoot Plaza," this Indigenous space features a massive, reimagined Seahawk, two salmon, a canoe, and even Lushootseed text. The impossible-to-miss architecture designed by Muckleshoot artists reminds all who pass by that they are guests on Coast Salish land.
"This artwork will not only inspire our communities but also educate them on the important history of the Native Americans in this region," said Chuck Arnold, President of the Seattle Seahawks. "We look forward to a long and meaningful partnership for many years to come."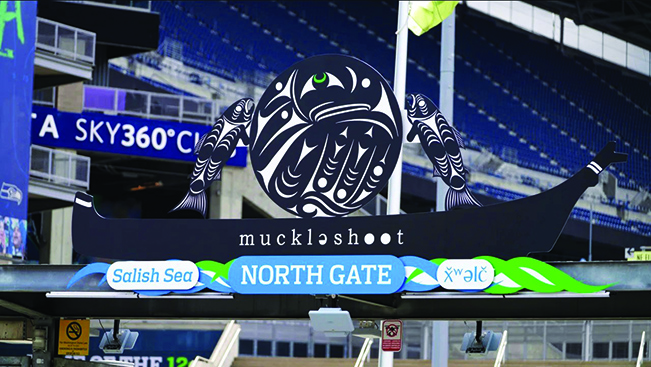 2023 throwback and beyond
Whether the Seattle Seahawks contend for this year's Super Bowl or not, in the hearts and minds of tens of thousands of Coast Salish tribal members, they will always be champions. Not because they've hoisted a Vince Lombardi Trophy, but because our professional football team respects their local Native American communities off the field – where it matters most.
Merging the past with the present while paying tribute to tradition is embodied by those who dawn the Seahawks throwback jersey. This is why the iconic logo can be seen so vividly on Blue Fridays, worn by casino patrons as they wager on the home team, and throughout Coast Salish territory by proud members of the 12th Man Army.