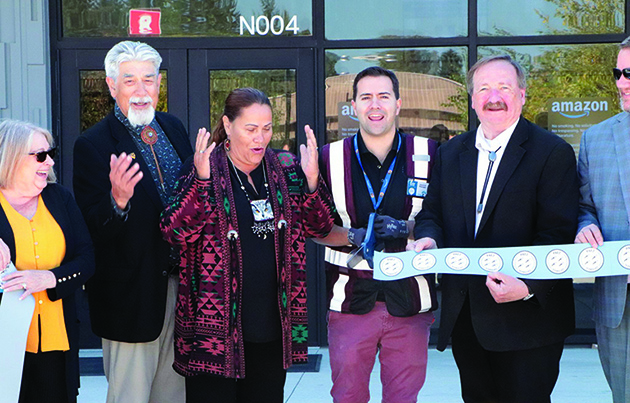 By Wade Sheldon, Tulalip News
Stepping into the new 2.9 million-square-foot Amazon PAE2 distribution center in Arlington, what first captures your attention are the extensive networks of conveyor belts that seem to extend for miles in every direction. These high-tech belts are just a small piece of the enormous operation that create a smooth flow of items throughout the facility. But what truly gives a glimpse into the future are the thousands of driverless robots moving seamlessly throughout their designated areas.
Equally fascinating is the collaboration between Amazon's dedicated human workforce and the robots. People work in harmony with the machines, unloading to loading the 6-foot high shelves with various types of merchandise that the robots transport in and out of each workstation.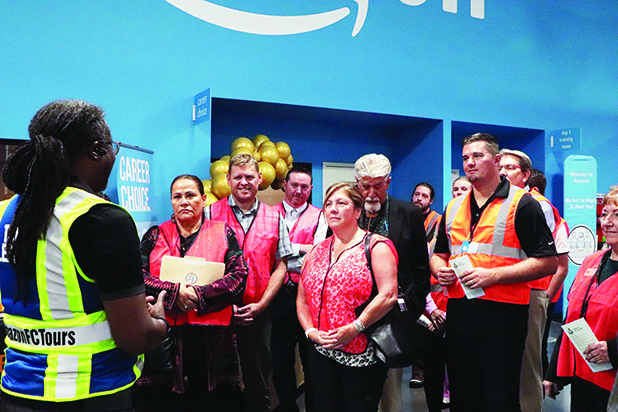 Thursday, September 14, Amazon PAE2, named after the Paine Field airport in Everett, PAE1, held a ribbon cutting unveiling the colossal structure that will offer over 1,000 jobs.
Tulalip board member Mel Sheldon and Chairwoman Teri Gobin were thanked for attending.  Alongside of Snohomish County Executive Dave Somers, Arlington Mayor Barbara Tolbert, and Bruno Arnal, PAE2 General Manager, they participated in the cutting of the ribbon and celebrated the grand opening with a tour of the facilities.   First of all, we are safety always," Bruno Arnal, Amazon General Manager said. "We have the latest technology in the Amazon fulfilment center. Amazon this year alone invested over 550 million dollars in safety related project across the network. And this site, when you tour it, you will see all the latest research and development that lead to a safer workplace.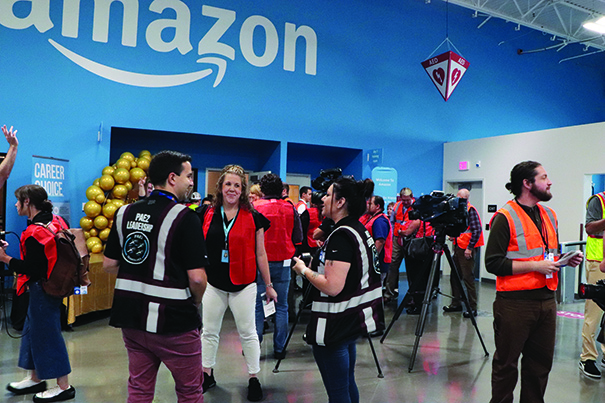 Bruno continued "Once full, this building will hold the largest number of items in the northwest. It's a 5-story building and can house up to 40 million units of inventory. And because this building is located so close the Seattle metropolitan area, it's going to help deliver selection at the right speed with safety, because we have the technology."
Mayor Tolbert had the privilege of packing the first order in of the facility, saying, "This is a modern facility is built not only to serve the customer, but the employee. With the safety standards that are put in place, someone like me could step in and be trained and do the first shift effectively and safely with all the right equipment without getting hurt.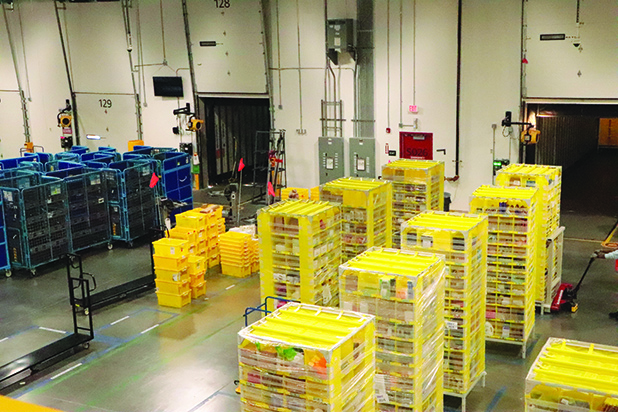 "We at the county are very much aware that the jobs of today are very different from the jobs of yesterday," Executive Somers said. "We structured our workforce development process and have a future workforce alliance which is looking out to the future. Because we want to understand what the requirements are so we can provide the training necessary to make this facility successful."