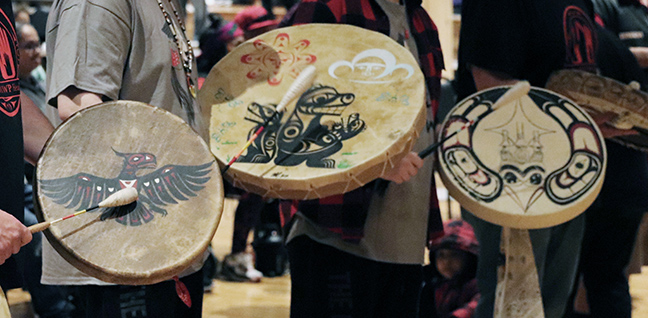 By Kalvin Valdillez, Tulalip News
Calling all drummers, singers, dancers, community members, and relatives of Tulalip, the Tribe's Legacy of Healing program is in need of your good medicine on Friday October 6.
In an effort to raise awareness, provide support and resources to survivors and victims, and also open up discussion about domestic violence, the Legacy of Healing is hosting a dinner and a costal jam.
The idea behind the jam is that by uniting the people together in song and prayer, those who have endured an abusive relationship can feel the love and support from the community. And likewise, those who are silently going through it in their home life, can come to a safe space and identify their available resources, ask questions, and speak in confidence with a professional from the Legacy of Healing.
Said Legacy of Healing's Lead Family Advocate, Kaely Wickham, "It's important to know when you're in that situation you can feel isolated or like you're going crazy, and that what's happening to you is not real. It's important to increase awareness that this is actually serious. You're not alone. We do care. You're not going crazy. If you feel that you're not in a healthy relationship, we're here to support you and give that knowledge of what domestic violence is – we're here to help you learn about it. Our services are entirely confidential and there's no pressure to report about what happened to you."
For the past several years, the department has taken part in DV Awareness Month, a nationwide initiative that dedicates the month of October to bring attention to the issue of domestic violence and to show support to the victims and survivors of DV.
Through film screenings, self-defense classes, trauma workshops, beading lessons and a number of other community gatherings, the Legacy of Healing has helped bring about a clearer understanding to Tulalip of what DV is. Additionally, the event goers will often take the chance to open up and share laughter, exchange stories, and at times, shed tears together. No matter what emotions are brought out at each gathering, more often than not, the participants walk away with a smile, their heads up high, and newfound optimism, knowing that they have the support of the Legacy of Healing and the community behind them.
While engaging their participants and clients in activities and open discussions, the Legacy of Healing has provided many opportunities for the people to learn about DV each October. That alone is extremely important because many are not able to recognize domestic violence as it's occurring. And this is due to the fact that the majority of folk have misconceptions about what DV is exactly, and they do not realize that there are numerous ways an abuser asserts control and power in a relationship, including isolation, gaslighting, manipulation, among many others.
"A lot of people can kind of sweep DV under the rug because it happens slowly," explained Marisa Chavez, Legacy of Healing Victim Advocate. "It's not like the first time you meet somebody, you're put in the hospital. It's a slow build and you don't often realize what's happening until you're really deep in it.
"Typically, people who are victims of domestic violence think that if they call law enforcement it's because it's something physical. But usually it starts emotional, then it goes to psychological – financial abuse, threats. And then it becomes physical. So, this month's about educating and providing information for people to realize that it's not okay that this is happening."
Within Native America, DV has plagued our communities and statistics show that the Indigenous population is at a much higher risk of experiencing an abusive relationship compared to other ethnicities. According to the National Institute of Justice, 84% of Native women have experienced domestic violence in their lifetime, as have 81% of Native men.
However, it's important to note that this study was conducted well before the coronavirus outbreak and those numbers are now projected to be on the rise. Not to mention that even with updated statistics, the amount of DV incidents may be higher, but do not necessarily reflect in research and studies due to underreporting.  
To help prevent further underreporting and so the community knows how to identify DV, the Legacy of Healing compiled a list that reads as follows:
What Abuse Can Look Like
Hitting, pinching
Burning
Pulling hair
Pushing
Strangulation
Physical intimidation
Use of weapons
Forcing the use of substances
Throwing items
Punching walls
Kicking in doors
Requesting your login info
Monitoring your social media- Stalking
IPV sexual abuse
Kicking
Rape
Forcing any sexual act
Uses children against you
Lies about your mental health
Financial control
Name calling
Jealousy
Shaming or humiliating you
Blaming you for their actions
Controlling where you go
Gaslighting
Love bombing
If you are experiencing any forms of abuse listed above, please do not hesitate to reach out to the Legacy of Healing. The program can speak in hypotheticals for those looking to discreetly acquire information. And if you are ready to take the next step, the department can also design a safety plan with you, for whenever you are ready to exit a DV relationship.
Noting that each circumstance is different, the Legacy of Healing understands that leaving a DV situation is difficult and can sometimes involve the court systems. The department wants to inform the community that if you are in a situation where you do have to go through tribal or state court, they will be there to support you emotionally throughout the entire process.
The Legacy of Healing is careful not to pass any judgements and allows their clients grace and understanding, because from a statistical standpoint, it could take a victim multiple attempts to leave an abusive partnership for good.
In previous years, the culture has been prevalent and at the forefront of many of DV awareness month gatherings at Tulalip. This year, the Legacy of Healing is returning to the ancestral ways with the coastal jam in hopes of not only giving a voice to all the local survivors and victims, but also amplifying that voice in-turn through the powerful songs of the sduhubš.
"From what we know, the reason we have these different crimes on our reservation is because it stems from the colonization that's happened to us as a people," stated Jade Carela, Director of the Legacy of Healing. "I think the healing piece for us is knowing this is not something that stems from us as a people. When you're going through this process, that's part of what you're learning – that it's not okay. It's not who we are. It's not something that comes from us. It's something that was taught to us."
The Legacy of Healing is asking for your assistance in raising awareness throughout the month by participating in their raffle ($5 for 1 ticket/$20 for 5 tickets) in which all of the proceeds go towards supporting survivors of DV. Over 20 prizes will be raffled off at the end of the month including a number gift cards and gift baskets, Xbox games, a ribbon skirt donated by Morning Star Creations, a beaded necklace by Winona Shopbell, beaded earrings by Paige Pettibon and Odessa Flores, and a cedar and abalone headband by Malorie Simpson.
To purchase a raffle ticket, you can catch the Legacy of Healing team and the Tulalip Foundation at the following locations/date/times:
10/2 on the second floor of the Tulalip Administration building from 8:00 a.m. – 9:30 a.m. and 11:30 a.m. – 1:30 p.m.
10/6 at the Greg Williams Court (Coastal Jam) from 4:30 p.m. – 7:00 p.m.
10/16 at the Tulalip Tribal Court from 3:30 p.m. – 4:30 p.m.
10/19 on the second floor of the Tulalip Administration building (Carmel apple social) from 11:30 a.m. – 1:30 a.m.
10/21 at the Tulalip Resort Casino (Semi-General Council) from 9:00 a.m. – 1:00 p.m.
10/31 at the Tulalip Gathering Hall (Employee Halloween Luncheon) from 12:00 p.m. – 2:00 p.m.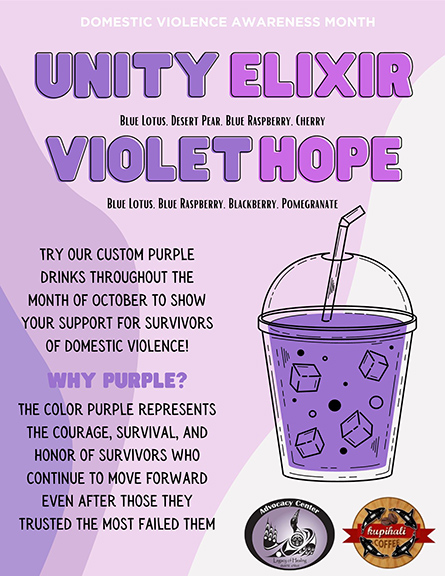 If you are looking for more ways to show your support throughout DV Awareness Month, you can order the Unity Elixir or the Violet Hope Lotus drinks from the café at the Tulalip Administration building, Ti Kupihali. The drinks are purple, which is the official color of the awareness month. In fact, October 19 is 'Wear Purple Day'. Government employees and the Tulalip citizenry are encouraged to participate, so don't forget to send photos of your team and your families decked out in purple gear to the Legacy of Healing.
As a reminder, the Domestic Violence Awareness Month Coastal Jam is scheduled to take place on October 6 at the Teen Center. Doors open at 4:30 p.m. and the first 200 people to arrive will receive a free t-shirt. Dinner will be served at 5:30 p.m. at the Don Hatch Court. And the costal jam will follow and is set to begin at the Greg Williams Court at 6:30 p.m.
If you or anybody you know is experiencing an abusive relationship, please do not hesitate to call the Legacy of Healing  at (360) 716-4100 for assistance. And if you are in a crisis or an emergency situation, the Legacy of Healing provided a list of three additional hotline numbers that you can utilize during your time of need: 
The National Domestic Violence Hotline 1-800-799-SAFE (7233)
Strong Hearts Native Helpline: 1-844-762-8483
Domestic Violence Services of Snohomish County 425-25-ABUSE (22873)