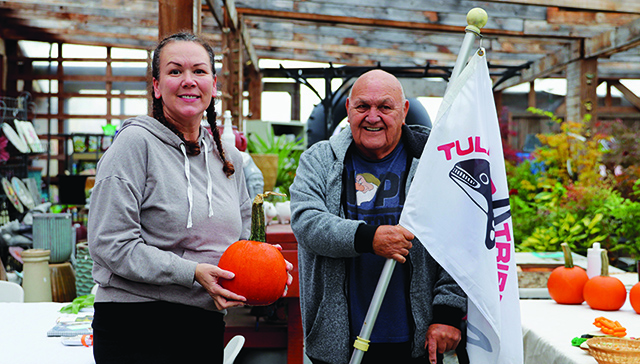 By Kalvin Valdillez, Tulalip News
"When you see the people come together, it's emotional, it really is," expressed Veronica 'Roni' Leahy, Diabetes Care and Prevention Program Coordinator. "The people were all gathered around talking and the kids were running around. The elders were sharing with each other – the foods they picked, the foods they saw, and talking about recipes. We're just warmed by each other's friendship and love. And you can feel that you can feel that sense of community."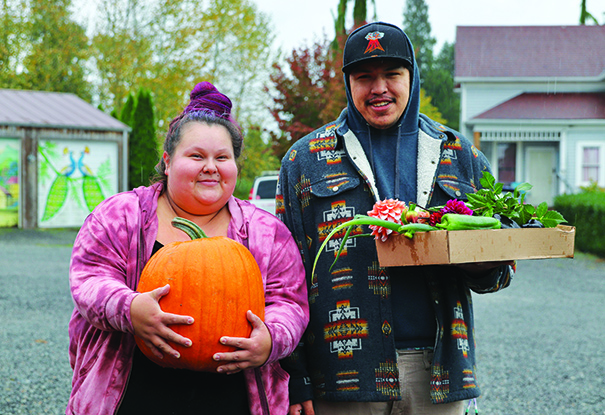 The rain couldn't dampen the spirits of dozens of Tulalip families who ventured off-rez on the afternoon of October 24, for the last Garden Tour and U-Pick harvesting event for the year. Held throughout the spring, summer, and fall seasons, the event allows the community to see food in an entirely new light. The idea is that by seeing the process take place, from planting to harvesting, people can develop not only an understanding of cultivating produce, but also gain a deeper appreciation for fruits and veggies, and all of their benefits. 
"I wanted to get out with my friend Marvin today, come get some fresh produce, and see what Roni has going on," said community member, Jessica Leslie. "Roni is filled with a lot of good information, and they always have healthy snacks. Everything here is fresh, local, and really nice to have. I think it's a good way to get people out and about."
Tulalip elder Marvin Jones, who was just happy to ride shotgun with Jessica for the day, exchanged stories with Roni as Jessica gathered an assortment for veggies. Over a cup of hot apple cider, he spoke of the importance of having access to fresh produce, something that was much more difficult for tribal members to attain during his years of adolescence. He also touched on his gardening skillset that he developed over the years, explaining that he can 'grow my own anytime I want it,' and identified several harvesting spots on the reservation for the likes of apples, berries, and a variety of plants.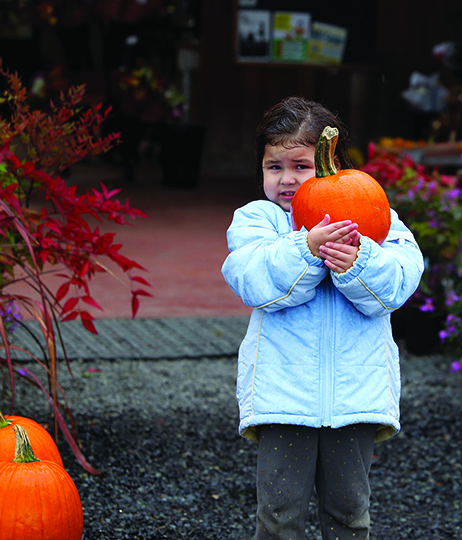 The award-winning Diabetes Care and Prevention program partnered with Garden Treasures Nursery and Local Farm well over a decade ago to host the U-Pick gatherings. Ever since, the six-acre organic farm has been the backdrop for Tulalip members and Tulalip Health Clinic patients to learn and share knowledge about diabetes care, as well as harvest in-season produce and explore new foods that they otherwise wouldn't have come across on a trip to the supermarket.
By opening their barn and greenhouse doors to the tribal nation, Garden Treasures is fulfilling their community-driven mission FUBU style – for us, by us. As a local Arlingtonite, owner Mark Lovejoy spoke on this mentality and his inspiration for growing crops solely to give back to his hometown, our region, and the community of farmers that sell their produce along the local farmer's market circuit. Mark has opened a large retail space at the Garden Treasures property, and partnered with local farmers and meat markets to make their goods available for purchase six days out of the week, in addition to his products.
Mark shared, "It feels good, that's the purpose of the farm. We're supported by the community, for the community, we're growing food for people right here. That's been the mission all along, and the more we do it, the more we get connected. We designed this vertically integrated produce farm in the image of the old truck farmers from the 30s,40s, and 50s that were on the east coast serving the metropolitan areas. We wanted to serve our area with an abundance of food that we can grow in our climate.
"We designed our store to sell our products that we grow here ourselves. At the same time there are very few local farmers in our community who have a retail presence like this or even own land these days. Our farm is set up to be like an everyday farmers market. Anybody can come here any day of the week and have an experience like you would at a farmers' market. Even though it's a privately owned family business, it's using a lot of vendors from the farmer's markets to fill the shelves. And other people outside of the region that have other products too, like avocados that are from the same type of farmers that we are, but are from Mexico or southern California. We always try to source our products from people who are like us, who are interested in community supported agriculture."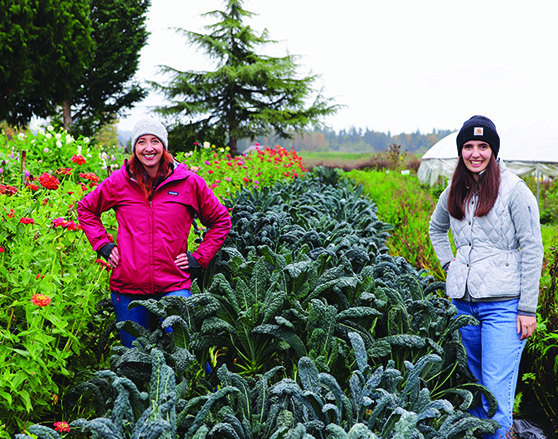 With multiple greenhouses throughout the property, Garden Treasures Nursery and Local Farm cultivates an array of colorful and nutrient dense vegetables, herbs, fruits, and flowers throughout the year. Roni is sure to schedule a U-Pick event at least once per season so that the community can enjoy everything from strawberries to winter squash. Now that we are in the midst of autumn, Garden Treasures has orange gourds in every size placed along the entryway to the farm. Each tribal family or THC patient selected a pumpkin before concluding their Garden Treasures adventure.
"It was a pretty good harvest," exclaimed young Kayden Palmer while holding a box of produce, her day's bounty, in-hand. "It was wet and cold but still a lot of fun."
Upon picking out a pumpkin and heaving it up for a photo, Kayden continued, "My family and I enjoy carving these and sometimes we feed the excess of the pumpkins to our sheep. I don't know what design I'll carve yet, but I'll figure it out. [U-Pick gatherings] mean a lot to me, and it's always nice to come out and see everybody."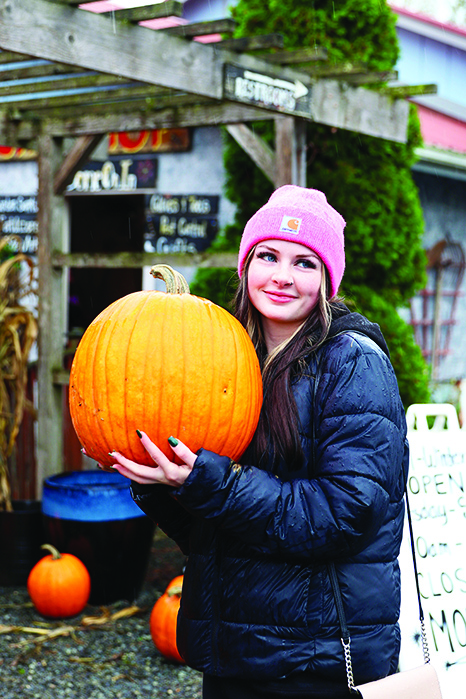 Community member Justine Jones shared, "I'm glad I was able to come here, check it out, and just get out of the house. I really like Halloween now because we have two boys who were born on the same day of October 12. And my little guy loves pumpkins. He calls them pum-an-ah-nos. We'll carve our pumpkin and possibly enter it in the pumpkin contest at the community Halloween party."
In addition to knowledge sharing through the act of harvesting, the Diabetes Care and Prevention program brought on professionals from the Puget Sound Kidney Centers, Registered Dietician Grace Scarborough and Medical Social Worker Michelle Rowlett.
"We are really big into community health, so we're partnering with the Tulalip Tribes to promote healthy living and healthy eating," Grace explained.
Michelle added, "Diabetes is one of the main causes of kidney disease. We try to talk about ways to keep your kidneys healthy, keep your body healthy, just the whole gamut of everything involving healthy living. We do things like this because if you're eating fresh foods, fruits and vegetables, cooking with herbs and spices instead of salt, you're going to have healthy kidneys, a healthier body, a healthier heart – it's all connected."
After years of setting aside a small percentage of the Diabetes Care and Prevention program's funding, Roni feels that the importance of these outings and the experience of harvesting one's own foods has not been lost on the community. With each event growing in attendance, she believes it's now time to expand these services and hold U-Pick gatherings more frequently, and at varying times, so that more people get the chance to take freshly grown produce home to their dinner tables.
Said Roni, "When it comes to being with the plants, it's about that connection that we have to them because the plants give us the nutrients that we need in our bodies. But they also feed us emotionally, because of how you feel when you're harvesting the plants. And then to be able to talk about the spiritual side of our plant relatives and how we feel about them.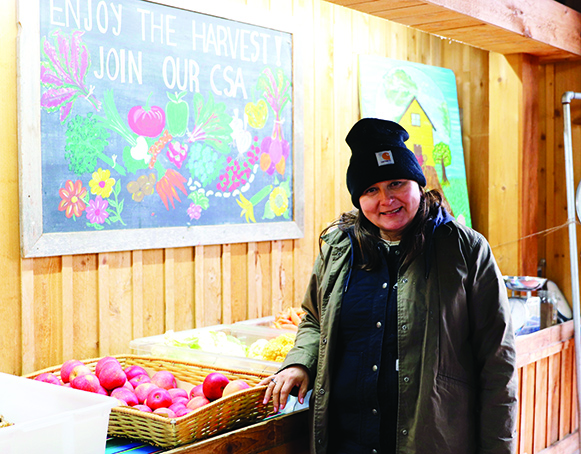 "Those plants live just a short life only to give you health, to give you that medicine. They share that with you and they are grown here for that purpose. So, when you start thinking of your food as a type of medicine, it helps in the sense of a spiritual connection. That has been one our teachings here; feeding our Indian. Feeding who we are and satisfying that. I think the satisfaction comes not just from eating it and keeping within us to nourish our bodies, but it also comes from learning how to plant it, how to care for it, how to harvest it, and then prepare it. It's this whole process that we do and that's what we try to show here. These foods are the gift of health. And to see the kids, to see the adults, and the elders enjoy that, because it's truly a gift."
The Diabetes Care and Prevention program is gearing up for a series of classes developed by the American Diabetes Association and is tailored to Natives living with diabetes. The classes will begin at 2:00 p.m. every Wednesday in November, at the Karen I. Fryberg Health Clinic. The classes will focus on self-management of the disease and are targeted toward individuals who were diagnosed with diabetes during the COVID-19 pandemic and have yet to attend a Diabetes Care and Prevention class. For additional details, please contact Roni at (360) 716-5642.