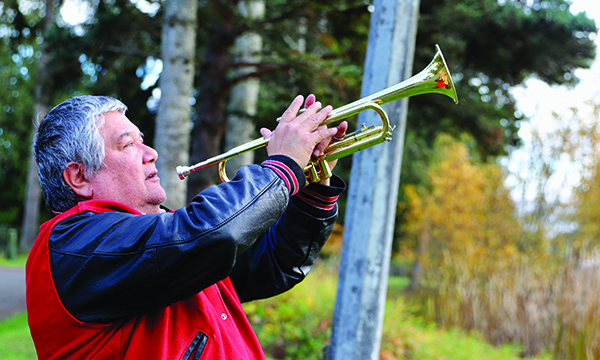 By Kalvin Valdillez, Tulalip News
There is a special moment that happens as Tulalip families say their goodbyes to their loved ones who served in the military. This moment is held as one of the highest honors that service men and women can receive when they are laid to rest. It's both beautiful and bittersweet, and it's the perfect way to send off tribal veterans to their next journey. Once a year, on the cusp of summer, all the families of those veterans who passed, including their brothers and sisters in arms, gather at the gravesites and once again recreate that moment of solace and honor to pay tribute to all of Tulalip's fallen soldiers.
  Tulalip tribal member and Marine veteran, David 'Chip' Fryberg Jr., plays a significant role in providing that moment of closure for families at the funerals for tribal veterans, and also at the tribe's Memorial Day services. When the order is given, seven rifles, an eagle head staff, as well as the POW, Tulalip Tribes, Tulalip veterans, and the US flags are raised in the air for the 21-gun salute. At the same moment, Chip raises his brass horn up into the air, consisting of three valves and as shiny as ever. And as the second shot rings through the air, he begins to play Taps on the trumpet. 
"I really love what our Honor Guard does, and I enjoy being a part of the tribute," Chip stated. "The firing – bangs, the pops, and the smoke, it's a great feeling and I feel it's a good thing to do for the community, for Memorial Day. I went into the Marines in 1982 and got out in '89. When I came home to the reservation, I got asked by my aunt Cookie to play Taps on Memorial Day. They borrowed a trumpet from somebody and asked me to play, and I've been doing it ever since."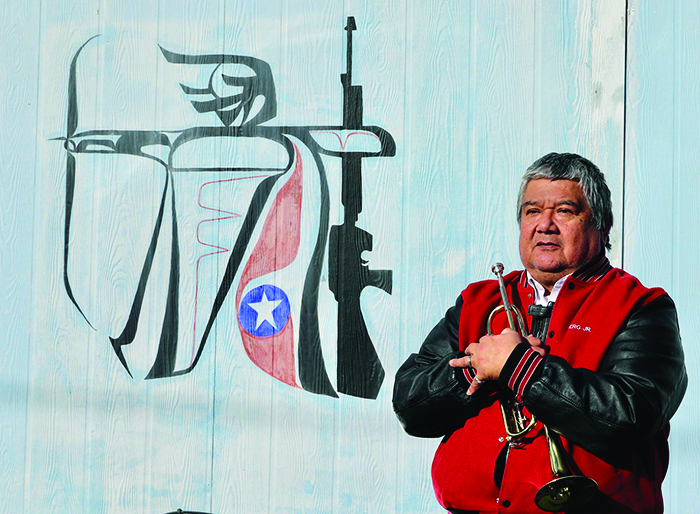 Chip explained that originally, he didn't know if he would be asked to return to perform during the Memorial Day services, but he continued to graciously except the call year after year. They say musicians are their own toughest critics, and throughout the '90's, David claimed he wasn't that good and thought somebody would eventually replace him. But he vividly remembers the moment he decided to take on the title with authority and dedicate more time to perfecting his craft.
He shared, "Every now and then, we volunteer to play for (non-tribal) spouses and some of our good friends who we were in the military force with. We don't do as many as we used to, but I'm always more than happy to get my trumpet out and perform for our veterans. A highlight for me was the first time I played in Schaefer-Shipman Funeral Home. Shipman himself came up and said, 'I've heard a lot of people play Taps and I have something to say to you'. I was listening and I thought he was going to yell at me or something. But he goes, 'I just got one thing to say, you are the greatest in the nation'. That lit a fire under me – about how well I have to play and take care of that song. I'm glad to take care of it and honored to bring it out with the guys in the Honor Guard."
That line of thinking, taking care of the song, exposes Chip's Indigenous roots in a substantial way. Just like a traditional song passed down through the generations, Chip is responsible for practicing the ceremonial song and performing it with a good mind, heart, and spirit, as well as with honor, pride and respect for those veterans who transitioned to the other side. David does this not only with a tribal mindset, but also that of a vet who knows what these men and women may have encountered or been exposed to while stationed at bases all throughout the world, what they witnessed and experienced on the battlefield, the vigorous trainings they went through and the multiple sacrifices they made while defending the nation's freedom.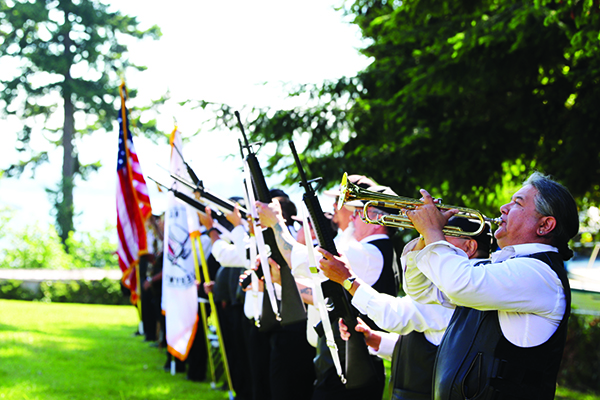 Said David, "Growing up, my grandmother Rose Fryberg had three pictures mounted on the wall, my two aunts and my dad. My dad was in his Marine Corps. uniform. When your dad is a Marine, you are kind of born a Marine. I just followed the tradition. After high school, I really didn't want to go to college or deal with money issues – so I joined the Marines. I talked to the Army and the Navy, but I didn't see myself as anything but a Marine. I chose to sign-up in November of '81 and shipped out on January 27 of 1982.
"I went to San Diego, and I was a communications electronics tech. I fixed telephones and switchboards. I went to school for it for about nine months at Twentynine Palms. And then I went to Okinawa for two and a half years. I had a successful tour over there, went out into the field a lot. I reenlisted in Okinawa and did my last three and a half years at Camp Lejeune where I was a shipping and receiving NCO for communications electronics, which was a big deal."
Early in his journey in the military, the Marines discovered that Chip had a background in music, and they encouraged him to try out for the Drum and Bugle Corps. at Twentynine Palms. And after playing the trombone all throughout middle school and high school, David was happy to learn he could continue to study and express his passion for music during his time spent at the southern California Marine base.
"That was a really hard thing for me," he recalled. "Not going to college meant giving up my trombone. I started playing trombone in the sixth grade in Vancouver, Washington at Jason Lee Junior High School, we were a stage band. We were also a marching band, and we did parades all the time. On top of that, I was actually a member of the Spartans Drum and Bugle Corps. through seventh, eighth, and ninth grade. In high school I joined the Columbia River High School band, and we were the show band of southwest Washington. I marched in – I don't even know how many parades. Even though I grew up in Vancouver, I got to march in the Strawberry Festival because our Drum and Bugle Corps. would get invited – and that was always neat, seeing family."
He continued, "I was quite the horn player when I was a kid, I could pick up a trumpet and play some crazy stuff. But I've always been able to pick up any brass instrument. I was able to pick it right back up when I was down at Twentynine Palms. I made the Drum and Bugle Corps., and they were like, 'we know you're going to be in comm. tech, but in case you rock out, you can come with us and be a lead soprano for the Marine Corps. Drum and Bugle Corps. So, if I didn't pass my electronics course, I would've been a Drum and Bugle Corps. member at Twentynine Palms and could've switched over immediately to the Marine Corps. Drum and Bugle Corps., which is a big honor. But needless to say, I became an electronics tech and went overseas."
Since returning to Tulalip, and after agreeing to play Taps on Memorial Day in '89, Chip has created lifelong bonds with his fellow veterans as the official trumpeter of the Tulalip Honor Guard. And as a member of the Honor Guard, there have been many opportunities that David has received, that he wouldn't have otherwise experienced. For example, last Veterans Day, Chip packed up his trumpet and jumped on an airplane to Washington D.C. with the Honor Guard to participate in a march with thousands of other Native American military veterans during the unveiling of the new monument at the Smithsonian National Museum of the American Indian. During this trip, Chip was able to reunite with some of his friends, fellow comrades who he served alongside with during the '80's, and they spent the day catching up and reminiscing on their time in the service.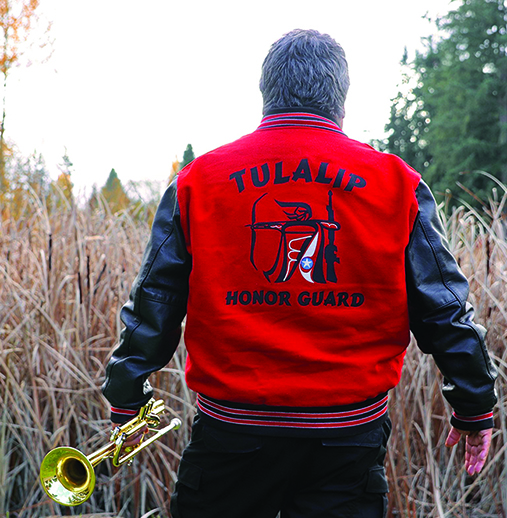 There have also been a handful of times when David's fellow veterans and members of his family wondered if he would be able to perform Taps, or if he even felt up to the task, when the funeral services were held for one of his loved ones, his close friends and relatives. But in each of those instances, Chip felt that it was his responsibility to ensure they were sent off in a proper manner and in high honor, so he equipped his horn with the metal mouthpiece and took up his position with the Honor Guard during those final goodbyes. This was also the case with the man who inspired Chip to join the Marines in the first place, his father.
"He was my inspiration," he emotionally shared. "All I know is that lived by his picture and to me, he was the greatest Marine ever. That's why I did everything I did, because I wanted to be like my dad. Last year, we lost my dad, last February 14. And a lot of people didn't know if I'd be able to play. But it's a lot different when your dad is not only your dad, but he's also your brother, he's also your best friend, and he knew everything what you went through. So, playing Taps at my dad's funeral was something I had to do."
After contracting the coronavirus, Chip was hospitalized and put on a respirator for a number of weeks. When he woke, he was faced with a hard decision of either giving up the trumpet after years of playing for tribal veterans, or restart from scratch and dedicate even more time to the instrument to rebuild the endurance of his lungs back up following the near-death respiratory infection. 
Chip withstood it all and came back determined as all hell to continue on as the Honor Guard's trumpeter. Chip says he owed it all to his wife and daughter who not only encouraged him through the process but also kept him on schedule, waking him early everyday so he could practice his instrument following his late-night shifts in the table games department of the Tulalip Resort Casino.
Although Chip was happy to share his story and to be featured in the syəcəb, he was quick to share the glory with his fellow Honor Guard members. He stated that it's the comradery that he shares with those men and women of the Tulalip Honor Guard that keeps him coming back year after year.
He exclaimed, "The song I play, I have a lot of respect for it and it's an honor to play it. The Honor Guard is a team, and I'm really glad when we get together. It's an honor to play Taps during the 21-gun salute. When we put it all together – that's one pretty good package. I like to focus on being a part of the Honor Guard, it's special and I like being a part of that special tribute. We all pitch-in and what we convey is what's on our hearts – and we really mean that. We pay tribute to our fallen comrades and we're glad to do it."
Upon reading the first few paragraphs of this feature, you may have thought this story was about a local bugler, a trumpeter who plays at the funerals of Tulalip veterans and at the Tribe's Memorial Day services. And sure, that is a large aspect of Chip's journey and the services he provides today. However, this story is much bigger. It is the story about a man of dedication – whether it's to his instrument, his community, his family, his fellow veterans, his culture, his country, Chip has laid it all on the line multiple times throughout his life for the values he believes in and for the people he loves.
Through the ups and downs, Chip always returned to his love for music. And through the performance of his trumpet, he has been able to spread love and good healing medicine to those in need from the community as their loved ones enter the spirit world.
Chip shared, "To my fellow veterans and the Tulalip Honor Guard, I'd like to thank everyone for answering the call and carrying yourselves the way you do. It's heartwarming to see us come together to pay tribute to our veterans, we recently did a couple of funerals together for David Spencer and Pat Elliott. We love doing this for our fallen comrades and I love doing my part in what we do. I couldn't do it without you guys. I've heard a lot of great stories over the years, and I can't emphasize how grateful I am to each and every one of you for your service. Happy Veterans Day."