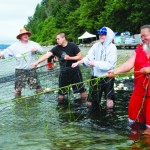 Article and photos by Jeannie Briones
On July 21st, the air at Spee-Bi-Dah beach was filled with the aroma of fresh seafood cooking over a fire and the sounds of children playing in the water. This annual gathering unites the community for a day of traditional cooking, seining (hand pulling fish nets) and recapturing a past way of life. Salmon, oysters, clams, and crab are cooked in a traditional fashion and shared with family and friends. Tribal members get to experience and learn the culture of their ancestors and the value of working together, while elders reminisce and tell stories of their own experiences that are passed down to younger generations.
"To me, it brings back our culture and tradition. It makes our elders feel good to be able to come down here and hang out like the olden days when they used to live on the beach and fish all summer long. They get to come here one time a year where we set it up and feed them with traditional foods. I'm cooking clams, oysters and crab, and uncle Cy is cooking fish. It's really important for our kids to learn where we come from and how we used to live," said Tony Hatch, Tulalip Tribal member
"It brings our community together and helps us to experience a small portion of the way we use to live our life. I grew up on this beach. From May until October we never went home. We just lived here the whole time fishing like this. As children this was our playground and learning ground. Family to family living, eating, and sharing it was a wonderful way of life. This helps our young kids to experience some of what we used to have and for us that lived this way; it reliving memories," said Patty Gobin, Tulalip Tribal member.