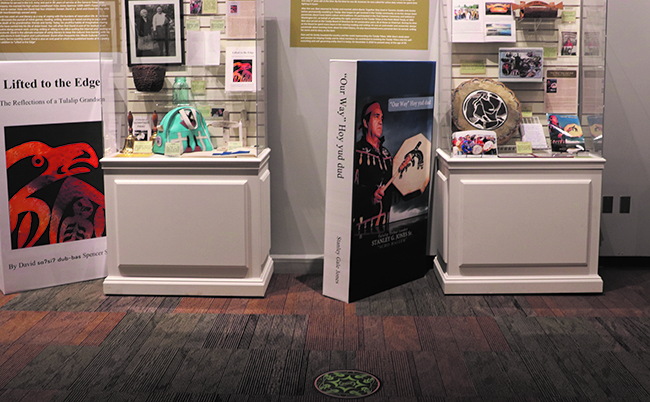 By Kalvin Valdillez, Tulalip News
Nine years ago, a grand opening was held in a newly constructed building located on the Tulalip reservation. Nearly 23,000 square feet, the building would serve as a gateway, where visitors could get a glimpse into the lifeways, as well as learn the true history, of the original caretakers of this region. During those nine years, thousands of people walked into the doors of a museum, perhaps on a field trip with a local school, or a romantic getaway while staying at the Tulalip Resort Casino, or maybe just to kill time. Whatever the case, many people walked out with a new perspective and at least a little more knowledge than provided in local history classrooms.
The idea was to provide the Tulalip experience to non-tribal members while also showcasing, preserving and reclaiming various keepsakes such as tools, art, jewelry, baskets, drums, photos, and carvings, to name a few, that were passed on through individual families throughout the generations. And by sharing their story, and hosting countless culturally focused events and community driven classes, the Hibulb Cultural Center and Natural History Preserve (HCC) has become a favorite spot to frequent amongst locals who visit often, whether to tour the exhibits with the family or attend a lecture or art lesson instructed by a Tulalip tribal member or Indigenous peoples from other tribes. And due to the popularity within the greater Snohomish county region, including the Marysville, Arlington, Everett and Stanwood communities, the museum is highly recommended to out-of-towners seeking a one-of-a-kind visual, interactive and sometimes eye-opening experience.
Aside from Mondays, the only day of the week the HCC is closed, the museum opened their doors every day, inviting the public to explore and learn more about the sduhubš way of life, whether about treaty rights, forced assimilation, or ancestral teachings and traditions. That is, until the coronavirus hit causing the HCC to close for an extended period of time for the safety of the museum staff and visitors alike.
Now, with new safety measures and precautions in place, the Hibulb re-opened their doors to the public on August 4, 2020, after several months of closure and merely days before the museum's ninth birthday.
"It feels exciting," exclaimed Mytyl Hernandez, HCC Marketing and Public Relations. "We were closed for a really long time and it's refreshing to be back with all of our co-workers and to see everybody again. We opened back up and are operating on normal business hours, but we are not doing any tours or events just yet."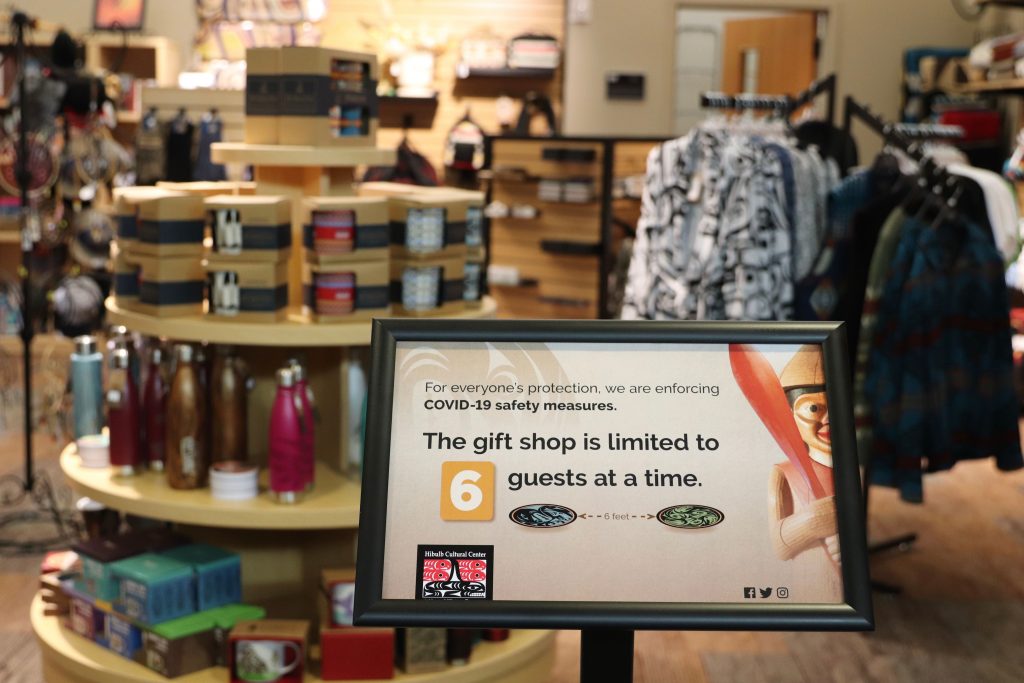 The key exhibits are still fully accessible, save for a few hands-on interactive stations. During a walk through, return visitors can still view some of their favorite displays and new guests will continue to get an understanding of the Tulalip people and their journey since pre-colonial times to present day. Signage is posted throughout the museum, offering a friendly reminder that masks are required, as well as indicate displays that are temporarily unavailable or restricted to a certain amount of people at a time.
"It's essential and required to wear a mask," Mytyl explained. "We have markers to encourage and keep people social distancing. We've got hand sanitizing stations. Our cashiers are wearing gloves and we'll also have Plexiglas shields for them. We're using only one entrance and exit, so we can keep track of how many people are in the building. Certain exhibits are limited to a certain amount of people, whether it's three of four, and the gift shop is limited to six people. We're doing our best to keep our team and our guests safe and healthy. We've got a lot of hands on deck and we're doing lots of cleaning in the exhibits in between guests. Just about every hour we're wiping things to down to keep sanitary."
Before the COVID pandemic occurred, the HCC was granted access to display the 1855 Treaty of Point Elliot by the National Archives as a part of their History of Tulalip Literacy exhibit, in which many Tulalip writers and storytellers were featured. The museum closed only weeks after the Literacy exhibit was launched, and the historic treaty that defined the inherit rights of not only the Tulalip people, but several surrounding tribes as well, received less attention than originally anticipated due to the pandemic.
"We do still have the treaty on display," Mytyl happily reported. "The National Archives will be deciding how much longer we can keep it on display. So, we have it for now, and as soon as we find out how long we can keep it, we will definitely get that news out into our community."
The HCC is back to their regular scheduled hours of 10:00 a.m. – 5:00 p.m., Monday through Friday, and 12:00 p.m. – 5:00 p.m. on Saturdays and Sundays. For more information, please contact (360) 716-2600, or visit the Hibulb Cultural Center's Facebook page.
"We're really excited to be back," expressed Mytyl. "We had a good response from our community and guests, and they are super excited for us to be open. It feels great to give people something else to do, and we believe that we can do it safely."