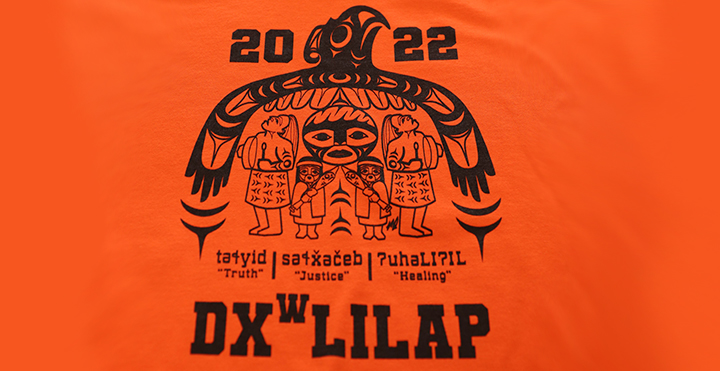 By Kalvin Valdillez, Tulalip News
In anticipation of their second annual community gathering to recognize Residential Boarding School Awareness Day, the Tulalip Education Division once again planned to hand out orange t-shirts on September 30th.
Last year, the Education Division reached out to Tulalip artist, Marysa Sylvester for the very first t-shirt design, which featured a hummingbird and a flower in traditional formline. Keeping true to their theme of supporting and promoting Tulalip artists, the Education Division commissioned this year's design from Ty Juvinel.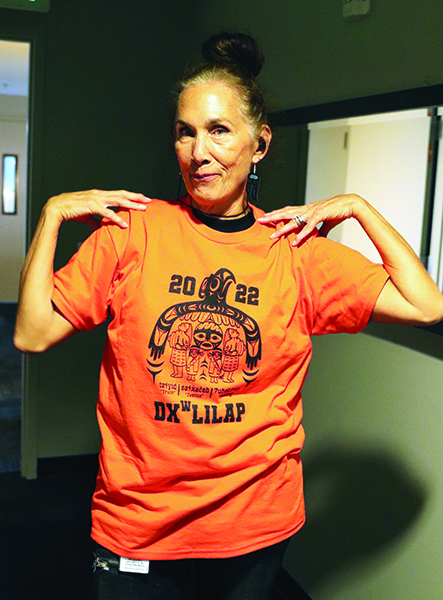 Leading up to the gathering, the design was kept under wraps and was set to be unveiled the day of the event. Hours prior to the ceremony, Tulalip News got an exclusive sneak peek at the design, which displayed the words truth, justice, healing in the traditional Lushootseed language. The design was leaked on the Tulalip News Facebook page and received a lot of heartfelt reactions and comments, and hopefully prompted many to take part in the annual gathering.
Said Ty, "The design represents a thunderbird and the creator watching over the community, with two warrior drummers watching over the children, and the children have their dance paddles showing they still have their heritage."
Hundreds of t-shirts were handed out at the start of the ceremony, and together as a community, the people brought some truth, justice, and healing through traditional song and dance while proudly donning Ty's design.