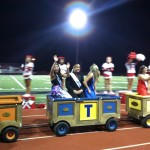 Article by Jeannie; photo submitted by Misty Napeahi
 TULALIP, Washington – Tulalip tribal member Justice Napeahi was recently voted senior homecoming king of Marysville Pilchuck High School.  Nominated by his teachers, Justice was then voted in as king by the student body.
  Honored by his nomination, Justice exclaimed, "This can't be true, no way, this is such a cool feeling!"
  A down-to-earth kid with a great attitude, his motto in life is to always be nice, it will get you further in life.
"I have a lot of friends at school and each friend I have a different hand shake for. It's cool to have something unique with so many people," said Justice.
 Those who know Justice are aware of his passion for music. He plays percussion ensemble drums at high school, and after school, he practices with his band, Tomorrow May Fail, which was formed three years ago.
 Justice gets his inspiration from his role model, Matt Greiner, a drummer for the band August Burns Red. He advises fellow students to, "Use your inspiration as fuel to succeed, it makes you whole."
 Misty and Jay Napeahi are the proud parents of Justice.