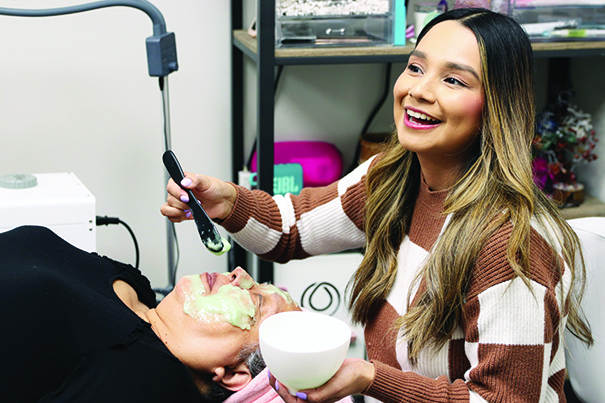 By Kalvin Valdillez, Tulalip News
It might be a bold statement to say that prior to colonization, the Indigenous peoples of North America had naturally healthy skin. But before you dismiss that statement, let's compare it to our skin in modern times. Back in the day, sticking to a nutritious and traditional diet, Natives benefited from an abundance of healthy oils, fats, and vitamins through the food they consumed, such as salmon, shellfish, elk, deer, buffalo, and a variety of fruits and vegetation.
And though most Natives have a connection to those traditional foods to this day, there are a plethora of foods out there that we've tried to acclimate to. In many cases, it's clear to see that we are not meant to eat or drink the manufactured, sugary, high-sodium foods that we've become addicted to, thanks to the fact that a lot of reservations are based on a food desert. The majority of us have grown accustomed to what is convenient and readily available like fast food, commodities, and the junk food aisles at the nearest mom-and-pop shop. And this has led to numerous health concerns like obesity and diabetes, as well as skin issues such as acne, rosacea, and eczema.
Now, being that it's next to impossible to maintain a true traditional diet in today's society, a lot of Indigenous people are left to their own devices in managing their skincare routine, and many of them do not know where to begin in the process of clearing up their skin.
Tulalip tribal member, Kwani Sanchey, has dedicated her life to her passion for beauty cosmetics. In her adolescent years, Kwani frequently visited the T Spa at the Tulalip Resort Casino, alongside her grandmother Rita Gobin, where they would spend the day receiving self-care services and perusing the retail floor for makeup and skin care products. Acquiring the knowledge of the many benefits that those products offer, Kwani developed a deep understanding of why skin care is essential in the world of today.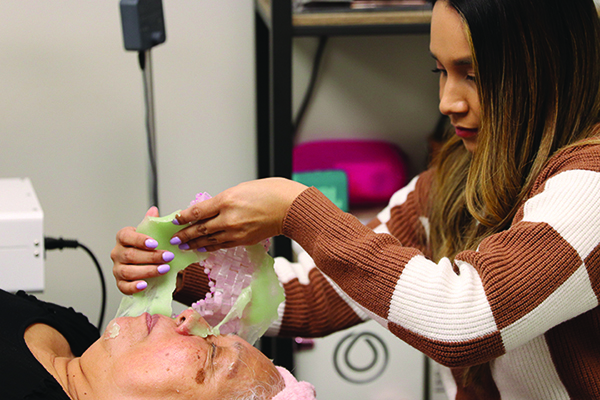 Since then, Kwani found the love of her life and subsequently started a family. And through the years, she maintained a close relationship with the beauty industry, thereby strengthening her relationship with her grandma even further, as the art of beautification happens to be an interest and a bond that they share together.
In 2020, Kwani enrolled at the Euro Institute of Skin Care and put in 750 hours of coursework and hands-on training to earn her esthetician license during the global pandemic. And now, after starting her own practice, Sacred Skin Kare, Kwani is available five days a week and offers facials to the people of the greater Snohomish County area. And most importantly, she shows a strong desire to impart skincare knowledge to the Indigenous population, especially to those from her homelands, the community of Tulalip.
Bringing everything full circle, Kwani offers facials at the T Spa every Monday. She also operates out of her own space at the Blume Salon Studios in Smokey Point. Currently, she offers three facials, the Stoodis, the Deadly Glow, and the Sacred Signature, all aptly named to reflect her Indigenous roots. And keeping her heritage and culture at the forefront of her business, Kwani enlisted Tulalip and Quileute artist, Marysa Joy Sylvester, to design the logo for Sacred Skin Kare.
Recently, Kwani took the time to demonstrate a Stoodis Facial for Tulalip News, both the syəcəb and Tulalip TV. And the model for the facial was none other than her grandmother Rita, who encouraged Kwani throughout her journey in esthetics. Below, we have a fun Q&A with Kwani to spread the word about her Tulalip member-owned business, and also the many benefits of skin care… *ahem*… or should we say, skin 'kare'.
Let's begin with your journey in skin care, what led you to this career path?
Honestly, I've always been interested in cosmetology. I remember seeing a post on social media that sparked my interest even more. I looked into the school, I went and visited the school, and it was something that I instantly knew that I wanted to pursue. I resigned from my job and started going to school full-time. Beauty is something that I've always been into, and it started with makeup. And also, my grandma is one of my main inspirations, she's always helped me, and she taught me how to take care of my skin properly.
You mentioned that you attended school full-time upon finding your passion. Can you elaborate on your schooling experience?
School was 750 hours, and I went to the Euro Institute in Renton. I traveled two hours each way, with traffic, every day for four days a week, and every other Saturday. It was a lot of textbook work rather than hands-on training, but I gained a lot of in-depth knowledge about the skin – skin conditions, skin types, [etc…].
You incorporate a lot of your culture into your business, why is that important for you to exhibit?
When I was in school, I never thought of going into my own business until about halfway through the program. When I was making my Instagram business profile, I wanted it to be in tune with my Indigenous background, because I want my culture to be a part of it. I'm very proud of being Native American, so I wanted my business to be authentic to my heritage. I thought of the name, Sacred Skin Kare, with a 'K', because my name starts with a K. And I also wanted the names of my facials to connect with my community. I wanted it to hit them in a certain way, to where they would be like 'oh my gosh, that's so funny.' So, for instance, I created the Stoodis (let's do this) Facial because it's a quick facial, and I wanted it to resonate with my Indigenous community.
Do you have a lot of Tulalip tribal members come in to receive services?
I do! I have a lot of people from the Tulalip community come to see me. And when people see me in public, they always ask questions and tell me that they've never had a facial before, and that they want to book a service with me. I definitely make a lot of connections at Tulalip, and it's always nice to see them when they come in.
How many Tribal members have never had a facial before coming to see you?
I have been all of my clients first facial! I feel like it's not a service that a lot of people think of getting, people tend to get massages rather than facials. So, I really like to reach out to my Indigenous community.
How does it feel to provide those skin care services to those who have never received a facial before?
It always feels so good. I feel like I am meant for this. I've been told that I have a very gentle touch, so doing facials is something that I really enjoy. And afterwards, I always feel so rejuvenated – I love what I do. I feel so good after I'm done with my day – if it's one facial or if it's four facials, it makes me happy knowing that I am helping people. And I always try and educate people on the products that I use during their facials, or the products that I recommend for them to use that would best benefit them for their skin needs.
I personally love providing that service to people and educating them. Not a lot of people take care of their skin or know how to properly take care of their skin. And for them to take on my advice and my recommendations makes me feel really accomplished as an esthetician.
What services do you offer at Sacred Skin Kare and what is your process during a facial?
I offer a couple different facials. One is a quick 30-to-45-minute facial, it's for somebody who wants a quick refresher. That's also a great facial for a teen. It's really cleansing. I'll do an enzyme, which is an exfoliation that renews the skin cells, takes the dead skin cells off, and brightens the skin. And it really targets whatever your skin needs.
I'll pick out the products, I have different products that are for different skin types – dry, normal, combination, and oily. And then I also do dermaplane, which is mechanical exfoliation, that takes off the dead skin cells and the fuzzies.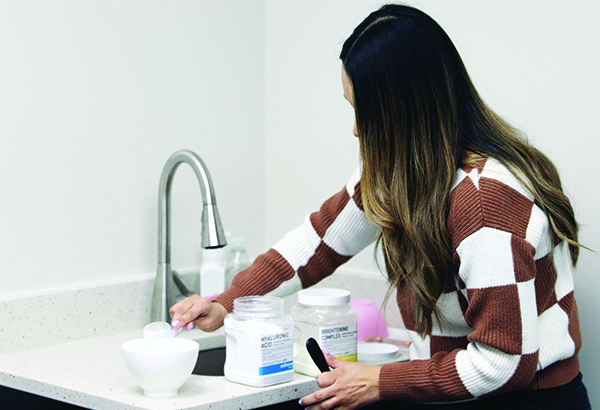 How often can you receive a facial and what is the importance of keeping up with your skincare?
Facials are good every four to six weeks. Once a month is what they recommend. And it's so relaxing and it's a form of self-care. It makes you feel good after, and it helps your skin – it helps with anti-aging and it's hydrating, which I feel like everyone can benefit from.
What is your personal highlight when providing someone with one of your services?
My favorite right now is dermaplaning, I love to dermaplane. I feel like it really makes a difference for people's skin.
As far as home care, do you recommend a certain regimen for those looking to take better care of their skin?
I recommend for everyone to use a cleanser, a serum, and a moisturizer. That's the minimum of what is beneficial for your skin, and that targets what your skin needs. So, when people come in, I'll recommend different products specifically for their skin type.
Are there any products that people should avoid?
St. Ives, that's the one product that I definitely do not recommend.
What are your future plans for Sacred Skin Kare?
I want to incorporate more beneficial facial machines, so I can have more facial options for my clients.
Can you touch on your schedule, and also let the people know how they can learn more about the services you offer?
I'm at the T spa on Mondays, and I have my schedule open here at [Blume Salon Studios] from Tuesday to Friday. I have a lot of clients reach out to me on Facebook, and I have a website where they can book their services. That way they can book their own appointments to best fit their schedule and can take a look at what services they would like to get.
Kwani's Sacred Skin Kare is on the rise, and she is just getting started. Be sure to follow her Instagram page @SacredSkinKare to see a number of before and after photos, catch her latest deals and seasonal services, and book a facial with her through the link on her profile.
The link will bring you to her site where you can find a detailed description of each of her services, as well as pricing info.
And we feel it's important to note, with Mother's Day and Father's Day coming up, that she offers e-gift cards that can be sent to your loved ones via e-mail, for the amounts of $5, $10, $20, $50, or for a custom dollar amount.