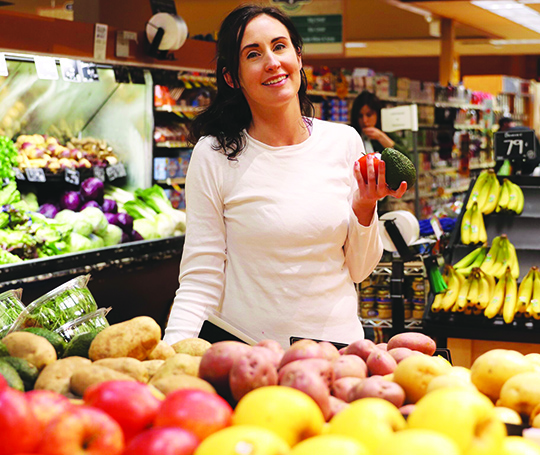 By Kalvin Valdillez, Tulalip News
If you spent this past holiday season reflecting on the last ten years while scarfing down a carb-loaded plate of leftovers and vowing to make personal changes after the last second of 2019 ticked, you are definitely not alone. Now more than ever, people nationwide are practicing better organization skills, picking up new hobbies, reading more books, setting higher goals and planning a brighter future. For many, the new calendar year marks a fresh start, and during this phase people take the time to give much-needed attention to certain areas of their life that they've been neglecting.
Perhaps the most shared new year resolution globally is the desire to better one's health. And as a result, the produce sections at the local grocer are often overcrowded as are thousands of gyms across the country. But more often than not, as the weeks pass by, people start to give in to their old habits and give up on their goals of self-development and personal growth. Staying true to your resolution weeks down the road after the 'new year, new me' adage loses its luster is a difficult task to say the least. For this reason, AnneCherise Jensen of the Tulalip SNAP-Ed program took some time to offer a few tips and advice to those beginning their new health and fitness journey in 2020.
We made it to a new decade! Let's begin by talking about the importance of fueling up with proper nutrition and treating our bodies with respect.
Our bodies are a gift we've been given by the creator that carries our mental being; our spiritual side and physical side. It holds our heart, our mind, our love and compassion. Everything that we feel, do and think – it all stems from our body. In order for us to thrive as human individuals, we should respect our body and know that everything that we put into it is either feeding disease or fighting disease.
Where is a good place to start for those who are setting out on their first quest for overall better health?
A first good step is to start cutting out the bad foods. Think about the most-unhealthy things that you're consuming and try to taper away from those foods and drinks. If you're ordering really sugary beverages every day, that have about ten pumps of syrup, work on slowly reducing it down to two pumps or learn how to make your own syrups. This past weekend I made a homemade elderberry syrup and added it to sparkling water; it was sweet, tasty and still really healthy.
Also, try to cut back from the unhealthy foods like salts and fat and slowly supplement the bad foods with healthy foods. If you're eating one serving of fruits or vegetables a day, try to up it two.
Any tips on how to incorporate more greens and fruits into your everyday diet?
Don't be lazy and cook, number one rule. Meal prep ahead of time, buy vegetables and don't let them sit in your fridge. Cut them up in half and roast them and have them ready to go for the week. Same with fruit. Have those foods around and available in your house, and learn how to utilize them; prepare snack trays for the kids after school, add more veggies to your everyday foods. Like with your pasta, you can add mushrooms, onions, peppers, garlic. You can cook big batch dinners, just throw all your vegetables into your crock pots or Instapots.
Find out what foods your family enjoys and stick to those so that way you're not wasting your money on food your family is not going to eat. Start with the foods you know people are going to like, find easy recipes that are going to help you make those foods manageable so they actually fit into your diet and then slowly branch off that and try new foods as you go.
With the popularity of the Impossible Burger and Beyond Meat burger on the rise, many are experimenting with meatless meals. Any advice for people curious about switching to a plant-based diet?
If you're going meatless, avoid the meatless burgers at fast food restaurants. Those are full of artificial hormones. The food at fast food establishments, especially McDonalds and Burger King, contain some of the highest carcinogens, or cancer causing agents. They also cause a lot of inflammation as well.
It honestly depends on how much protein you need. There are a lot of good plant substitutes for proteins, especially beans, legumes, almonds. As long as you're getting adequate amounts of protein, that's great. But I would highly discourage you from eating the vegetarian burgers from the fast food joints.
A lot of people, especially Natives, are in fact returning to the diets of their ancestors; wild game, native plants and fish. What are your thoughts on the traditional diet?
I think going back to the traditional diet is amazing, it's something that I've been practicing myself. Over the winter break I harvested four different kinds of mushrooms and a couple different types of trees and am learning how to make medicine with it. Nature is jam-packed with more medicine than we can ever imagine. I always recommend making your own teas, going and getting cedar from your backyard, letting it dry overnight and making a tea with it. You can do that with pine needles as well. Once the nettles start coming out in a couple weeks, you can make nettle tea. There's always something you can forage at any given time of the year.
Many health experts encourage people to increase their daily water intake. Why is it important to stay hydrated?
We're living in a society now where sugary beverages are all around us and it really can be the enemy of our health. Water is good not only for our bodies but for all of our metabolic functions. It helps us digest food, stay awake, stay energized, build muscle mass and rid toxins from our body. As good stewards of the earth, we want to try to avoid plastics as much as we can. Today, we are finding so many chemicals in our water – fluoride, mercury, plastic. So it's always good for our health to carry a reusable water bottle and have a good water filtration system. For flavor, I like to infuse natural fruits and vegetables like cucumbers, raspberries and strawberries. Frozen fruits are fun, cheaper and add an icy texture. Fruits and vegetables naturally contain a lot of water in them so the more fruits and vegetables you eat; the more water content you're getting. Try to carry your water bottle with you every day and make it a goal to drink 16-32 oz. of water a day.
Some people are finding it easier to stick to healthy meal plans by including a cheat day once a week. Should people plan out their cheat days in order to see more success?
It really depends on where you're at with your personal relationship with food. A lot of people are dealing with food disorders and may overeat and over indulge. Or you might be the total opposite and suffer from anorexia. You have to find the right balance and know your relationship with food. If you can control it, give yourself a cheat day where you have a little more forgiveness for yourself and leniency. On the weekends, I'll eat two servings of pasta and have some desserts those days. It's always good to not only feed your body, but feed your spirit because you also want to be able to have those foods that make you happy, so its finding that right balance between the good, the bad and healthy moderation.
What are a few fun ways to stay active during these winter months?
If you're into snow sports, there's snowboarding and skiing. You can also go snowshoeing as well up in the mountains. We are getting a lot of rain and it's kind of yucky to be outside, but there's always the gym. Right now is a great time to go to the gym because you can get a lot of people motivated in your family to go with you. Do some simple chair yoga and desk exercises. Hiking is really fun too. Some trails are open like Lake 22, Heather Lake, those are local. And just take time to walk at the beach and get outside on those days when we have a bit of good weather.
Any last pieces of advice or words of encouragement for those working to attain a healthier lifestyle and stay true to their goals?
Know that we're all human. We all have those days where you're literally driving for half the day and all you can do is go to a drive thru. Just get back on track the next day and give yourself forgiveness and grace because we all have days we mess up, but don't let that discourage you. It's okay. Don't be hard on yourself, just try better the next day.
We have to find strategies that work for us and get together as a community, with our family and friends to overcome the easy convenience foods that like to feed disease. We need to go out into nature and reconnect with those foods and work as a team to eat healthier foods.
Tulalip SNAP-Ed regularly hosts a number of classes throughout the year, such as the Eat Smart, Be Healthy course. To stay updated on their upcoming events and classes, be sure to like the Tulalip Food & Nutrition Education Facebook page. And for additional details, please contact the SNAP-Ed program directly at (360) 716-5632.

___________________________________________
Warrior's Stew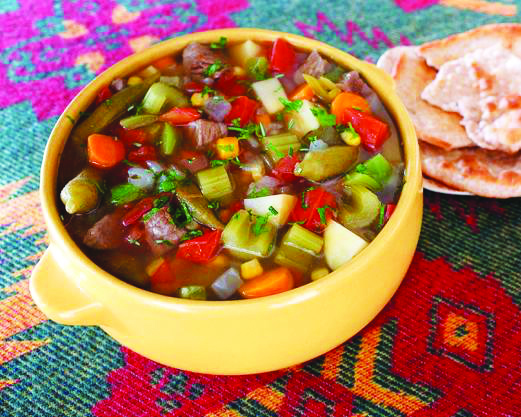 Budget-friendly recipe. A special stew that celebrates the return of successful hunters, this can be made with venison or beef. Serves 6
Ingredients
1 pound venison or beef stew meat cut into large chunks
2 Medium onions diced
8 cups Water
6 Cloves garlic minced, or 2 teaspoons garlic powder
1 teaspoon fresh or dried rosemary minced
1teaspoon Paprika
1teaspoon Salt
3 Tomatoes seeded and diced, or 1 ½ (15 oz.) cans low-sodium diced tomatoes
1 Bell pepper seeded and diced
2 Medium potatoes diced
2 Carrots sliced thickly, or ½ cup baby carrots
1 cup fresh or frozen okra
1 cup Fresh or frozen corn kernels
1 stalk celery chopped
2 tablespoons Parsley chopped
2 teaspoons Ground black pepper
½ jalapeño chile seeded and minced
Lemon Wedges
Directions
In a heavy soup pot, combine the meat, onions, water, garlic, rosemary, paprika and salt. Bring to a boil over high heat. Reduce heat to very low, cover and simmer gently for 1 1/2 hours.
Stir in vegetables, parsley, chile and black pepper. Simmer, partially covered for 1 hour, or until meat is tender. If using frozen okra and/or corn, add to the pot during the last 15 minutes.
Squeeze lemon wedges over stew before serving. Serve with Whole Wheat Fry Bread or whole wheat bread.
Nutrition Info and more
Serving size: 2 cups. Total calories: 275 Total fat: 9.1 g Saturated fat: 3.3 g Carbohydrates: 25.9 g Protein: 24 g Fiber: 5.9 g Sodium: 580 mg
Publication: Young, Indigenous, and Healthy: Recipes Inspired by Native Youth Author: Leah's Pantry; Source: Leah's Pantry
______________________________________________________

Frittata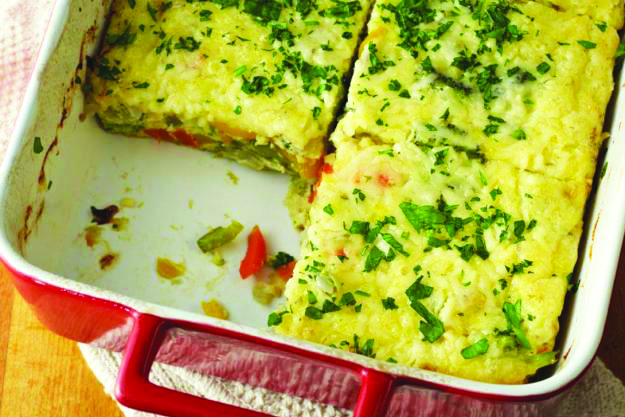 Budget-friendly recipe. Make this on a Sunday so you can heat up leftovers for an easy breakfast throughout the week. Serves 8
Ingredients
1 1/2 pounds Seasonal vegetables such as broccoli, carrots, turnips or bell peppers
2 Medium onions
4 ounces Low-fat cheddar cheese
12 Medium eggs
1 teaspoon Dried dill, thyme, or oregano
¼ teaspoon Salt
¼ teaspoon Ground black pepper
Non-stick cooking spray
8 ounces Mushrooms optional
¼ cup Fresh parsley, thyme, or basil
Directions
Preheat oven to 350°F.
Rinse and cut seasonal veggies evenly into small pieces. Peel, rinse, and dice onions. If using, slice mushrooms and rinse and chop fresh herbs.
Grate cheddar cheese.
Bring a large pot of water to boil. Add seasonal veggies to boiling water. Briefly boil, about 30 seconds. Using a colander, drain the veggies.
In a large bowl, whip eggs with a fork until well blended. Whisk in dried herbs. Set aside.
Coat medium skillet with non-stick cooking spray. Heat over medium-high heat. Add onions and cook until soft, about 5 minutes. If using mushrooms, add now. Add boiled seasonal veggies. Continue cooking until soft and some of their juices have evaporated, about 5 minutes more.
Coat 9-by-13-inch baking dish with non-stick cooking spray.
Layer ingredients in the baking dish in the following order: veggie mixture, egg mixture, cheese, salt, and pepper.
Bake until eggs are firm and cheese is melted, about 35 minutes. A thermometer inserted in the middle should read 160°F.
If using, garnish with chopped fresh herbs.
Cut into 8 equal-sized portions.
Nutrition Info and more
Serving size: 1 slice. Total calories: 160 Total fats: 7 g Saturated fat: 3 g Carbohydrates: 7 g Protein: 13 g Fiber: 3 g Sodium: 350 mg
Author: Arthur Birnbaum; Source: Share Our Strength's Cooking Matters