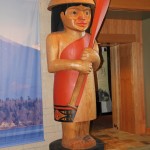 Article by Sarah Miller
The first Thursday of every month, the Tulalip Hibulb Cultural Center has free admission for anyone interested in soaking up some cultural knowledge. If you've never been to the cultural center before, this is a perfect time for anyone to stop on by and check out some of the exhibits.
Walking through the hallways of Hibulb, you'll find display cases full of historic artifacts and you'll get to see a few old canoes as well.  Remember, no touching!
Other exhibits include Warriors: We Remember. This temporary exhibit offers a look into the warriors of Tulalip who served in the armed forces, and the positive and negative experiences that tribal members endured.
Another fun and educational exhibit is the Longhouse room. Built to replicate Tulalip longhouses, this room even has a faux fire pit where you can relax and listen to recordings of past stories.
The Hibulb Cultural Center is open Tuesdays through Fridays from 10:00 a.m. to 5:00 p.m. On Saturdays and Sundays, they are open from 12:00 p.m. to 5:00 p.m. For more information on events, you can call 360-716-2600 or you can visit the website at http://www.hibulbculturalcenter.org/.
If you are thirsty for more cultural activities, there is the First Thursday Seattle Art Walk in Pioneer Square. Considered the center of Seattle's art scene, this event began in 1981 when art dealers would print handout maps, do small scale promotions, and on the first Thursday of every month, they would paint their footprints on the sidewalk.
This event lasts from noon until 8:00 p.m. There are many pieces of art to immerse yourself in like totem poles and bright red sentinels. For more information on this, you can visit the website at http://www.firstthursdayseattle.com.