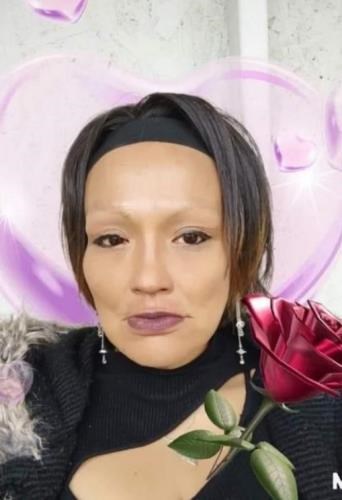 August 20, 1975 – November 17, 2023 
She was born into this world on August 20th 1975 to Ruby Jimicum and Daniel "Gene" Zackuse Sr. She went to be with the creator on November 17th 2023. When she was just three days old when she received her Indian name "TAH-Li-SE" from her grandfather Joseph Alvin Jimicum Sr. She grew up and spent most of her time on the Tulalip Indian Reservation. One of her favorite jobs was working for Tulalip's custodial maintenance department which she dedicated her life to for eight years. She was a very positive, down to earth, uplifting person who loved everyone. She loved spending time with family, her children, and grandchildren. She also enjoyed going to the mountains all year around, to swim in the river during the summer and to see the snow in the winter. Shopping, crocheting, and putting on sparkly makeup were some of her favorite hobbies. She leaves behind what she referred to as her beautiful bouquet of flowers, her children. Ranika Jimicum(Nika), Domanik Moses, Monique Moses(MoMo), Scott Hill Jr, Mary Moses, Charlie Hill, William Thomas, and Emily Thomas. She's survived by her mother Ruby Jimicum, sister Alvina Jimicum, and her grandchildren Skylena Moses-Apodaca, Katherine Moses-Apodaca, Keilani Moses-Higgins, and Mariah Moses-Erickson. She'll never be forgotten and always in our hearts!
An interfaith service will be held Monday, Nov. 27, 2023 at 6 PM at the Tulalip Gathering Hall. A celebration of her life will be held Tues, Nov. 28, 2023 at 10 AM at the Tulalip Gathering Hall with burial to follow at Mission Beach Cemetery.