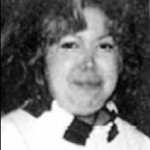 Our beloved "Rosebud" was born on May 15, 1965, raised on the Tulalip Reservation and went to be with our Lord on September 16, 2012 and into the loving arms of her ancestors.
Her sweet smile grew with love for all her family. Having a great sense of humor, she leaves a wonderful treasured memory in our hearts forever. At a young age she would share time with little brother JR, playing with his cars. Her tender hearted names for her siblings resembles the fun times they had.
Sisters are forever, from the non-stop piggy back rides, she, like her sisters loved all genres of music, which led to dancing to Tina Turners "Rollin" – she would twirl her hands till the last beat. The Forever Halloween dress up concerts were fun times with travels to every beach possible. She loved her quiet times and visits with her family. The trips to the mountains were one of her favorite pastimes.
Her mother and father gave her a lifetime of love and grand teachings. Her life's passion was her babies, kiddos. She spent every minute with hugs and kisses and strolls to the beach with her nieces and nephews. Her siblings shared their children with Nancy. Like her beautiful aunties, she enjoyed being their lil' mama. If she was at the beach with us now we will always be her treasure and her journey will be forever in our treasure box, our hearts.
Nancy now joins Marya D (Jones) Moses, Harold O. and Charlotte Paul.
She will be dearly missed by her parents, Gilbert Sr. and Janice Moses; her siblings, Sylvia (Robert) Myers, Arnel (Alan) Williams Sr. and Gilbert Moses Jr.; her aunts, Charlene William and Clarice Moses; her nieces and nephews, Crystal Myers, Paul Myers, Laura Myers (Alex Jimenez), Alan Williams Jr., Bruce Williams, Tiffany Williams, Dane Williams Sr., and Gilbert Moses III.; her grandbabies, Julian and Elyssa Myers, Jala Jimenez, Ean Williams and Dane Williams Jr.
Visitation will be held Thursday, September 20, 2012 from 1 – 2 p.m. at Schaefer-Shipman Funeral Home. Interfaith Service will follow at 6 p.m. at the Tulalip Tribal Gym. Funeral service will be at 10 a.m. Friday, September 21, 2012 at the Tulalip Tribal Gym with interment following at Mission Beach Cemetery.