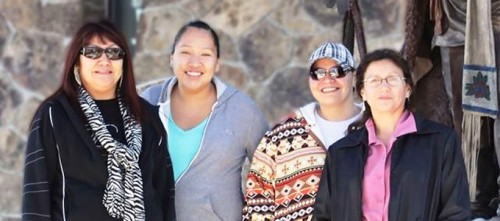 By The Ranger staff reports
The Wyoming Department of Transportation's 17 Mile Road Project Team will be recognized with a national award for its work on right-of-way issues during the final reconstruction on the Wind River Indian Reservation.
The American Association of State Highway and Transportation Officials will recognize this group of state and federal workers and Eastern Shoshone and Northern Arapaho tribal transportation officials with the 2014 Federal Highway Administration Excellence in Right-of-Way Leadership Honorable Mention Award.
The following individuals were recognized for their work: Kevin Lebeda of Cheyenne of WyDOT, Letitia Black of Bureau of Indian Affairs, Howard Brown of Shoshone and Arapaho DOT, Wildene Trosper of Shoshone and Arapaho DOT, Colette Friday of Shoshone and Arapaho DOT, Nadine Vasquez of Shoshone and Arapaho DOT, Nicole Brown of Shoshone and Arapaho DOT, Emily Underwood of Shoshone and Arapaho DOT.
WyDOT's Right-of-Way Program in Cheyenne, Shoshone and Arapaho Department of Transportation, and U.S. Bureau of Indian Affairs also were honored.
"Leadership qualities were magnified by everyone on the team," said Tim Payne of Northern Engineering and Consulting of Arapahoe, who wrote the award nomination. "In order for all right-of-way issues to be resolved, every individual at one time or another spent a remarkable amount of energy, effort, perseverance and commitment to the greater good of the team."
Award winners will be recognized during the AASHTO Subcommittee on Right-of-Way, Utilities, and Outdoor Advertising Council Control conference April 27 to May 1 in Salt Lake City.
"The FHWA Excellence in Right-of-Way Awards recognizes outstanding innovations that enhance the right-of-way professional's ability to meet the challenges associated with acquiring real property for federal-aid projects," said Gloria M. Shephard, associate administrator for planning, environmental and realty with the Federal Highway Administration in Washington, D.C.