By Brandi N. Montreuil, Tulalip News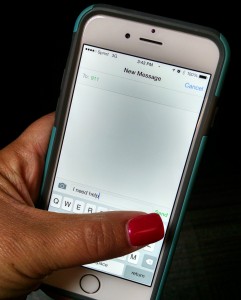 There are countless stories from 911 operators about cryptic messages from victims of crime. Buzzfeed News reported last year about a woman who called 911 and pretended to order pizza in order to hide her plea for help from an abusive boyfriend.
Situations like the pizza order can easily be mistaken as prank calls. Despite the quality training of 911 dispatchers, it's tough to decide whether it's a real emergency or someone's idea of a joke. To date, many victims haven't reached out to emergency services because making a phone call during a violent encounter can be too obvious.
Today Snohomish County completed testing and began accepting 911 emergency texts. The ability to text 911 is a lifeline in some situations. The program is still in its infancy and while individuals with plans through AT&T, Sprint, T-Mobile and Verizon can reliably text 911, internet texting services might not be reliable.
"Being able to text 911 will benefit clients who are in domestic violence situations, especially when you are in the presence of the perpetrator, whether they are right next to you, close to you or watching over you. It will be easier to hide a text message than to talk over the phone when in an emergency. Working in this field as an advocate, I think trying new things to reach out to victims and making it possible to come forward is always a benefit," said Leora Jones, Tulalip Tribes Legacy of Healing Women's Advocate.
The traditional method of calling 911 is still preferred. The text service is touted as a secondary option, "call if you can, text if you can't." It is not meant to replace traditional 911 calling.
"Text to 911 was designated for Short Message Service (SMS) texting, but continues to evolve quickly," said SNOCOM 911 Executive Director Debbie Grady in a July 2nd press release. "Although we've done extensive testing, we don't have control over text delivery from the carriers of handsets. We don't know how various over-the-top (OTT) applications and text from Wi-Fi will react in the 911 environment."
If you're not sure whether your carrier offers the ability to text 911, DO NOT send a "test" message to 911, instead a call your carrier and ask if this option is available under your plan.
If you live within the boundaries of the Tulalip Reservation, roaming poses a problem when using the new service. Cell signal strength can vary in many parts of the reservation. Tulalip Chief of Police Carlos Echevarria cautions, "The best way to reach Tulalip Police Department during an emergency is to call 360-716-9911." A general 911 call or text is routed to SNOCOM and may or may not be transferred to Tulalip Police Department, which can lengthen response time. The Tulalip Police Department has a team of dispatchers that are fully trained to handle emergency calls and decode cryptic messages such as the pizza delivery call.
The option to text is welcome, however, there are shortcomings that texters should be aware of. A text can take longer to send, time is crucial in life-threatening situations. Also, location information sent through text is not the same as the information dispatchers receive when you call.
Other things to consider before opting for a text verses call: 911 text is not available while roaming and a text or data plan is needed to place the text. It is unknown how the new service will perform through Wi-Fi use. Also, multiple texts to 911 can be received out of order. Think back to that time you made dinner plans and your friend received the name of the restaurant before they received the text asking to meet up. Because the information isn't always received in the order it is sent, it can be confusing for dispatchers. Last, texts may not be received depending on cell signal strength.
If you use the 911 text service, make sure you type in your location and provide the type of help needed. Answer questions and follow 911 dispatcher instructions. Do not use texting abbreviations, emoticons or emoji. Keep your text brief and clear and continue responding until the 911 dispatcher has closed the dialog. For those in a domestic violence situations or life-threatening circumstances, remember to silence your phone so that incoming texts are not audible.
Others who benefit from this new update in 911 emergency services are individuals who are deaf, hard of hearing or have a speech disability. In emergency situations, it's not always easy to remember common safety practices, please refrain from texting and driving.
Tulalip Legacy of Healing Advocacy Center serves past and present victims of violence. For more information about their services contact 360-716-4100 or email lohsafehouse@tulaliptribes-nsn.gov.
Brandi N. Montreuil: 360-913-5402; bmontreuil@tulalipnews.com