Native Americans, environmentalists, and fed-up citizens unite to keep corporations from turning the region into a fossil fuel corridor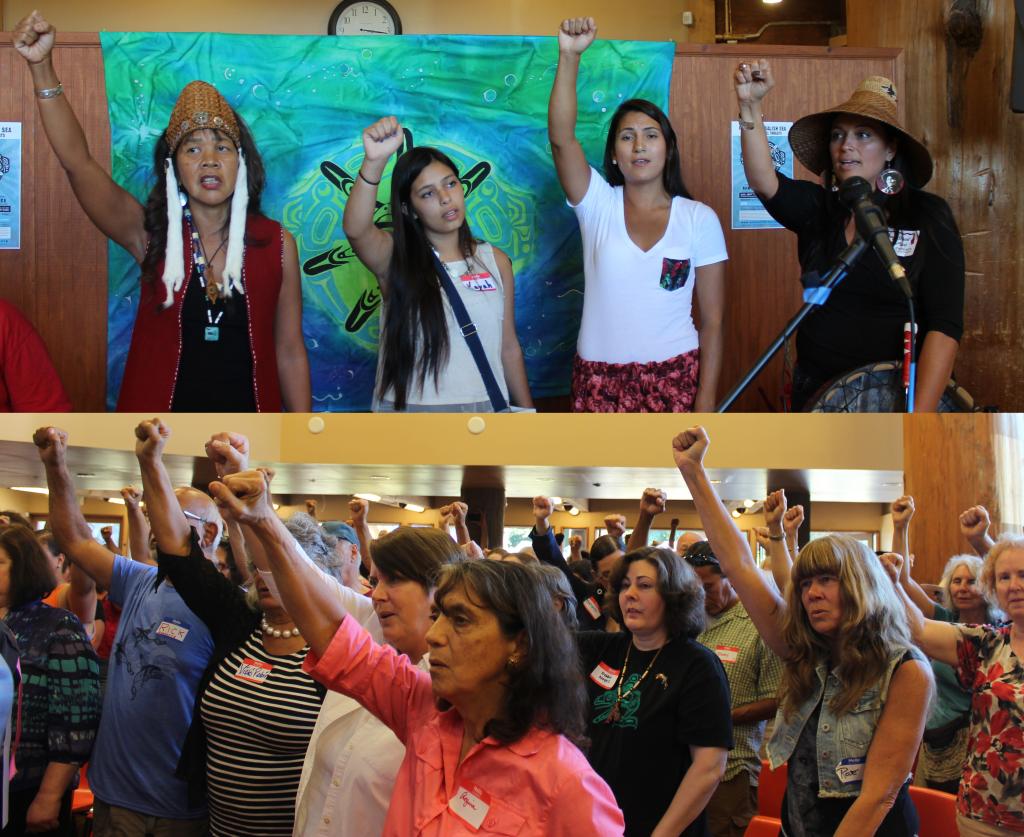 By Kelton Sears, Wed., Sep 10 2014, Seattle Weekly
On August 4, a dam holding back mining wastewater burst open in Likely, B.C., gushing roughly 6,604,301,309 gallons of toxic waste into the nearby lakes—a spill 78 percent larger than initial estimates. Only a month after the incident, Imperial Metals, the corporation responsible, declared the water safe to drink again.
"One of my friends caught a salmon alive and kicking there last week," Sundance Chief Rueben George from the Tsleil-Waututh Nation said to a packed Seattle crowd at the Daybreak Star Indian Cultural Center on Sunday. "But when my friend picked it up, the fish's skin slid off in his hands."
Salmon have long been spiritual symbols of the Pacific Northwest—aquatic residents of the Salish Sea that have given life to Coast Salish people for 14,000 years and white settlers for 150. That the skin of the Northwest's spirit animal is melting off is just one of many reasons organizers say they are forming the brand-new Nawt-sa-maat Alliance, a group that has vowed to defeat oil and coal corporations bent on turning the Pacific Northwest into a fossil-fuel corridor.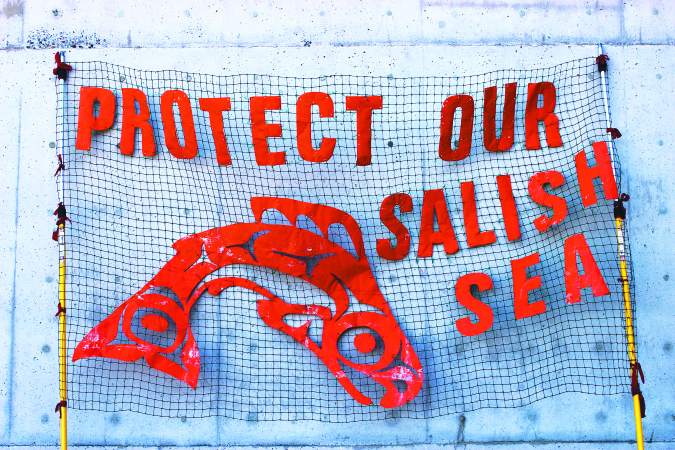 Nawt-sa-maat, a Coast Salish word that means "One house, one heart, one prayer," is an unprecedented trans-border coalition of Coast Salish indigenous nations, environmentalists, interfaith groups, and youth activists that met for the first time this past weekend in Discovery Park. The Alliance's goal? "To protect the sacredness of the Salish Sea."
"The tribes are the original environmentalists," Annette Klapstein, a member of the Seattle Raging Grannies and a new member of the Nawt-sa-maat Alliance, said at the initial meeting on Sunday. Klapstein was one of three protesters who sat on train tracks in Anacortes to block the controversial "exploding" oil trains in July. It was her first direct action after years of fruitless writings to the Seattle City Council and visits to Olympia to persuade politicians to do something about the influx of dangerous rail cars.
"It was always very iffy for tribes to work with environmental organizations because these organizations were arrogant," Klapstein said. "They would tell tribes what to do, which didn't go over very well. This new alliance, based on respect and understanding, is so important because these different groups' goals are much the same, and we are so much more powerful together."

Chief George (right) with civic leader and alliance co-founder Jon Ramer (left). Photo by Kelton Sears
Chief George, one of the three main founders of the Nawt-sa-maat, presided over the initial meeting and made it clear that one of its biggest enemies was the massive energy company Kinder Morgan. "We stand as one, and together we will protect and restore the sacredness of the Salish Sea," he said. "Together, we are stronger than those who wish to use our home and waters as a mere highway for dirty oil and coal. Together, we will stop them. Kinder Morgan will not win this battle."
Formed by Richard Kinder, an ex-Enron employee, the oil mega-corporation is proposing a massive $5.4 billion oil pipeline connecting the Alberta tar sands to the Pacific through Burnaby, B.C., tripling current capacity and creating the potential for enormous spills in the North Salish that would directly affect us in Washington. Canadian Prime Minister Stephen Harper has been pushing the project despite massive backlash from British Columbian activists and the indigenous Tsleil-Waututh, who are now taking the project to court for failing to consult with the First Nations tribe on the federal review.
"You know, I'd like to thank Stephen Harper," said Nawt-sa-maat co-founder Chief Phil Lane Jr. of the Yankton Dakota and Chickasaw First Nations, "because in his complete unawareness, he's awakened a sleeping spiritual giant."
The mood at the meeting was intensely spiritual at times. Four local religious leaders, a United Methodist, a Buddhist, a Sufi, and an Interspirit, came together to bless the gathering in their respective traditions, ending with an indigenous cedar-bough blessing that the crowd happily lined up to receive. Many of the religious groups present vowed to convert their houses of worship to solar energy in an act of good faith.
Being a member of the Nawt-sa-maat effectively means a couple of things. Members are expected to join in a "4 Days of Action" campaign, starting on Sept. 19, that ranges from a salmon homecoming celebration to a climate-change rally at the Canadian border and ends with an international treaty signing that will effectively ratify the new trans-border Nawt-sa-maat Alliance. Members are then expected to join in future actions and work to build the nascent network, which will soon expand its scope to tackle the proposed coal-extraction sites at Cherry Point, sacred land to the people of the Lummi Nation near Bellingham.
"I just want to make this very clear," Chief George said as he doled out salmon to the Nawt-sa-maat near the meeting's end, "this Alliance isn't just for one group. It's for everyone. The Salish Sea is for everyone, not just corporations. We will win this fight."