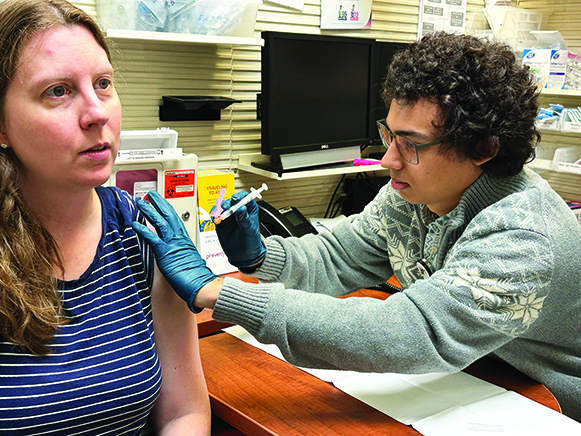 By Kalvin Valdillez, Tulalip News
For those who are attempting to get a required vaccine to accept a job position, but are facing a pay-out-of pocket situation due to lack of health insurance, this news is for you. For those who have health insurance, but your provider does not cover certain vaccinations, this news is for you. For those who are looking to stay up to date on their routine vaccines, as well as take precautions against COVID and influenza, but are also dealing with health insurance complications, this news is also for you.
The Tulalip Clinical Pharmacy recently announced that they are an official provider of a program developed by the Washington State Department of Health. The Adult Vaccine Program ensures that all of the citizens of Washington State have access to vaccinations at no cost of their own.
Whether uninsured or underinsured, the Tulalip Clinical Pharmacy can administer a number of vaccines, depending on supply, to any adult over the age of 19. Those are the only requirements to be eligible for the Adult Vaccine Program – to reiterate, you have to be uninsured or underinsured and at least 19 years of age – that's all.
"Vaccines are very important. Everyone should be able to get vaccines if they want to," expressed Tulalip Clinical Pharmacy Director, Kelvin Lee. "All the other drugs out there are for symptomatic treatment. Vaccines are the only category that prevents diseases and problems. It's preemptive and that's important because it works for many conditions. When it works, people don't realize that it's really protecting them from a lot of problems."
Although there are many Adult Vaccine Program providers throughout the state, the Tulalip Clinical Pharmacy is one of few locations in the Tulalip-Marysville area, and the only location on the reservation.
This is just the latest endeavor the pharmacy has embarked on that keeps their clients and community close to heart, as they continue to provide the people with excellent care and services. Throughout the pandemic, the pharmacy implemented a curbside pick-up system to safely deliver medication to their patients, to keep their worries at bay and prevent the spread of the virus.
In similar fashion, they also set up a no-contact pick-up service at the height of the pandemic and were the first in the state to utilize an iLocalbox smart kiosk.
Now, as participants in the Adult Vaccine Program, the pharmacy is providing a service that many require and previously did not have access to.
Kelvin explained, "In the past, the problem was insurance providers only covered vaccines that they thought were important. They decided on what people could and couldn't get. But now, the state is picking up the responsibility and is making sure that the people who aren't covered, or who are under-covered, are able to get vaccines too.
"The more people know that we now offer this, the better. So, for the people who don't have insurance, we definitely encourage them to come see us to get their vaccinations. We just received some COVID vaccines and flu vaccines, but the program also provides other routine vaccines too, like hepatitis, Tdap, measles, shingles – I believe we have all the routine vaccines available."
Currently, the Pharmacy is offering vaccinations on weekdays between the hours of 9:00 a.m. – 4:00 p.m. To book an appointment and for more information, please visit www.TulalipClinicalPharmacy.com 
And if you're curious about the schedule for adult routine vaccinations, what they are for and how often you should receive them, check out the Recommended Adult Immunization Schedule put together by the CDC, https://www.cdc.gov/vaccines/schedules/downloads/adult/adult-combined-schedule.pdf