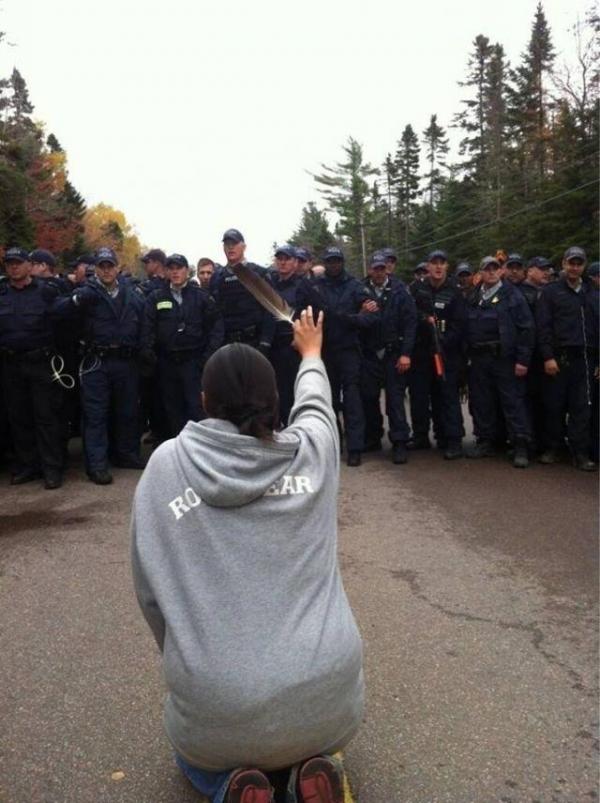 By Vincent Schilling, ICTMN
The scene was chaotic: heavily armed Royal Canadian Mounted Police (RCMP) pouring into an encampment of sleeping protesters, leading dogs and carrying assault rifles. Amid burning police cars, pepper-spray-spewing hoses and barking police dogs, 28-year-old Amanda Polchies dropped to her knees, brandishing the only "weapon" she had: an eagle feather. Holding it aloft, she began to pray.
RELATED: Mi'kmaq Anti-Fracking Protest Brings Women to the Front Lines to Fight for Water
Poster by Greg Deal
The image is emblazoned in people's minds as a symbol not just of the Mi'kmaq protest against potential fracking near Elsipogtog First Nation in New Brunswick, Canada, but also of what has been happening to Natives since Europeans first stepped onto Turtle Island's shores. Since APTN reporter Ossie Michelin snapped and posted the photo, the image has morphed into poster art, memes and other incarnations.
RELATED: Behind the Front Lines of the Elsipogtog Battle Over Fracking
Michelin had no idea his image would come to represent the Elsipogtog protest movement, let alone much more. In an interview on Native Trailblazers Radio, Michelin spoke of his spur-of-the-moment shot taken with a three-year-old iPhone, and the bond it formed between photographer and subject.
Did you have any idea the picture you took would become viral and help inspire the Elsipogtog social media movement online?
I had no idea. I was tweeting as many pictures as I could during my coverage because I was promoting live hits for the APTN Network. There were times I thought, 'The world needs to see this right now.' The picture was one of many I was sharing that day.
My producer called me and said, 'Ossie, that picture has been shared over 160,000 times in the past four hours.' I said, 'What? The picture I took? Which picture?' I took that picture on my three-year-old iPhone4 and I had to go back and look through my pictures. I saw it and only then did it really sink in.
Those were some volatile times during the moments you were taking those photographs.
The RCMP made over 30 arrests before the raid on October 17. People were running all over the place.  We did not know what was happening. I didn't realize how many people were paying attention to this. All I knew was two feet in front of me and 20 feet behind me; I did not know what was going on in the world that day because we were completely cut off, with police lines on either side of us.
Part of my healing process was I got to meet Amanda Polchies, the woman in the photograph.
How was it when you two met?
I was afraid it was going to be awkward, and I was afraid she was going to be mad at me. But we met and we clicked. We did a ceremony together and her father did a pipe ceremony with me to help me get rid of the nightmares. I have been sleeping a lot better ever since.
Do you talk to her now?
Since that time Amanda has adopted me into her family. She is a sister from another mister, and I am a brother from another mother. She gave me some stuff from her culture; I am going to give her some from mine, and every time I see her I give her a big hug.
We are bonded for life. We both say that picture will probably outlive us both.
Read more at
http://indiancountrytodaymedianetwork.com//2013/11/21/woman-eagle-feather-photo-heard-round-world-152357