May 15 2014
By: Maria Miller WJACTV.com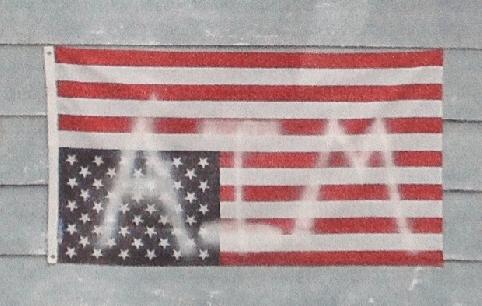 ALLEGHENY TOWNSHIP, Pa. — A Duncansville man says he was standing up for his American Indian heritage and expressing his beliefs when he hung an American flag upside down and spray painted it earlier this week, but police said what he did was inexcusable.
The flag isn't hanging on Joshuaa Brubaker's home anymore, but Allegheny Township Police gave 6 News a picture that showed the flag hanging upside down, with the word AIM sprayed in white across it. Police took it down saying he desecrated it, but Brubaker told 6 News he meant no offense and was simply standing up for his heritage.
"If I don't have a right to fly that flag upside down, which means a sign of distress, which this country is in so much distress right now, then what's the point of having it?" Brubaker said.
Allegheny Township Assistant Police Chief L.J. Berg said he received complaints about the flag from others in the area.
"I was offended by it when I first saw it," Berg said. "I had an individual stop here at the station, a female who was in the military, and she was very offended by it."
So police took it down and charged Brubaker with desecration and insults to the American flag.
"I removed it from the building, folded it properly and seized it as evidence," Berg said.
But Brubaker told 6 News what he did was never meant to upset or offend. He said both he and his wife are of American Indian heritage and are passionate about the American Indian Movement, specifically in the Midwest.
"I found that Wounded Knee is up for sale, not only privately but commercially," Brubaker said. "It's just not right and simply because I express myself in a way that somebody else doesn't like or agree with doesn't mean I should be persecuted for having beliefs."
With many of his own family serving in the military at one point in their life, Brubaker said the flag should give him the right to express his beliefs.
"If we can't express ourselves freely and not worry about any repercussion from that, what's the point of having the flag?" Brubaker said.
But police said there are other ways he could have expressed himself, than defacing a symbol that so many have fought so hard to protect. "People have paid high prices for that. People have paid the ultimate sacrifice," Berg said.
"People have made too many sacrifices to protect the flag and to leave this happen in my community, I'm not happy with that."
Brubaker said he wishes the people who took offense would have just come to him so he could explain. He's only facing misdemeanor charges but still hopes police will reconsider them.