No injuries reported when Empire Builder derails in Everett
By Sharon Salyer, The Herald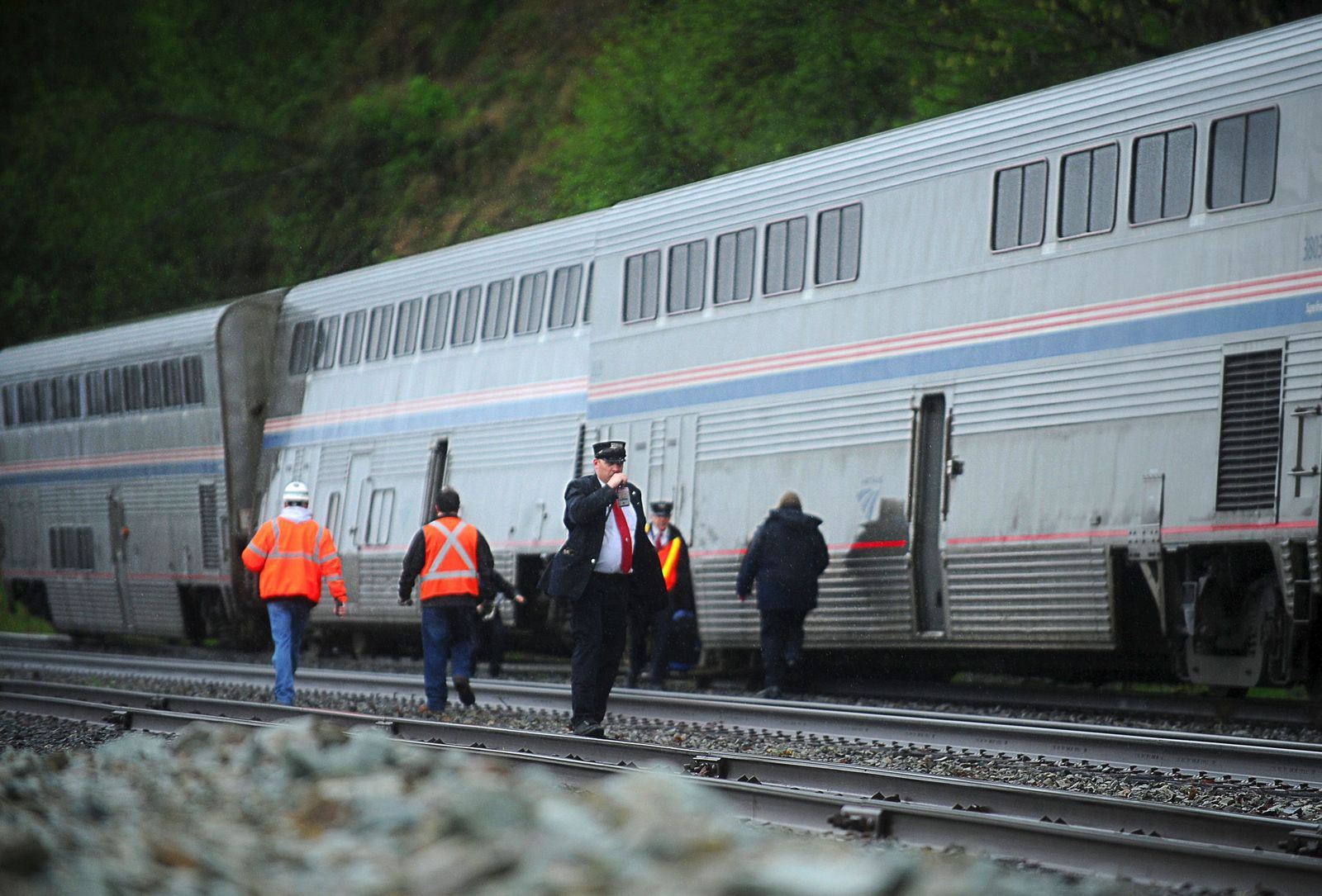 An Amtrak train traveling from Chicago to Seattle was hit by a mudslide near Howarth Park in Everett on Sunday morning, derailing the last three passengers cars, which tilted but remained upright.
No injuries were reported among the 86 passengers and 11 crew members, an Amtrak spokesman said.
Three rail cars remained blocking the tracks. The rest of the train was decoupled and continued on to Mukilteo to discharge passengers, Rick Robinson, fire marshal for the Everett Fire Department. Passengers were bused to Seattle.
Sound Transit announced Sunday on its website that Sounder service was cancelled for Monday and Tuesday. Amtrak also said its train service would be affected between Vancouver, B.C., and Portland, Ore., until after Tuesday, with passengers being taken by bus.
After earlier slides this winter passenger trains have been barred from the tracks for 48 hours after a slide.
The tracks between Seattle and Everett have been plagued with slides in recent months.
"We've had more than 200 slides this past winter and spring," said Gus Melonas, spokesman for Burlington Northern Santa Fe, which owns the tracks.
The landslide occurred about 8:30 a.m., affecting two coach cars and the train's dining car.
The slide was triggered about 100 feet up a 200-foot cliff, depositing a patch of dirt and debris 15 feet deep and 30 feet wide along the tracks a quarter-mile north of Howarth Park, Melonas said.
The force of the slide was enough to "tip the rails over, not the cars, just the rails," Robinson said.
Two ladder trucks, three engine trucks and two medic units were dispatched to the scene.
About one-quarter mile of track needed to be realigned with the repairs expected to be completed by Monday morning, Melonas said. No estimate of the cost to repair the track was immediately available.
The slide affected the inner line of two main rail lines. However, freight train traffic was not disrupted and two freight trains moved through the area Sunday afternoon, Melonas said.
The Associated Press contributed to this report.