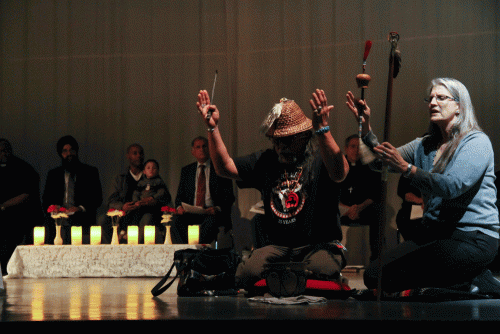 By Brandi N. Montreuil, Tulalip News

MARYSVILLE – More than a hundred people attended an interfaith prayer service held in the Marysville-Pilchuck High School auditorium on Tuesday, February 24. The event, organized by Reverend Terry Kyllo with the St. Philip's Episcopal Church in Marysville, and Father Pat Twohy, director of the Rocky Mountain Mission for the Northwest Jesuits and who has a lengthy history of chaplain services in the Tulalip community, was designed to bring together the diverse cultures represented in the Tulalip/ Marysville communities during this time of healing.
The event was held on the four-month anniversary of the October 24 shooting at the high school where Tulalip tribal member Jaylen Fryberg killed four of his classmates leaving behind one survivor, 14-year-old Nate Hatch, also his relative. Killed were 15-year-old Andrew Fryberg, also related to the shooter, Zoe Galasso, Gia Soriano and Shaylee Chuckulnaskit, all 14.
Faith leaders representing many traditions in and around Tulalip and Marysville including Christian, Buddhist, Muslim, Jewish, Sikh, Baha'i and Unitarian welcomed Tulalip/ Marysville residents to a time of silence, prayer, encouraging words, and fellowship. Also in attendance were leaders from Tulalip Tribes, who offered a prayer of healing.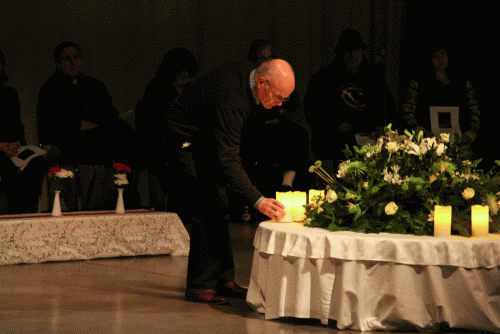 "I know when tensions arise in the community and when there is fear that grabs hold, and there is some violence of some kind, that people have a really strong tendency to scapegoat people that they think are different than them," said Rev. Kyllo about the idea around the interfaith service. "I started work with the recovery team and proposed in December that we might put on an interfaith service as a way to honor and celebrate the diversity of the community."
Kyllo reached out to Father Twohy, whom he had never met, about hosting an interfaith service. "I walked up to him and I said, 'Father Twohy, I want to do an interfaith service because we are all human and some of us don't know that.' He immediately said, 'Amen brother. I am with you, give me a call.' So we began working on the service."
Throughout the service faith leaders shared words of encouragement before offering a prayer. Afterwards each faith leader would place a candle on table creating a circle of light meant to represent the community.
"It has been a real testing time for our community and you have all been a part of that," Marysville Mayor Jon Nehring said to attendees. "I can tell you that I am so proud to live in a community like Tulalip/ Marysville. We really take care of one another."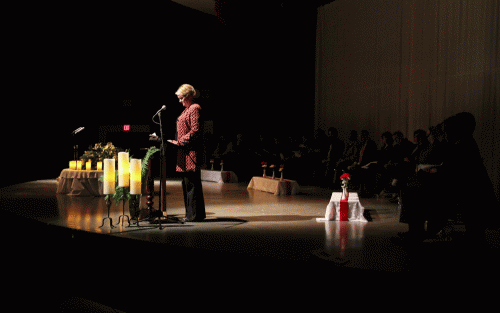 Echoing his sentiments Tulalip Tribes vice-chairman Les Parks spoke about Tulalip and Marysville's continual support of one another. "When the mayor stands at my side here, to me it is a symbol of Marysville and the Tulalip people coming together as one community, and Dr. Berg represents all the students in the Marysville School District. To me it is important to remember why we are here. Four months ago this tragedy hit us and we lost four lives to a heinous crime, and we lost the shooter as well. We haven't come to ask why this happened, because we will never understand why or what caused this to transpire. What we are going to do is share. We are going to cry together, grieve, heal and pray together. We are all in this together."
Before the service concluded, a moment of silence was held for schools and communities around the world who have experienced the same type of tragedy.
Brandi N. Montreuil: 360-913-5402; bmontreuil@tulalipnews.com