Burke Museum helping to revive lost traditions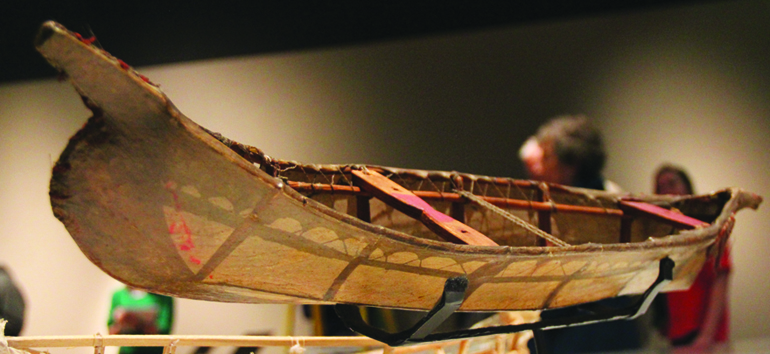 by Micheal Rios, Tulalip News 
The Burke Museum, located on the University of Washington campus in Seattle, is home to more than 16 million historical artifacts and objects. The thing is, only a few thousand are on display on a daily basis. Of those millions and millions of artifacts hidden away in archives and storage rooms, there is no telling how many hold cultural keys that could unlock indigenous knowledge once thought lost or destroyed forever during colonization and European settlement.
Enter Dr. Sven Haakanson, member of the Alutiq people of Kodiak, Alaska. Sven is a world renowned curator of North American ethnology and currently the head of Native American anthropology at the Burke Museum. Sven has joined the Burke team to use the museum's amazing collection and vast resources to find those keys to indigenous knowledge currently hidden away.
"For me, the real privilege is having access to such an amazing collection because when I look at ethnographic pieces I don't see an art piece, I see a historic object," says Sven. "I see something that we can use the museum as a way to bring back a lot of that traditional knowledge, that we thought was lost, and put it back into a living context."
A prime example of rediscovering indigenous knowledge that was thought lost forever has been the finding of simple model boat. Well, it was thought of as simple and sat away in collections until Sven came across it and realized he had stumbled across long lost knowledge.
What he found was a model Angyaaq, which means 'open boat' to the Sugpiat peoples of Alaska. This model Angyaaq is one of only a dozen known to exist and hold secrets to a long ago mode of transportation. It demonstrates a lost building tradition, models the difference pieces needed, and material and engineering techniques used to build a full-size Angyaaq – like marine animal skins to wrap the hull and lashing to tie all the pieces together. This model is key to Sven unlocking and reviving a practice of boat making absent on Kodiak for nearly 200 years.
According to Burke researchers, the Angyaat (plural for Angyaaq) were an essential part of the Sugpiat peoples of Southern Alaska's livelihood and culture for thousands of years. An open boat used for transportation, hunting, trading, warring and more. Angyaat were a symbol of prosperity and wealth. Remnants of these boats are present in archaeological sites; yet, by the 1820s, roughly twenty years after contact, Russian settlers had either taken or destroyed all Angyaat in an effort to restrict the Native peoples' ability to move, gather in large numbers, and display their wealth and power. Due to this destruction, very little is known about a type of boat once common on Kodiak Island.
What Sven set out to do was first make successful models of the model, in an effort to teach himself how to build the open boat without the use of modern methods. "No nails, no glue" in order to replicate and then teach the traditional way. After many intricate sketches and even more attempted models later, Sven had taught himself how to replicate the Angyaaq model using the same traditional techniques. The next phase is to use the model to build a full-size, working boat.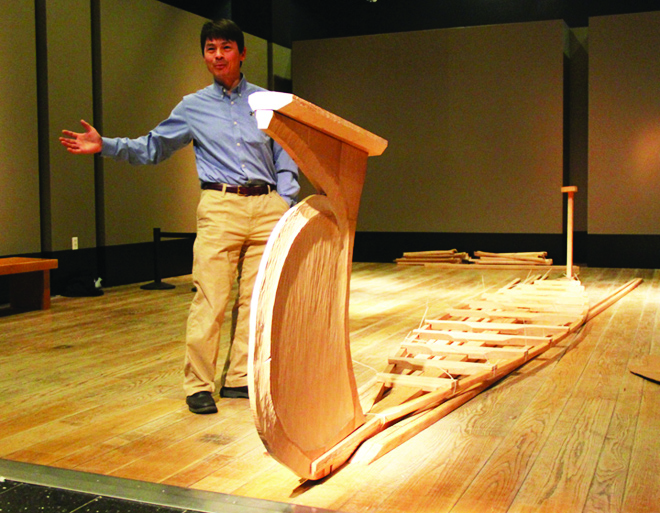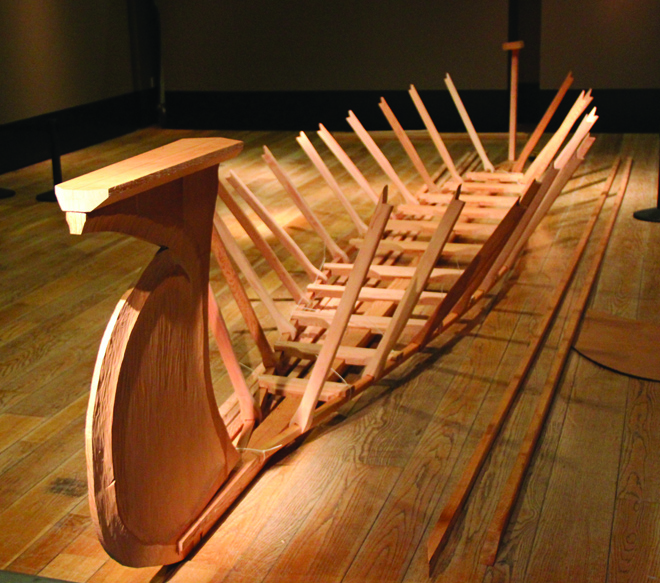 "By building this traditional boat in the traditional style, we are taking information that was lost from my community in the 1800s and figuring out innovative ways restore that indigenous knowledge," explains Sven. "We are not just reverse engineering the model, but we will build a full-size one so we can share that information back into the communities from which it came. This is just one example of thousands that we can do for the next 100 years for our local Native communities both here in Washington and in Alaska."
"The amazing can happen when you look at these museum objects not just as beautiful art pieces, but think about the history embodied in them. Think about what it means to the indigenous peoples and how they can then take this lost knowledge and re-embrace it while celebrating it. For me, it's a process of rediscovery, of looking at how innovative, how adaptive, and how scientific my ancestors were. In that, this Angyaaq is just one example of who knows how many others we have and haven't explored yet. I'm hoping this will be a catalyst for asking even more questions and continue to be innovative as we search through the past."
Over the summer, Sven will travel to Kodiak Island to work with tribal members on the construction of several model Angyaat, with the goal of training students how to build a full-size, working boat in the future. Practicing this reconstruction with community members is helping share Sugpiat heritage and traditions, restoring knowledge that's been lost, and providing a research model for others around the world to emulate.
Until then, Sven with continue to hone his Angyaat building skills as he hosts a live exhibit that can be witnessed by all. Witness the revival of a lost practice as part of a special month-long program at the Burke Museum. Visitors can see the finished Angyaaq in the Maker-Market from December 20 – January 3. Check burkemuseum.org/maker for the up-to-date boat construction schedule.